A Little Monster In All Of Us
Fall is upon us and with that comes Spooks and Specters searching for a bit of fun.
Event Deadline: Midnight; October 9th - All photos must be received for the event.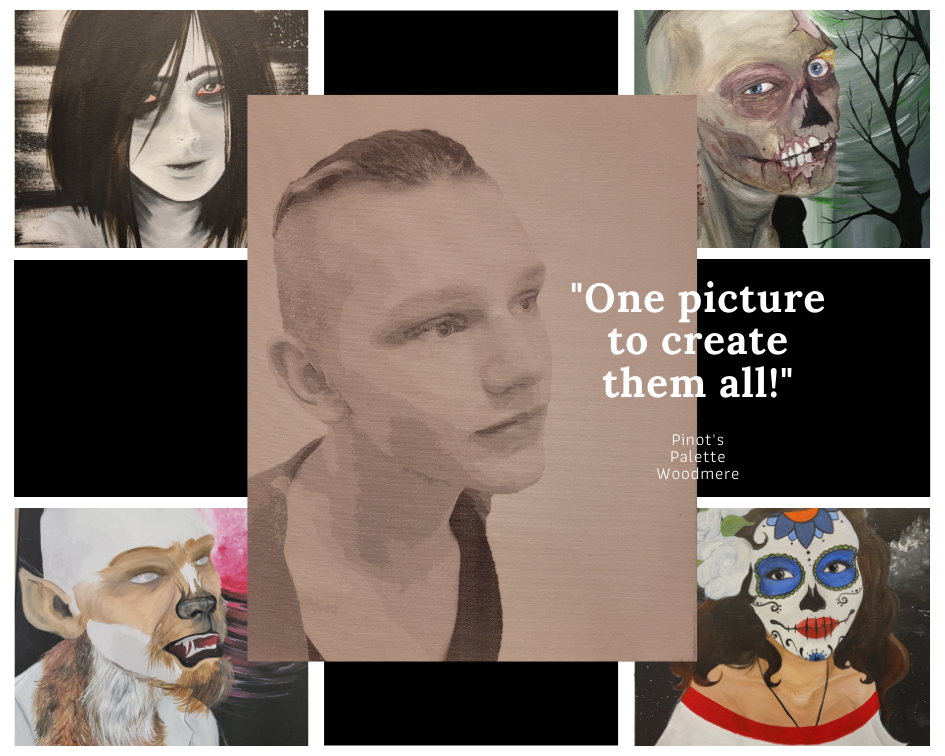 Beginners.
Intermediate Artists.
Experts.
Any talent level can join us for a day of fun turning yourself or a loved one into your favorite movie monster. Be it a zombie, ghoul or werewolf! It's all possible!
Just like our Paint Your Pet classes, we will take a picture that you select and have it transferred onto our 16*20 canvas. Using the gray scale transfer for reference you can turn your painting into any creature you want. Instructors will be on hand to assist with designs, which can be realistic or animated. It's all up to you.
We recommend bringing in references if you want something specific. You can even pre-animate your submitted pictures into a specific pose. Get creative! Want that old school vampire with a damsel in distress? Get a friend to take the picture or you and your significant other. Want to do a fully shifted werewolf? Take that picture in a classic howling pose. Just remember the more of you in the picture the smaller the details to paint.
Now worries on the small details though - Aside from new brushes to use in studio that day, we also have brand new brush sets just for you to buy in studio!
Lets not forget our upcoming Halloween Party!
For each ticket sold you get a free glass of house wine and, if you come in costume, there is a chance you could walk out with some prizes.
October 29th
6:30 - 9:30pm
$45.00
Share View Calendar Of All Upcoming Events | Register for the Monster Event!