DIY Mother's Day Gifts
Remember when you were in kindergarten and you proudly displayed your macaroni art on the refrigerator? You and your mom were probably equally excited about that crinkly piece of construction paper.
Even though you've moved on from macaroni art and popsicle sticks, there's still something extra-special about a homemade present. This Mother's Day, surprise your mom with a handcrafted gift she's not expecting.
There's no shortage of ideas for DIY gifts. Wherever your talents lie, there's a way you can turn your crafty skills (or lack thereof) into a beautiful Mother's Day gift. Here are a few of our favorite DIY Mother's Day gift ideas!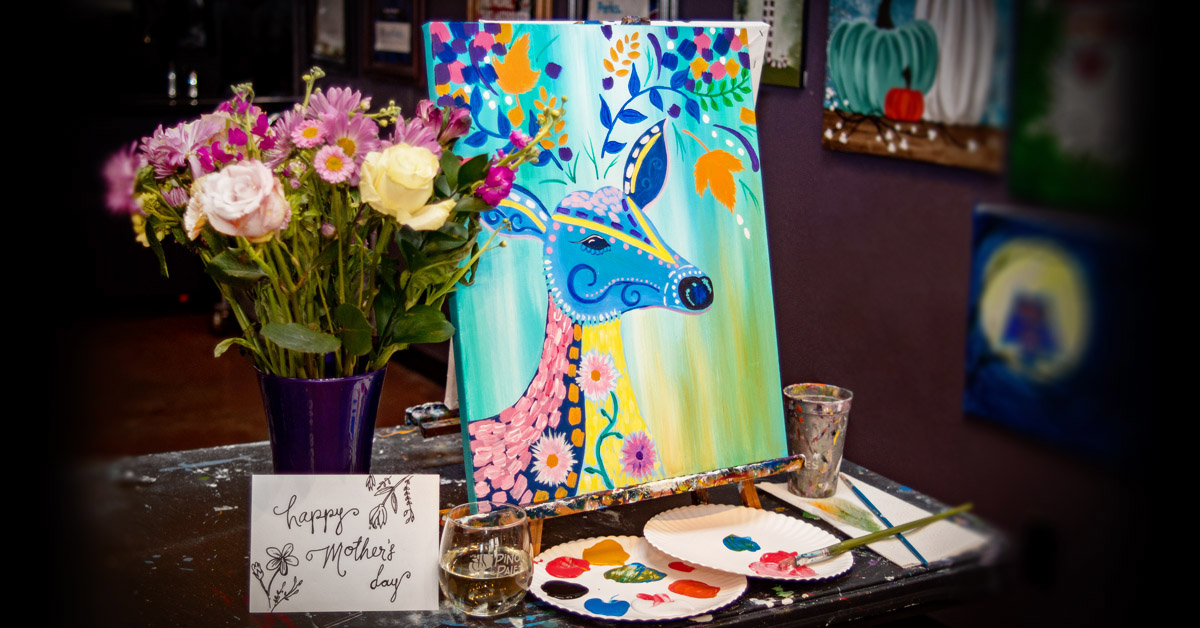 WORK OF ART
If you're artistically inclined, surprise mom with a work created with her in mind. Whatever your chosen medium, it will be a big hit. Sculpt her a vase, recreate a favorite picture of the two of you in charcoals, or paint her a watercolor landscape of her best-loved vacation spot. Need a little help with the artistic technique? We've got your back! A paint and sip class is a great way to create a unique work of art for your mom, regardless of whether or not you've ever picked up a brush or not. Your instructor will make sure you get a finished painting that looks impressive in a frame and tied up with a bow! Mom is guaranteed to be dazzled and surprised.
PROTECT HER CULINARY MEMORIES
You know those old family recipes from Great Great Aunt Bertie that are faded, smudged, and on the verge of being lost forever? Ask to borrow them, type them all up while you can still read the ink, and create a cookbook full of those treasured family secrets. If you need to fill it out with newer ones, feel free to include some of your family's newer favorites, even if they came from Pinterest rather than "the Old Country." Be prepared for other relatives to ask for a copy!
A PICTURE IS WORTH A THOUSAND WORDS
Family photos are always a great gift for the mom who has everything, and even better if you've put some work into them. Create a beautifully framed collage or scrapbook of some of your favorite memories the two of you have shared. What mother can ever get enough pictures of her kiddos?
More tech-savvy gift givers might prefer to make a slideshow set to music or create a digital scrapbook on a site like Shutterfly instead of messing around with stickers and glue sticks. As an added perk, you can order an extra copy for yourself when you're having it printed!
CUSTOM GIFT KITS
Curate a collection of things that go together and can be used for something your mom enjoys. For example, you could gather a bunch of high-end bath goodies, nail polish and mani/pedi tools for the mom who appreciates her self-care; packages of heirloom seeds, gardening gloves, and a spade for the gardener; or a cute apron and fun set of cake decorating accessories or cookie cutters for the avid baker.
If those things all seem like too much work on her part, give her the gift of a no-effort-required evening of relaxation. For example, you could put together a "movie night in a box," complete with a few films she'll love, her favorite candy, bags of popcorn, and a bottle of wine. Swap out the movies with a few new paperbacks if she's more of a bookworm than a cinephile.
BREAK OUT THE TOOLBOX
Got a knack for construction projects? Put those skills to use building something for your mom. If she's into sewing or quilting, a quilt rack would be a good project. Maybe she'd prefer a cookbook stand to keep her favorite recipes easy to read and safely removed from potential spills. You could build a wooden chest for her most cherished keepsakes, a jewelry stand to keep her bling organized, or even an everyday piece of furniture like a custom coffee table.
You've come a long way since you gave mom macaroni art, but we know she'll still love your thoughtful handmade gift, whatever you decide to make. So let those creative juices flow and get started on your DIY gift for Mom.