Your Art, Your Rules
Your home and the art that hangs in it reflect so many things about you: your life experiences, your tastes and individual style, your priorities. From photographs to textiles to paintings to Post-It notes, there's probably a story to most of the stuff on your walls. Souvenirs from vacations near and far, gifts from loved ones, heirlooms passed down from previous generations, intentional reminders of your family values, little things that make you smile – or at least, make someone in your house smile.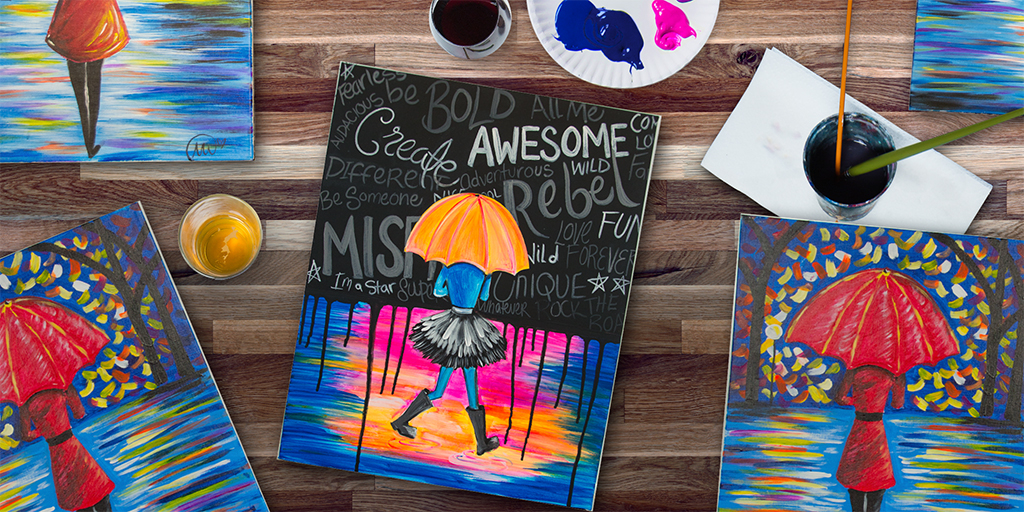 WHAT IS ART?
Art comes in many forms. There's the incredible technical and emotional labor that trained artists put into museum-quality art – the kind of art that inspires awe, but that most of us can neither afford nor produce on our own. There's art in architecture, children's drawings, fashion, eons-old cave paintings, the graphic design you see in advertisements, napkin doodles, tattoos, every struggling art student's portfolio, and thousands of other creations. The definition of art has no beginning and no end.
The art that's in your home, though. It's sacred. It's a statement of your past and present, of your values and what drives you. Even if you love white walls or if you spent a month's salary on mass-produced décor from a big-box store – what is (or isn't) in your home is a peek into your personality and personal history.
YOUR ART, YOUR RULES
We're not making museum showcases at Pinot's Palette! We're making art that's fun, art that's personal, art that people are proud to keep in their homes. Really takes the pressure off, right?
Every time you come to one of our studios, we want you to paint something you love. Maybe that means following the instructor's steps to a T because you like the original painting. Or, maybe it means swapping out some colors or details to make the painting feel more like you or match your home better.
OR, maybe it means going a little bit crazy and painting something different altogether. We've seen everything! Remember, your paint and sip art is about YOU. It's about what you like and the memories you make while you're in the studio.
HOW PAINT AND SIP WORKS
When you come to Pinot's Palette to paint, you'll have an example painting to work from and a pro-level artist guiding the class through each step. There might also be a floor artist on hand to answer individual questions. They're also there to be a sounding board for creative ideas and help you gather additional paints or brushes you might need to bring your ideas to life. Don't be shy; they really don't mind!
So if you like the basic idea of a painting but some of the colors aren't speaking to you, no problem! Your instructor will be happy to get you other colors upon request. Change the wording, color scheme, size or placement of objects – it's all up to you!
Of course, a lot of guests take the sipping more seriously than the painting. A couple of drinks is a great way to loosen up and bring out confidence – both of which will help you paint better. More than a couple of drinks may result in some unplanned creative changes (which can be just as fun as intentional changes!). All we care about it that you Paint. Drink. Have Fun.
YOU DO YOU
Some of our favorite "rogue" paintings have included some pretty imaginative changes. One memorable guest painted a giant cheeseburger in the middle of his beach painting. Want to add a UFO flying through the sky in your lovely autumn forest landscape? Go for it!
Part of what makes paint and sip fun is that it's completely individual, even when everyone is working from the same example painting. Because no two painters use the same technique or have the same stylistic flair, each finished work has its own personality.
Next time you're scanning your local studio's monthly calendar of painting classes, look at the sample paintings as a starting point. If it has a color or element you're not crazy about, know that you're encouraged to change it up and make it your own. Your art, your rules!