Making new friends
When Jill received an email from a friend and fellow Herndon soccer mom (Nancy VIP) inviting her to paint and sip at a fundraiser, she thought, hmm why not?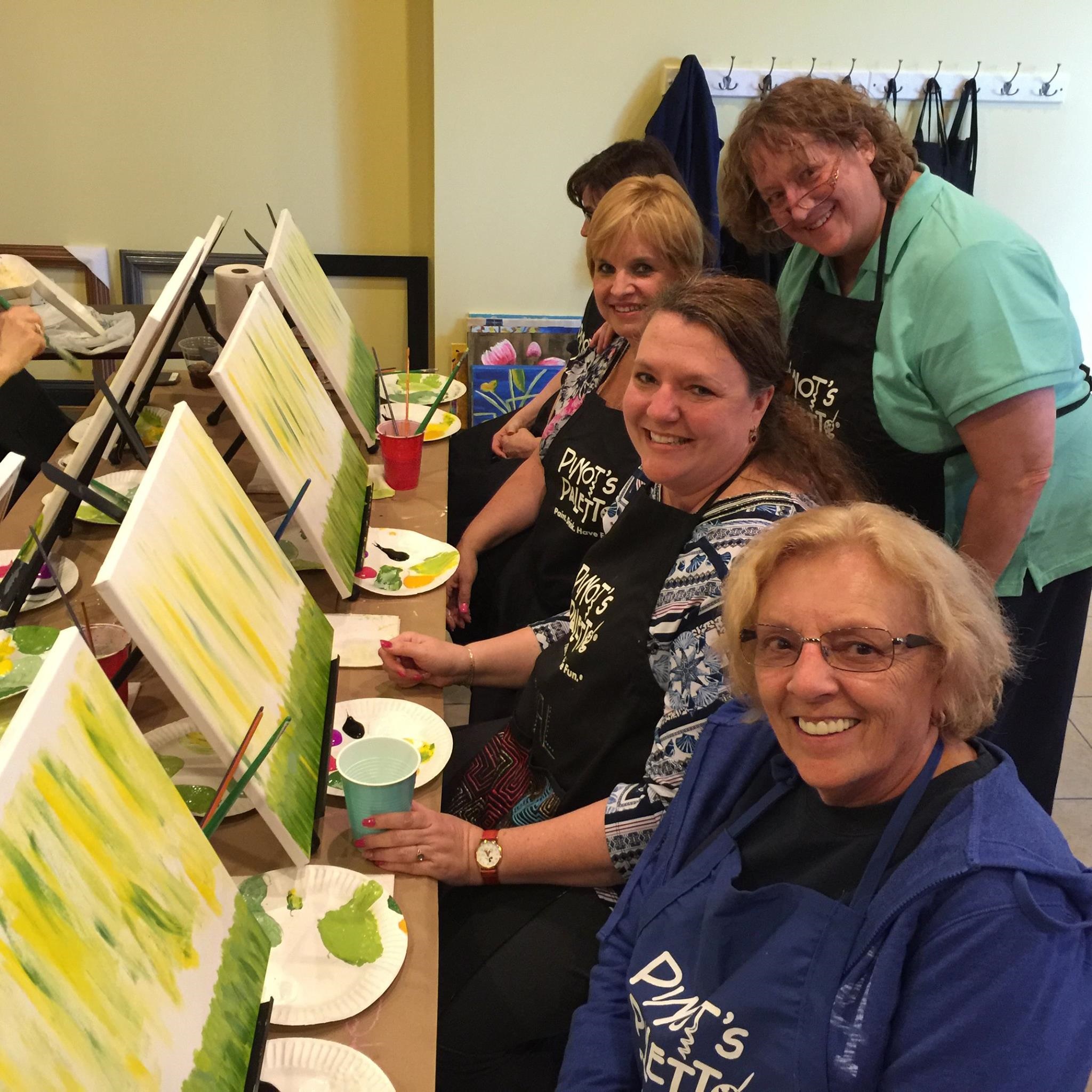 Jill asked her friend and co-worker Val, to join. Val was hesitant because she was not an artist. Her mom was in town visiting as well. "It's a fundraiser to support a local soccer team and might be fun? Bring your mom and if nothing else we will have fun and something to laugh at?" So Val and her mom, Mauricette joined Jill for what turned out to be the start of something spectacular! Since that first painting experience,VIP Val has painted over 300 paintings with us. (What does she do with all of those paintings? That is a whole blog post of it's own).
Looking back at that fundraiser in June of 2015, we are so grateful that Nancy VIP organized this event. Fun Robyn and Nancy VIP along with VIPenny have been friends for many years, as their boys played soccer together. We have gone from the soccer field to the studio! Painting with our soccer mom friends, and meeting many new friends along the way.
When VIPenny learned that I (Fun Robyn) started this paint & sip business, she called and said, "Honey, I want to paint with you, but I already registered to do it at "Paint Night". Next time I will paint with you". I understand, I said. Well, she was true to her word, and the very next weekend she painted with me!
We painted trees- REALLY FAT ones, that we still laugh about to this day. I remember the event well. It was a mobile event at "JJ Deli" in the Herndon Golf Course. (Another blog to come about our wonderful partners (friends) that we love). There were about 20 painters including another great friend and VIP, Diane (also referred by Jill). She was helping us with drying our canvasses to get ready for the next step. "If it's shiny it's wet!" she exclaimed as she danced around the room to the great 80's tunes playing in the background, waving a paper plate (palette) to dry the "shiny" canvasses. VIPenny and I have since gotten much better at painting trees, but this fun memory illustrates the very important fact that it is more about the experience than the finished painting!
Now when first time painters come to the Dulles studio, as they put their bags in the cubbies, they notice the 3 dedicated VIP spots. And at any given painting event, there are special designated cubbies for additional VIPs.
Aren't the best friendships the ones that include fun shared experiences?
We look forward to many more experiences and new friends.
Here's to friendships that rock!