Snow in March?
If you have lived in the DC metropolitan area for a few years or more, you know our weather is fickle. We can have a beautiful "Spring" in the "Winter" and vice versa. Snow days can be used up by January or none used at all.
When it snows in Northern Virginia, we can all agree, the traffic is nuts!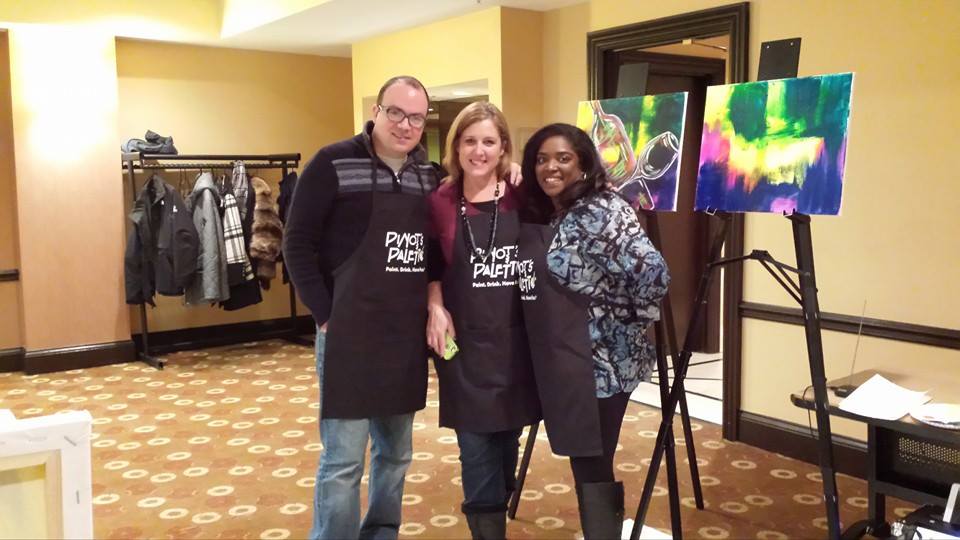 The month of March has many opportunities to celebrate. St. Patrick's Day, March Madness, and our favorite- Pinot's Palette-Dulles' Mobile studio's birthday!
It was March 4th 2015 and there were about 40 people signed up to come and celebrate our Mobile studio grand opening. The event was also a Paint it Forward (fundraiser) for the Colorectal Cancer Alliance (at the time Chris4Life).
NOTE: March is Colorectal Cancer Awareness month! Wear blue on Friday March 6th
The trainer (Natalie) was in town for artist training, the Hotel space booked... AND then the dreaded weather alert- SNOW! What to do? We decided to go ahead and to reschedule for another time too.
It turned out to be a really fun experience. In fact we met a new friend from PA. I'll share her story next.
First let me say how great the people who made their way to our celebration were and continue to be such true friends! Sheila Dixon and her husband came from Loudoun County. Michael Sapienza, Pamela Sorenson and Erica Brown representing C4L came all the way from DC! Not to mention our incredible team of artists who found a way to be there and ROCK it! The start of #bestteameva!
Our new friend, Tammy from PA, was staying at the Hyatt Place in Sterling with her husband who was here on business. She walked past as we were setting up, and commented on how much fun we were having. So we invited her to join us. She was such a hoot! Our small group had big fun in large part because of our new friend.
This great memory that included Natalie (the trainer) seeing snow for the first time, and meeting a new friend, while celebrating with our wonderful true blues, is priceless!
As we celebrate our 5th birthday of bringing the art and fun to the Northern VA/DC metropolitan area, we are proud to toast to hundreds of amazing Mobile studio experiences from large corporate team building to birthday parties in local basements!
Here's to many more!