Community engagement
"This is going to be so much fun!" she exclaimed. Mary Ellen and Harmonie from Western Fairfax Christian Ministries (WFCM) visited the studio to work out details for a fundraiser. It was such a delight to see the studio through their eyes. They were looking at all the paintings on the wall in awe. Then their eye went to a smaller canvas...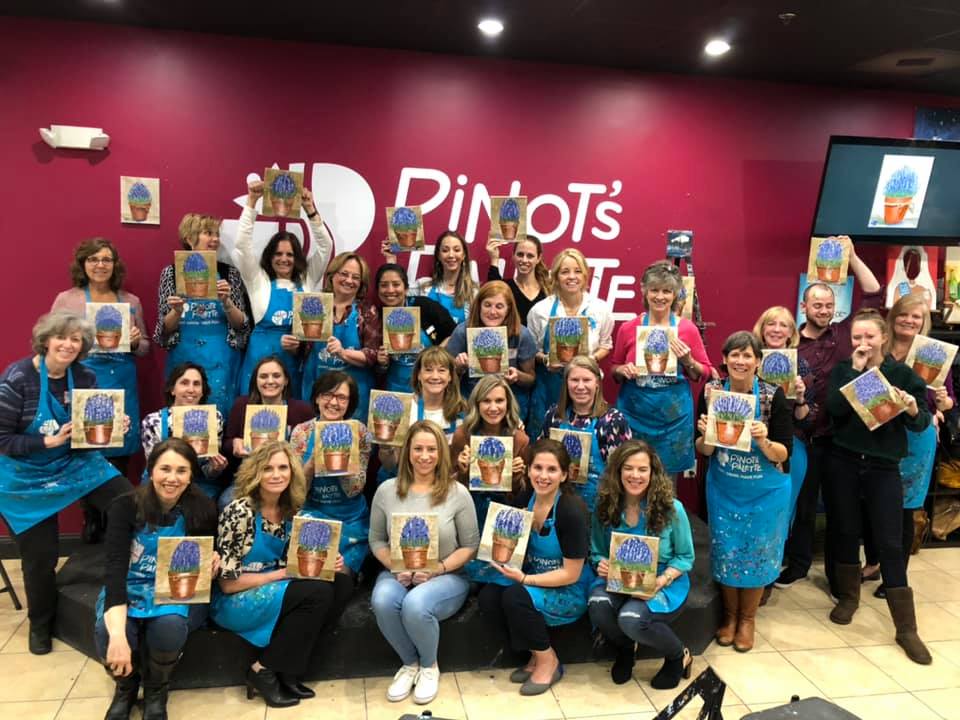 How does it work? This is the most common question for organizations. The answer isn't the same for everyone. Does that seem strange? The reason is because there are options. We offer fundraising programs that range from a percentage of sales from a public event already posted on our calendar to a private event tailored to the needs of your organization.
We had the pleasure of painting with a group of treasured volunteers and staff from WFCM for them to experience how it works. It was a lunchtime artistic break. This group all agreed that a paint & sip fundraiser was a fun idea. Like many of you (I'm willing to bet), they weren't sure they'd be able to paint something that looked like the beautiful paintings that fill our studio walls. They found out first hand, they could.
Remember the small canvas painting that Mary Ellen and Harmonie spotted? Well that is one way we are able to tailor an event for an organization. Painting on a smaller canvas saves time and space. Another aspect of their painting it forward event was through raffles. "We can take care of it for you" I assured them. Our charming wine and gift shop allows us to create attractive prizes.
On the night of their event, as we welcomed guests it was wonderful to overhear the comments. "This place is so cool" "I am not going to be able to paint this, but I'll try" "I've always wanted to do this, when I saw it was a small canvas and it was for WFCM, I decided to try" Fast forward to the end of the evening, the expressions of painting success were fantastic. "I can't believe I painted this". "I am going to bring my daughter next time". "This was so much fun" (hah, Mary Ellen was right on)!
As a local business owner, actively engaging and contributing to our community is very important to me. It was such an absolute honor to produce a recent corporate team building for NIGP, The Institute for Public Procurement. Planning with Shannon and Jennifer was a pleasure too. They requested an activity that would be creative and fun for the 100+ attendees for their conference, and that would be a service project to benefit local charities. "We don't want 100+ of the same paintings " They explained .
Our creative solution was to design seasonal landscapes that could be done as a puzzle. We would have 16 tables/groups that would paint on multiple canvasses that would come together as one masterpiece. Our team has done these activities so many times, that we know how it works, but Jennifer and Shannon weren't as confident that the paintings would be "donateable". I assured them that, if needed our artists would "fine tune" them.
"This is so much better than I even thought" Jennifer said. Music to our ears! The final masterpieces were simply fabulous (in my opinion). Now we have 16 wonderful paintings to donate to a few of our favorite local charities.
Our friends at WFCM are going to proudly display them and offer them in their upcoming auction. We are also thrilled to donate them to Women Giving Back (WGB), the Shelter House and Cornerstones.