Fun at home
5 REASONS TO PAINT WITH PINOT'S PALETTE AT HOME!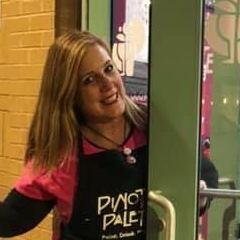 When this stay at home order first began, many of us were panicked. Myself included!
But we really are all in this together! The outpouring of concern and support for our local healthcare and "front line" workers is a wonderful testament to our community. The Pinot's Palette-Dulles team/family is committed to doing what we can to help flatten the curve and at the same time serve our community as best we can.
Because we have a wine shop, our business is designated "essential" per Executive order 53. We never have more than a couple of people in the shop at once, and we continue to keep everything sanitized. We provide curbside/no contact pick up as well. If you'd like to shop by appointment, we are happy to accommodate you as well.
Our Pinot's To Go and Pinot's Live paintings are designed to give you a safe fun way to be creative at home.
Here are 5 reasons to paint with us from home:
1. To focus on something creative for a couple of hours and not think about Covid-19
2. For families, having an art break is necessary for both kids and adults
3. If you are feeling isolated and disconnected, Pinot's Live is a great way to connect with others while safely being at home
4. The simple act of putting paint brush to canvas is akin to therapy for most
5. Adding some fun to your day helps time pass and brings joy
I'm sure you can think of more reasons, and we'd love to hear from you!
Share Be a NOVA FUN SEEKER | check out upcoming virtual events