PAINT & HAVE FUN AT HOME!
There are 3 Paint Kit options for you to paint and have a fun time at home!
1-Pre-Recorded Video Instructions 2-Written Step by Step Instructions 3-Live Video Tutorials
All 3 options include:
One-16x20 Canvas
Two-Gently-used Brushes
Paint colors according to your painting choice
Paper Plate for mixing
Butcher Paper to place your supplies
We are delivering Paint Kits to Cherry Hill and surrounding areas.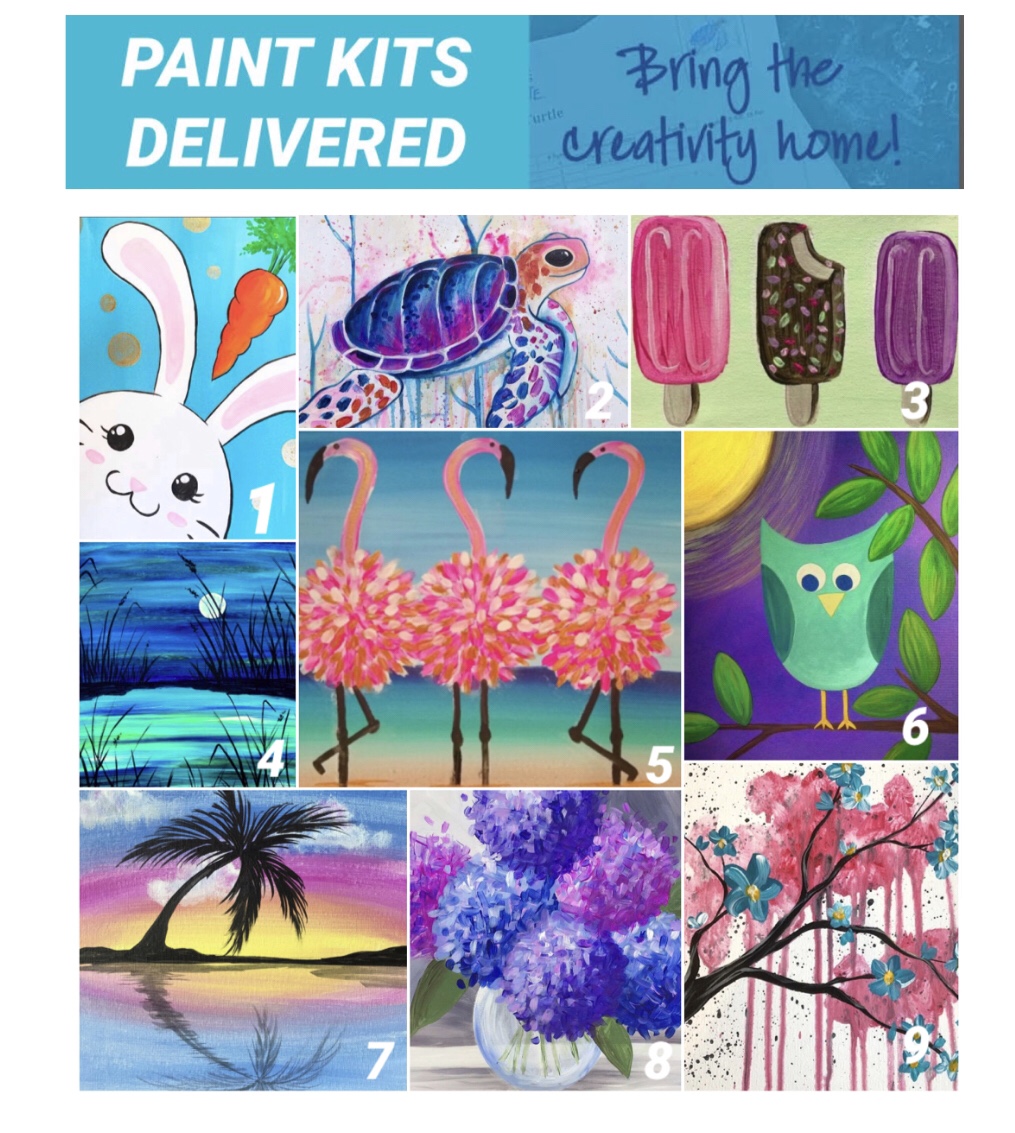 **Follow the steps below based on which Paint Kit(s) you want to order...
PRE-RECORDED or VIDEO TUTORIAL PAINT KITS ONLY
Purchase a minimum of 2 kits and include the names/numbers of your paint choices in the seating chart
Provide your delivery address in the seating chart
(Click "PAINT KIT" below)
3 OR MORE PAINT KITS
Follow the steps above
Next, go to our a la carte "SHOP" to add additional kits
Add brushes, if needed.
(Click "PAINT KIT" then click "SHOP" below)
LIVE STREAM VIRTUAL PAINT SESSION ONLY
Add your preferred live stream painting to your cart
Provide your delivery address to the seating request
Next, go to our a la carte "SHOP" to include the delivery fee (one fee per household)
(Click "PAINT KIT" below)
PRE-RECORDED & LIVE STREAM PAINT KITS
Add your preferred Live Stream Painting selection to your cart
Provide your delivery address to the seating chart
Go to our a la carte "SHOP" and select a Pre-recorded or Written instruction Paint Kit
Add brushes, if needed
Add delivery fee (one fee per household)
(Click "PAINT KIT" then click "SHOP" below)
I DON'T NEED BRUSHES WITH MY KITS
Go to our a la carte "SHOP" to select and purchase kits
Add the delivery fee to your cart
(Click "SHOP" below)