Wind + Candy Pairings That Are Perfect For Halloween!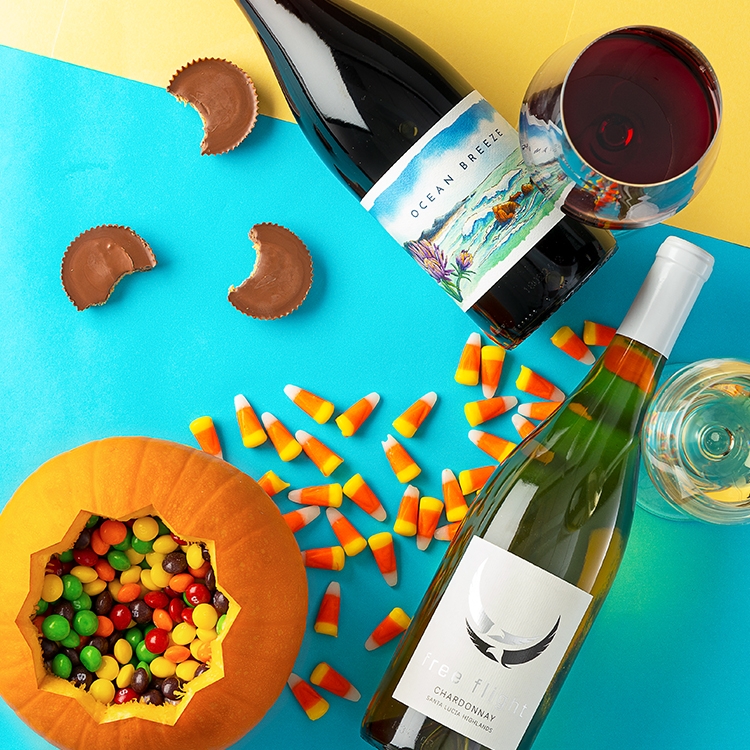 One of the best things about adulthood is that you can buy whatever candy you want, whenever you want it. And you can enjoy an adult beverage as you eat it. This Halloween season, when those discount bins of bite-sized candy call to you, you can also grab a bottle of wine that will complement the flavors of those Starbursts or Whoppers.
Whether you're enjoying leftover candy from trick-or-treaters or stolen goods from your kids' bag of treats (hey, you do a lot for them… you're entitled to share some of their candy), we've got some ideas for ways to best enjoy the snacks!
Instead of nibbling your way through the leftover pieces this year, why not make the stash disappear with the perfect glass of vino?
CANDY + WINE COMBOS:
Tootsie Rolls + Amarone
Hershey Kisses + Zinfandel
Merlot + Hershey's Minatures
Whoppers + Cabernet Sauvignon
The huge malty character of Whoppers needs a wine with backbone and depth to keep from being overpowered by the malt and chocolate. Pair it with a ripe, bold Cabernet Sauvignon blend
Reese's + Sherry
Swedish Fish + Lambrusco
Sweet Tarts + Reisling
Dominated by intense orange and candied lemon with touches of minerality, they make the candy taste less sour
Jolly Ranchers + Gewürztraminer
Starbust + Moscato D-Asti
M&M's + Port
Pixy Stix + Sauvignon Blanc
Candry Corn + Moscato
The mix of Moscato and candy corn are fabulous, because the sugar in the candy corn amps up the fruitiness in the Moscato. Both taste better as a result!
JOIN US!
Stop in the month to paint one of our fabulous Halloween-themed paintings or any of the other Fall artwork on the calendar! Nothing makes the season quite as festive as making some artwork while enjoying some wine (and candy!), listening to music, and spending time with friends and family!