We're Celebrating 35 Years of 'Dirty Dancing' With These Special Paintings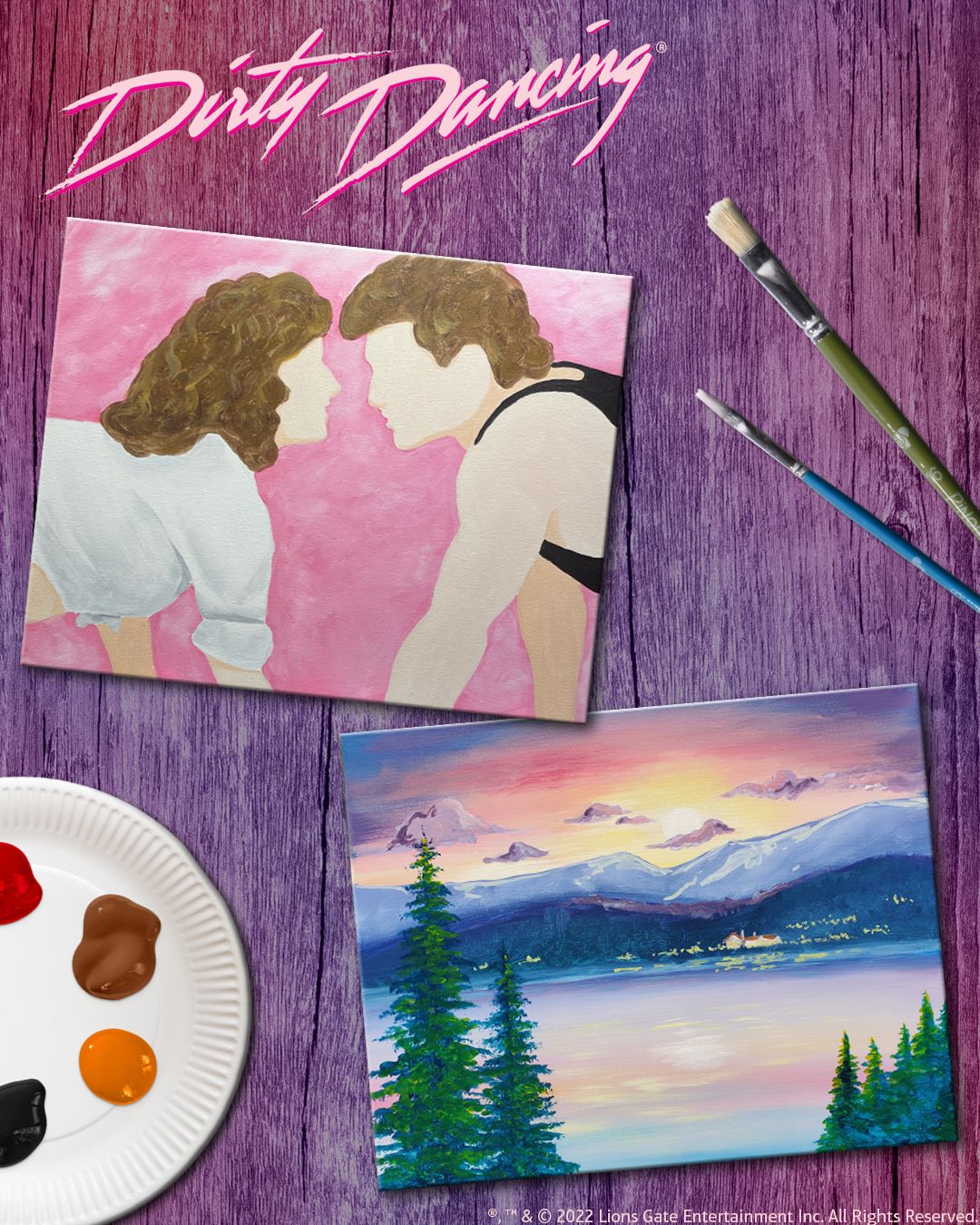 Thirty Five years after its release, Dirty Dancing still reigns supreme in the pantheon of cult films, carried by a duo of actors who have become iconic, by an Oscar-winning soundtrack and by unforgettable choreography.
We're celebrating with TWO classes where you can create brand new paintings designed for the occasion!
--- CLASS 1 ---
Saturday, August 13th
'Time Of My Life'
Nobody puts this painting in the corner.
https://www..../event/623843
**Did You Know
Both Leads Were 10 Years Older Than Their Characters
Jennifer was 26 when she was cast as the 16-year-old, and had just a few minutes to convince casting directors that she could play younger. Patrick was 34 when he was cast to play the 24-year-old Johnny.
**MORE Fun Facts:
https://www....t-know-about/
--- CLASS 2 ---
Saturday, August 20th
'Mountain Lake Lodge'
Enjoy a scene by the lake inspired by one of your favorite 80's movies. This painting is filled with stunning colors that will look beautiful in any room!
https://www..../event/623844
**All About The 'Mountain Lake Lodge' where they filmed the movie:
The Catskills may have been the setting for the 1987 classic "Dirty Dancing," but it was the Mountain Lake Lodge in Pembroke, Virginia, that stood in as the movie's real Kellerman's Resort where romance sparked between Baby and Johnny.
--> Mountain Lake Lodge in Pembroke, Virginia attracts guests from around the world to enjoy an outdoor adventure in the Appalachian Mountains and the chance to trace the steps of lead characters Johnny Castle and Baby Houseman. As a fan of the film, a visit to Mountain Lake Lodge in 2017, the 30th anniversary of the movie, was an absolute travel must.
--> Finding Mountain Lake Lodge
Dirty Dancing was to be filmed at Lake Lure, North Carolina and several scenes were shot there. However, a serendipitous event sparked a change in venue for the resort scenes. The co-producer happened upon an in-flight magazine featuring a story about Mountain Lake Lodge. She decided to investigate the property because it looked similar to the Catskill Mountains in upstate New York where the story takes place. Upon arriving at Mountain Lake Lodge, co-producer, Eleanor Bergstein, knew she'd found her fictional Kellerman's.
--> More than Dirty Dancing
Though Dirty Dancing draws fans from around the globe, there's much more to Mountain Lake Lodge. The resort is a destination for families and outdoor adventurers.
The rustic setting and cozy lodging offer many options for tailoring a mountain getaway. Families will find ample activities like swimming, bubble ball, archery tag, and Tree Top Adventures. There are over 22-miles of hiking trails and of course the picturesque mountain scenery. There's disc golf, tennis, bocce ball, a giant inflatable water slide and a generous calendar of fun activities to keep the entire family happy and occupied. Guests can stop by the Adventure Center to plan their fun.
--> Additionally, there's excellent dining at Mountain Lake Lodge too. Harvest, Stoney Creek Tavern, and Mary's Market & Café serve up a variety of options featuring locally sourced farm-to-table meal choices. I enjoyed a wonderful fresh burger in Stoney Creek Tavern while watching Dirty Dancing. I had the added treat of dining there the night Mike the barman was working – he's like a walking director's cut of the film and shared fun film facts and trivia.
--> You Can Visit AND Stay Here!!!
*** What to Expect ***
- The lodge was built in 1956 and has been a family-friendly mountain escape ever since. Holding true to its heritage, little has changed since that time and that's a large part of the resort's charm.
- Accommodations in the Stone Lodge are clean and comfortable but there's no television or air conditioning in the rooms and that's by design. Mountain Lake Lodge has its own micro-climate with temperatures typically ten to fifteen degrees lower than at the bottom of the mountain making AC virtually unnecessary.
- The resort does have Wifi if you require it, but I didn't have cell service on the mountain.
When The Moody family founded Mountain Lake Lodge, they wanted to encourage outdoor activity and enjoyment of the fresh mountain air. With limited cell coverage getting outdoors and unplugging was easy.
- In addition to the lodge, there are several cabins available as well.
30% of the accommodations are pet-friendly. Bookings can be made as far as a year in advance and rates begin at $199 a night and go from there with certain minimum stay requirements depending upon the type of lodging. There are several packages to choose from, many including meal plans and vouchers for activities. And Yes, it's possible to stay in Baby's cabin.
- There's also the lake.
It's a natural lake and a geological enigma. Situated on a fault, the lake levels fluctuate cyclically. Currently, the lake level is low and geologists and engineers continually monitor this wonder which has been documented and perplexing experts over the years.
The Dirty Dancing Experience
Fans of the film will feel they've stepped onto the movie set. In essence, they have; Mountain Lake Lodge looks much as it did in 1987 and the resort embraces its momentous role in the movie.
There's a Dirty Dancing cabin housing movie memorabilia and a guest book for fans to sign. There are maps for a self-guided tour detailing the locations of scenes from the film and an entire wing of the gift shop filled with Dirty Dancing souvenirs. T-shirts, mugs, jackets, and DVDs are just a few of the items available to commemorate a visit to Mountain Lake Lodge.
Be sure to reserve as soon as you can, as dates for 2022 are already SOLD OUT!!!
Share View Our FULL Calendar for more classes | Book A Private Event