The Perfect Summertime Recipes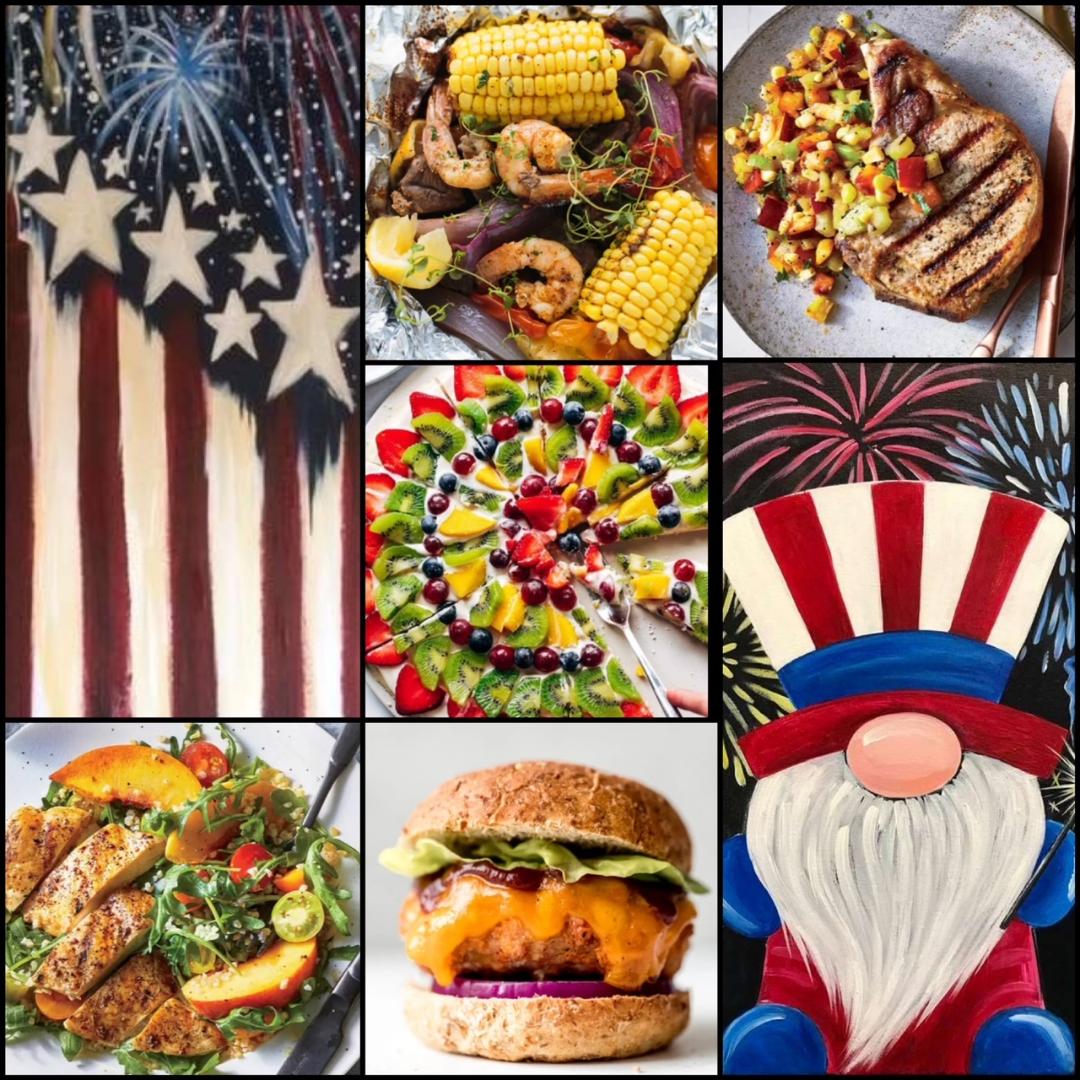 Summer is officially here and we couldn't be happier! The warm weather… The long days… Time with family & friends… And of course, the food and drinks that come along with these Summer months!!!
From the freshest fruits and veggies to light and refreshing drinks, this is such a fun time of year to try new recipes!
With the Fourth of July coming up, and other small get-togethers… as well as nightly meals with teh family, you may be eager to try some new recipes. We've found some really great ones to share with you. Give them a try this week for dinner or in the coming weeks for July 4th, grilling out days, and any other events you have coming up where food will make an appearance.
Enjoy!
***** Light & Healthy Summer Meals *****
Chicken and Bulgur Salad With Peaches
A quick-cooking whole grain, bulgur is perfect for time-crunched weeknight cooking. If you can't find it on the grains aisle, you can substitute quinoa or whole-wheat couscous.
https://www....-with-peaches
Extra-Crispy Veggie-Packed Pizza
This pizza has a crunchy crust and zingy zucchini salad, but the real hero was the halloumi—a dry, salty cheese similar to feta.
https://www....-with-peaches
Crab & lemon spaghetti with peas
Enjoy this fresh-tasting lunch option, on the table in 20 minutes. It's low in calories but provides folate, fibre, vitamin C and iron
https://www....paghetti-peas
Gnocchi With Spinach and Pepper Sauce
This shortcut version of Spain's beloved romesco sauce boasts all the smoky flavor of the original with a fraction of the prep time.
https://www....-pepper-sauce
Mint & basil griddled peach salad
This vegan salad makes a healthy and filling meal, providing 4 of your 5-a-day. Enjoy hearty quinoa, creamy avocado and juicy griddled peaches
https://www....d-peach-salad
Blackened Shrimp Tacos with Dragon Fruit Salsa
Taco bars are always a hit in the summertime. This recipe from Love & Olive Oil does have a few components, but you could easily buy your own taco shells and skip making your own to save some time.
https://www....it-salsa.html
Pork Chops With Corn Relish
Call on your grill and farmers market bounty to make summer dinners simple. Keep this relish recipe handy for adding fresh flavor to grilled fish or pasta salad.
https://www....h-corn-relish
Pepper & lemon spaghetti with basil & pine nuts
Try this zesty pasta dish for a quick and healthy veggie lunch option. Low in calories, it provides fibre, vitamin C and iron and counts as two of your 5-a-day
https://www....sil-pine-nuts
Sweet Potato Cheddar BBQ Chicken
Burgers
The BBQ chicken burgers from Ambitious Kitchen are kept juicy with the addition of sweet potatoes and plenty of melted cheddar cheese. Just be sure to follow their tip about making sure your ground chicken is at least 93% lean so the added fat can give flavor and keep the patty moist.
https://www....cken-burgers/
Surf 'n Turf Foil Packs
At your next summer gathering, put a few of these bad boys on the coals and take more time to enjoy your company. Once you have the ingredients prepped—all of which can be done the day before and stored in your fridge—it's a few minutes of assembly and only around 15 minutes of hands-off grilling.
https://www....-Packs-Delish
Farro Caprese Salad
Caprese salads are one of our favorite easy dishes. Oh My Veggies is amping up the flavor and the nutritional value by adding in the ancient grain, farro, and basil-based vinaigrette.
https://ohmy...aprese-salad/
** BONUS: Delicious Dessert
-- Fruit Pizza
Fruit Pizza from Pinch of Yum is sure to be a hit with any kids coming to your house for Memorial Day. The pizza starts with a sugar cookie crust and cream cheese frosting, then you can pile on just about any fruit that you like.
https://pinc...3-jump-target
-- Banana Pudding
Banana pudding is a southern staple at summer get-togethers. While the recipe from The Seasoned Mom does take a while, the majority of the time is when the banana pudding is setting up in the fridge. The time in the chill chest is vital to the dish coming out correctly.
https://www....dding/#recipe
** 35 Delicious Drinks To Sip By The Pool:
https://www....mmer-pictures
If you're looking for a fun way to spend some extra time at home with the family this season, take advantage of our 'Paint From Home' options and enjoy getting creative while you have some snacks!
From cold, crisp drinks to serve as 'Liquid Creativity', to a light and healthy meal before or after you paint, some of the above-mentioned recipes are perfect to pair with a night of painting!
You can learn more about our paint from home options, here:
https://pino...paint-at-home
Use some of these snack ideas for when you join us in the studio for a painting class! There's nothing better than painting, paired with wine… Except for some deicious little munchies added into the mix!
JOIN US IN THE STUDIO!
While these virtual classes were a hit during the pandemic (and are still very convenient for many people), there's nothing like out in-person classes at the studio!
Join us to paint, drink, and have a lot of fun at Pinot's Palette, Federal Way!
(((Fourth of July Holiday Weekend))):
Friday, July 1st
Freestylin' Afternoon
Paint what you want, in the timeframe of your choice!
https://www..../event/623775
'Beach Besties'
https://www..../event/625108
'Star-Spangled Banner'
Come And Get Your Patriotic On!!! Make some artwork to hang up for the holiday!
https://www..../event/621683
'A Dance In The Dark'
This is a BLACK LIGHT class! So Fun!
https://www..../event/621662
Saturday, July 2nd
'Whispers Of Grace'
https://www..../event/623279
'The Wishing Tree'
https://www..../event/623792
'Magical Rainbow Moon'
https://www..../event/609349
'Vitamin Sea'
Another BLACK LIGHT Class!
https://www..../event/621666
'Gnome Of The Free'
We are the land of the free! Celebrate with us as we guide you step by step on how to paint this adorable patriotic gnome!
https://www..../event/623275
Sunday, July 3rd
Open Studio
We are so excited to see you back in the studio! Enjoy an hour or two of unstructured creative time, and keep the mess out of the house!
https://www..../event/615531
'United We Stand'
In times of trouble we come together and Unite, Rescue and Rebuild. This painting is inspired by the resilience of the good people of our country. United We Stand.
https://www..../event/623765
(*View our schedule, below)