The More, The Merrier!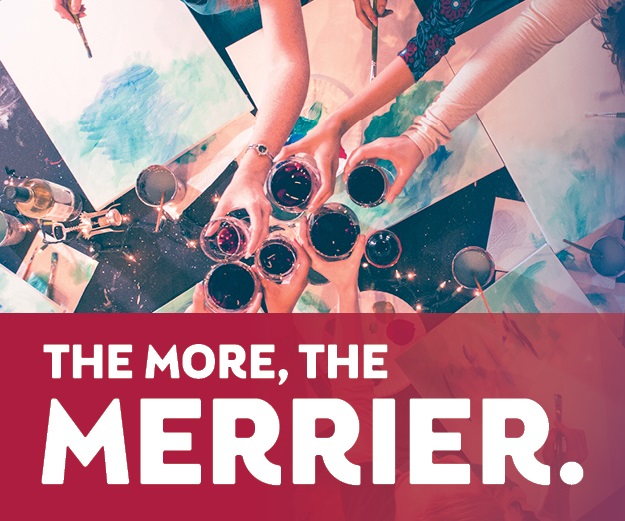 There's nothing better than spending time with loved ones this time of year! People travel long distances to see one another and partake in wonderful traditions, while making new memories, too!
Our painting and wine classes are a great place to catch up with friends and make some art and memories, any time of year, but this season, we have some of our most popular paintings on the calendar! Our customers love to create some artwork to display around the house, bringing joy and festive flare to the walls of their home!
Throughout all of December, we're offering a spectacular deal that you and all of your loves ones should take advantage of!
It's called, 'The More, The Merrier' and the code will be active, starting on December 1st!
Discount will be applied at checkout!
When you buy 5 seats you get the 6th one FREE! Grab your bffs and family and have a little paint party of your own, right in our studio!
HERE'S WHAT WE'LL DO FOR YOUR PAINT PARTY:
• We'll make sure your whole group gets seated together.
• We'll play some great music for everyone to enjoy!
• We'll provide the glasses, the ice, the aprons, the art supplies, and pretty much everything.
• We'll let you use this special discount each and every time your group of 6+ goes to a December event!
DISCOUNT CODE DETAILS:
• It's valid for regular, public events in December 2021 only (i.e., not for private paint parties or specialty painting events like Project Pet).
• Please complete a single transaction for 6+ seats (i.e., buy all your seats at the same time).
• Can't be combined with other discounts or promotions..
• Can't be used to buy gift certificates.
The Benefits Of Spending Time WIth Loved Ones:
*** Positive Choices
People who spend quality time together, inevitably influence each other's life and behavior. If you spend a lot of time with your friends, chances are you're going to pick up some of their positive habits like running or eating healthy food.
*** Increased Self-Esteem
When we surround ourselves with people who make us feel appreciated and loved, it's only logical that this helps boost our self-esteem. Our friends and family are the ones who will always support us, even if we fail sometimes.
*** Longer Life
Researchers found that people who have strong social relationship have better chances of living longer than those who don't.
*** Coping with Stress
Spending time with people you love and confiding in them is the best way to relieve stress. Stress can have serious effects on your physical and mental health, so the best way to deal with this is to talk about your problems.
*** Improved Mental Health
One of the benefits of being surrounded by people you love is improved mental health. Interpersonal communication reduces the risk of mental illness, such as depression and anxiety, according to 'Psychology Today'.
We hope you'll be taking advantage of this great deal and consider our studio as a great place to spend time this season! There's nothing like getting in touch with your inner artist while you paint, drink, listen to music, reconnect with loved ones, and leave with a handmade masterpiece at the end of the class!
Give all of your friends and family a call and invite them to a class, ASAP…
After all, the more, the merrier!
AND, if you're looking to do some painting this season but prefer to create from home, we're offering ots of amazing 'Take Home Paint Kits' that you and all of your loved ones can do this season! Make them for decorations; Give them as gifts; and just enjoy time making them with friends and family this time of year!
Share View our class Calendar! | Check out our Take Home Paint Kits