Spend Black Friday Weekend With Us!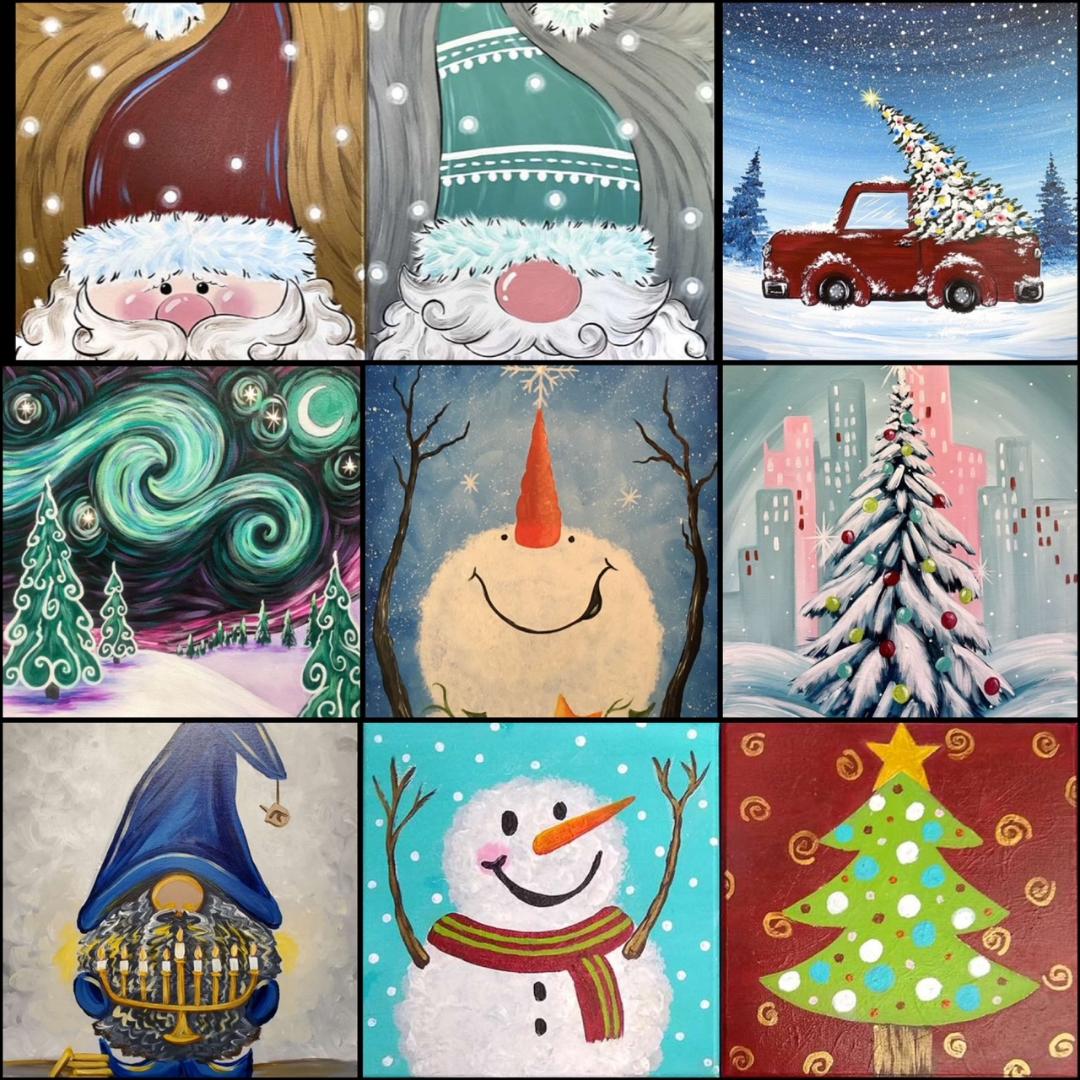 Happy November! Tis the season of family, good food, and great deals! If you've already begun your holiday shopping, then we salute you; This year's shipping ispredicted to be nightmare, and that's pretty much what it'll be like in the stores on Black Friday. From insane parking lot overcrowding, to long lines, emoty shelves, and being in huge crowds of people during a pandemic, Black Friday Weekend isnt for everyone.
While some love the thrill of seeking out a sale, others prefer to relax and unwind from Thanksgiving Day with family.
You can enjoy friends, family, AND a relaxing day when you come to Pinot's Palette for a painting and wine class!
For an extra addition of comfort, paint from your home with our virtual classes, where all of the supplies will be provided for you… Easy, peasy!
From spending time with in-town guests and loved ones of all ages, to getting ahead-start on your DIY hooliday gifts, Pinot's Palette is the place for you anytime of the year… And espcially this Thanksigivng Weekend!
**Here's What's Going On For Black Friday Weekend:
— Friday, November 26th —
Catching Snowflakes
We just love this painting for wintertime! It really allows you to get creative with your painting by changing the scarf and creating different snowman faces. It's fun for everyone!
https://www..../event/569386
Oh Silent Night
Pour some wine and enjoy this oh so silent night
https://www..../event/571282
— Saturday, November 27th —
Snowy Sunset
*Take-Home Paint Kit
https://www..../event/574868
Jolly Peekaboo Santa and Gnome
Grab a friend and deck the halls this holiday season with this jolly pair!
https://www..../event/571277
Hazy Tree
This hazy scenery creates a calming experience.
https://www..../event/575938
Starry Northern Lights
Who doesn't love the iconic Starry Night painting by Van Gogh?! Now take Starry Night and mash it up with the northern lights and you've got a beautiful wintry landscape. What's even better, it can glow in the black lights or be lit up with lights too!
https://www..../event/569388
Christmastime In The City
*NEW Painting!
Enjoy Christmas time in the city with us as we paint this vintage inspired scene!
https://www..../event/571266
— Sunday, November 28th —
Hanukkah Gnome
Celebrate the season by painting this cute gnome!
https://www..../event/571256
Holiday Truck
Deck the halls with this adorable holiday truck!
https://www..../event/575979
Mini Paintings!!
Snowman and Christmas Tree
Paint this adorable holiday duo with a friend or on your own! Customize colors and decorations to personalize your painting.
https://www..../event/575928
And Don't Forget To Book Your Holiday Party!
If you're looking for the perfect place to have your holiday party this year, look no further than Pinot's Palette! From in-studio classes to virtual events, we have something for everyone! Whether you're looking to have a fun time with friends and family at your annual Christmas Party OR looking for a unique pace to host your Holiday Office Function, there are tons of options for you and your crew! You'll pick the painting, the date and time, and of course the guest list when you book a private event with us; Bring in food, choose the drinks, come in early to decorate, and build in extra time for a gift exchange or games...
Anything you want to do for your event, we're here to help make it happen!
Virtual:
https://www....ivate-parties
Celebrations:
https://www....ivate-parties
Corporate/Team-Building:
https://www....porate-events