Join Us For Some Airconditioned Creative Fun & Summer-Themed Artwork!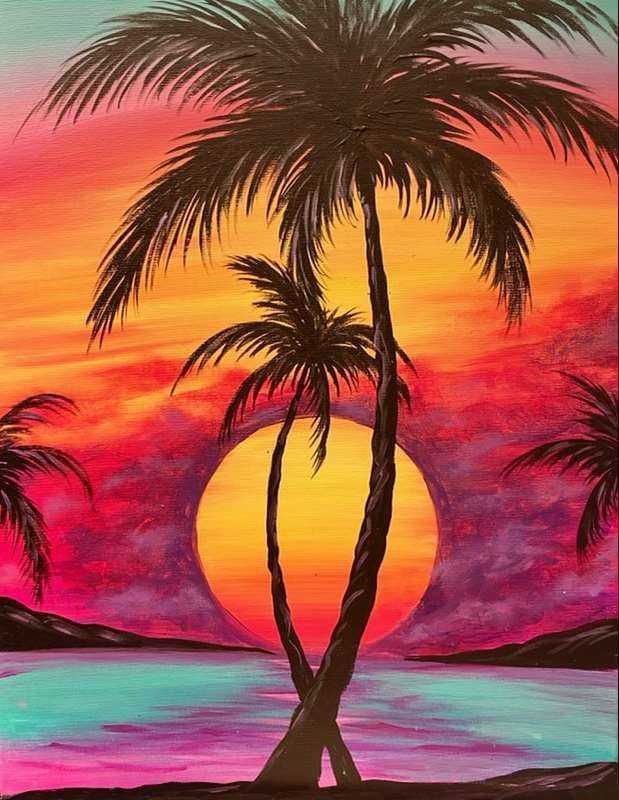 Phew…
It's that time of year again when the weather can get boiling some days, and what are you to do when it's just too scorching?!
We've got a studio full of of art supplies, wine, and some refreshing AC! Beat the heat this Summer and join us for a painting class and a cool glass of wine or beer.
While the outside weather may be too hot to enjoy, you can bring some of the beauty of Summertime, indoors. Paint some palm trees, a lovely beach, or some flowers or trees and liven up your walls this Summer.
Here Are Some Of The Classes We're Offering:
*BEACHY BEAUTIES*
July 23 'Galaxy Beach'
Galactic skies over a calm and peaceful beach.
https://www..../event/623810
July 29 'Romance On The Beach'
**Make It A Day Night!
Nothing more beautiful than being on the beach at sunset that brings out romance.
https://www..../event/623811
July 30 'Sunrise Over The Dunes'
Come and relax with us as we paint this watercolor inspired sunrise!
https://www..../event/623796
*TROPICAL LIFE*
July 23 'Tropical Twist'
A twisted take on a classic summer seascape.
https://www..../event/623840
August 6 'Paradise Getaway'
Get away to this beautiful tropical paradise!
https://www..../event/631694
More Things To Do Inside When It's Just Too Hot:
Bring some color in with paint
If you don't have an artistic bone in your body but can still operate a paintbrush, paint furniture. Bonus points if you choose a cooling blue shade.
Have an indoor picnic
Share your bounty (probably stuff you bought online) with friends and family. Pile up the cushions around a low table for a memorable living-room picnic – who needs a park?
Set up a movie marathon for yourself and the kids
Do this right, the old-fashioned way, with popcorn, soft drinks and even milkshakes if you have the ingredients.
Lie back in a cool bath
Bath's don't have to be hot. Try filling yours with tepid water instead, and use it to cool yourself down. Candles, petals and champagne, optional.
Play board games
Have fun with friends (+ wine, or beer if that's your preference) and relive the good old days of board games!
— MORE Ideas For The Whole Family:
https://www....o-hot-outside
((Cool Treats To Try This Season)):
3-Ingredient Strawberry Lemonade Fro-Yo -
https://www....onade-fro-yo/
Frozen Blueberry Bites -
https://www....eberry-bites/
2-Ingredient Strawberry Banana Ice Cream -
https://www....na-ice-cream/
Watermelon Lime Sorbet -
https://thee...ummer-treats/
70 Summer Cocktail Recipes:
https://www....ktail-recipes