Inexpensive Wines That We Love!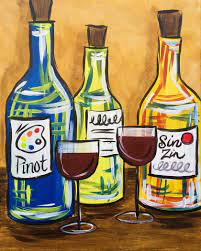 If that isn't apparent from our name, 'Pinot's Palette', then our extensive wine and beer list at the bar in our studio should convince you. While wine with your painting is a must, there are many times when we all want to enjoy some spirits at home! Whether you're having a glass with dinner as you wind down after a long day, or are gathering friends and family together for some food and drinks in the lovely weather, wine is always a good idea!
Fall is here and the weather is so nice this time of year, with the cool and crisp evenings and the fresh, Autumn air… These days make the perfect time for a delicious glass (or two…) of your favorite wine! When you find some great wine at a good price, you can afford to buy a bunch of bottles and keep them on hand for all of the gorgeous Fall evenings, trying them all for yourself, and sharing some in the process.
The holidays will be here before you know it! You can keep these wines in mind for the upcoming gatherings and trying some of them out, ahead of time, will allow you to decided which are you favorites to serve to loved ones! October-December are typically the months of the year with the highest wine sales, as it's the holiday season! There are so many holidays and other special celebrations, coinciding with them, where people want to eat, drink, and be merry, so be sure to have the house well-stocked so you can entertain without constantly having to search for wine.
There is certainly no shortage of inexpensive wine out there for you to grab and enjoy (and they all get the job done), but some are absolutely better than others in taste. If you're looking for a good bottle of wine, without the high cost, look no further than this list of easy-to-find wines and try some out, today! We've got sparkling wine, wines, and red, and most can be found at your local wine store (or ordered, online through the brand's website). Start with some of your favorites and then stock up on a few red and some whites so you always have some bottles waiting for those invited (or unannounced) guests when they arrive!
La Marca Prosecco ($14)
The perfect brunch bev that plays well with others — it's perfect for making a nice Aperol Spritz — this one's citrusy and not too sweet.
Chateau Ste Michelle Riesling ($10)
Sweet, candied lime peel, apricot and apple aromas are layered on the nose. Noticeably sweet on entry, this has fine acid balance lending a transparent feel in the mouth and taking the edge right off the sweetness. The result is a medium-bodied, lime-based mid-palate with a touch of herb and apple peel complexity that extends over the moderately long finish. Nicely balanced and fresh if a touch simple, this checks all the boxes.
Chloe Rosé ($13)
The cute bow alone is enough reason to make this your go-to rosé, but if you need another excuse, the nods to watermelon, raspberries, and strawberries don't hurt.
Woodbridge by Robert Mondavi Pinot Grigio ($8)
Crisp and juicy with a touch of spice, this white is a mouthwatering complement to fried chicken, quesadillas, and Greek salad.
Chateau Souverain Sauvignon Blanc ($11)
If you like your white wine crisp, dry, and with a fancy French name that suggests you spent more money than you did, this bottle should do the trick.
Apothic Crush Smooth Red Blend ($10)
With a chocolate-y finish, this full bodied red is ideal for when you've just had a day, and the only thing that can solve it is an Olivia Pope-size goblet of something on the sweet side.
Veramonte Reserva Merlot ($10)
Smooth and voluptuous, this Chilean import pleases with the essence of ripe plums, red cherries, and notes of cocoa and vanilla. A great choice for hearty entrées like chicken Parmesan or sausage and peppers.
Elsa Bianchi Malbec ($10)
Made with grapes from the Doña Elsa vineyard, this juicy, dark berry-flavored Malbec is another great value.
Folonari Pinot Noir ($8)
A dry, savory red that sings with the flavors of spicy black currants and blackberry jam. Ideal with grilled salmon steaks, barbecued chicken, or earthy portobello mushrooms.
****
The Best Trader Joe's Wines
No one does good, inexpensive wine like Trader Joes! If you want to find any type of wine in a low price range, this is the spot to hit up! You can grab some of the delicious snacks that the store has to offer, including a wide assortment of cheeses, meats, nuts, and more, and enjoy them with your wine for a match, made in Heaven!
*Here are some of our favorites:
RAVENSWOOD VINTNERS BLEND OLD VINE ZINFANDEL ($8)
Displaying pronounced aromas of ripe black fruits and spice, our tasters enjoyed this old vine Zinfandel for its well-executed balance of fruit and herbs. With silky tannins and interesting flavors of olives and chocolate mixed in with luscious blackberry, this is an ideal wine for a BBQ with friends.
KIM CRAWFORD SAUVIGNON BLANC ($14)
Based in Marlborough, New Zealand, Kim Crawford is one of the country's best-known producers, and our experts had a lot to say about its Sauvignon Blanc. Reveling in its "floral Bath & Body Works" notes, the highly aromatic white transported tasters to "grassy peach orchards." While floral on the nose, this Sauvignon Blanc offers refreshing citrus and green fruit flavors on the palate and has mouthwatering acidity.
David Frost Trader Joe's Red ($7)
With intense aromas and generous fruit flavours, this blend presents with soft tannins and a smooth finish on the palate.
A to Z Pinot Noir ($14.99)
Pinot Noirs make for great springtime reds. They're much lighter than the hefty Cabernets and Syrahs you may have been drinking during the colder months making for a nice transition between seasons. Pinots, like most reds, also taste better with a little bit of age, so when I spotted this Oregon Pinot was from the 2014 vintage I was intrigued (Most of the other bottles surrounding it on the shelves were younger). The A to Z was the prettiest wine I tasted among this bunch. It's full of bright cherries with enough complexities, such as herbal and black tea notes from its mild tannins, to interest a wine geek yet not distract anyone who just wants to sip something light
When you come in for a painting and wine class, you'll find a great selection of 'liquid courage' stocked at our bar for the 21+ crowd. If you're used to getting a glass or two of wine when you're out, enjoying a meal or another activity, you likely know that most glasses on a typical menu, come with a prettyhgihg price tag. Our wines are delicious but are priced at a great deal so you and your friends can enjoy a night out, experiencing something new, without breaking the bank!
Check out our class calendar and wine/beer list at the bottom of the page to see what we offer in our studio!
Cheers!