Halloween Celebrations With Pinot's Palette!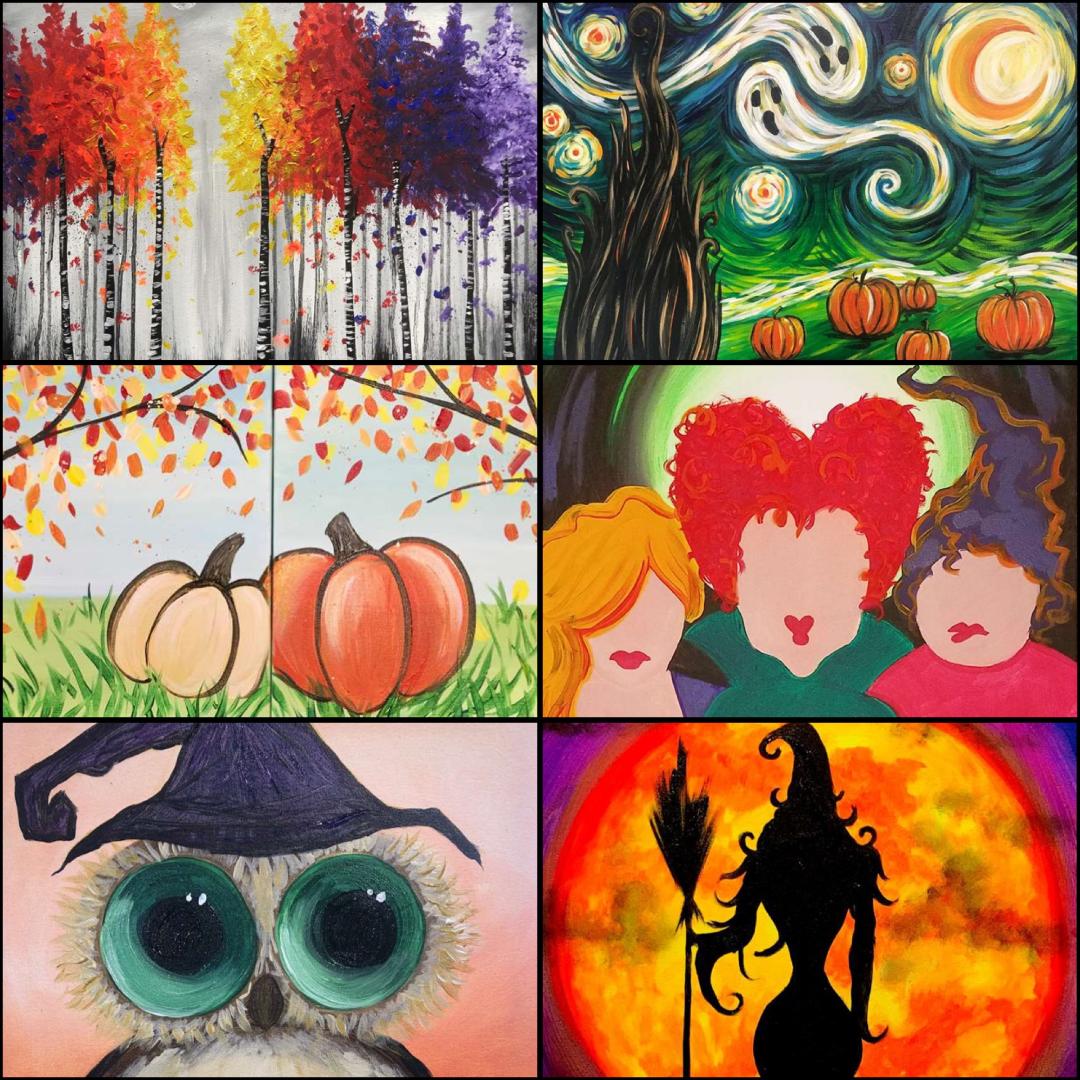 This Halloween, be sure to incorporate some amazing DIY artwork into your traditions!
Join us in the studio for one of the many spooktacular classes we're offering, OR paint from the comfort of your own home with our paint kits!
We have such fun artwork this time of year and all of our customers love to create these holiday-themed paintings to get into the spirit of things!
Use them to hang in your home and make it an even more special place to be…
Make some to give as gifts to friends and family…
Heck, just make some for fun as you unwind from a long day at work and get in touch with your inner-artist!
Here's what's coming up for Halloween:
10/26 Moon Magic
There is magic all around you, you just have to believe!
https://www..../event/563927
10/29 Violet Widow (Sugar Skull)
This painting is inspired by the colorful and vibrant designs that are created each year in celebration and commemoration of the dead.
https://www..../event/563925
10/29 Three Witches
I smell children! Celebrate the Halloween season with these three spooky witches.
https://www..../event/561875
10/30 Pumpkin Patch
Mommy & Me - Mini Paintings!
Paint this fun Fall mommy & me with your favorite little pumpkin!
https://www..../event/561885
10/30 Vibrant Forest
This vibrant tree line under a distant moon glow will take your breath away. Embrace the bright colors and fun brushstrokes to create your masterpiece.
https://www..../event/563956
10/30 Halloweenville
A spooky scary skull in the moon is the perfect addition to any haunted home.
https://www..../event/563923
10/30 Hallowe-Queen
Feel the chill in the air? The Queen has arrived, approach her if you dare.
https://www..../event/563928
October 31st -Happy Halloween!
Hootie Halloween
Let's make celebrating Halloween a hoot with this cute little Autumn owl!
https://www..../event/563931
Van Gogh's Starry Night - Halloween
Join us for this fun twist on Van Gogh's Starry Night - Halloween Edition at Pinot's Palette studio near you! "There is magic in the night when the pumpkins glow by moonlight."
https://www..../event/563929
PAINT FROM HOME:
If you're looking for a fun way to paint from home, we've got you covered! Paint with the whole family as a great bonding experience and activity that EVERYONE is sure to love…
Use these kits for a big celebration that you and your friends are hosting for the Spookiest Holiday of the year…
Or just order a bunch and make them for decor for your home as you become more skilled with each brush stroke!
These kits have all the essentials necessary to make your own masterpiece at home! To-Go kits may be picked up 2-6 PM Wednesday, Friday and Saturday, or shipped for $5. Package includes: canvas, self-guided instruction set with step-by-step photos, 2-3 brushes (tailored paintings selected), paint, paper and mixing palettes, and table protective sheet. PLEASE FORWARD YOUR CONFIRMATION EMAIL AND PAINTING SELECTION TO FEDERALWAY@PINOTSPALETTE.COM TO ENSURE YOUR PICKUP KIT IS READY WHEN YOU ARRIVE!
https://www....op-item/22668
CROWD PLEASER:
Starry Night Pumpkin To-Go Kit
Paint one of the most-recognized works of art in history on a pumpkin!!!!
Photo, above
https://www....op-item/37177
We are so excited to see you back in the studio! Use these codes to Save:
Buy2Save10 Buy 2 Seats in the same class, get $10 off your Purchase!
Buy3Save15 Buy 3 Seats in the same class, get $15 off your Purchase!
Buy4Save20 Buy 4 Seats in the same class, get $20 off your Purchase!