Entertain Unexpected Guests In A Pinch!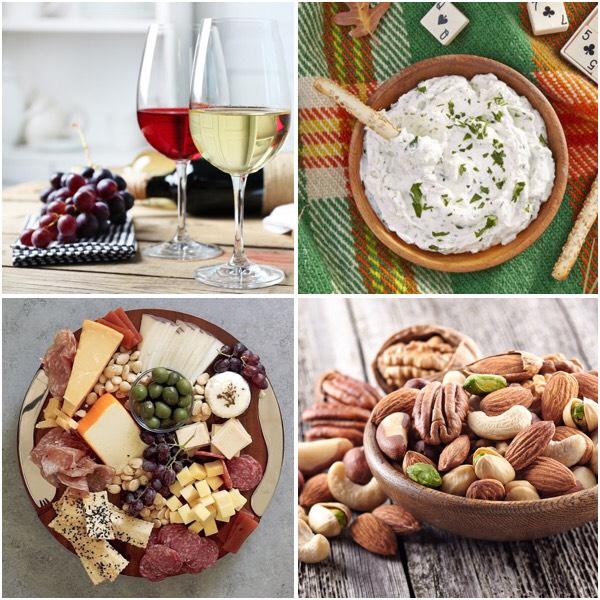 You never know when you might have guests, especially this time of year. Whether they're friends passing through or relatives just in town, impromptu entertaining doesn't have to be something to dread. If you keep a few staples on-hand all the time, you'll be ready anytime someone comes knocking that you might want to invite in for a while, whether you planned on their arrival or not. From neighbors, stopping in to give you some baked goods or other friends coming by to say "Merry Christmas" or compliment your decorations, you're all set to entertain them and look like the perfect, well-prepared host!
Cheers!
***WINES TO KEEP ON HAND (that won't break the bank)***
-- 2011 Woodbridge by Robert Mondavi Pinot Grigio ($8)
Crisp and juicy with a touch of spice, this white is a mouthwatering complement to fried chicken, quesadillas, and Greek salad.
-- 2011 Lapostolle Casa Sauvignon Blanc ($11)
This dry, charming white is ripe with traces of guava, peach, and pineapple. A prime choice for crab cakes, oysters on the half shell, or even pad Thai.
-- 2010 White Truck Moscato ($13)
Each sip of this sweet white brings to mind orange blossoms, mangoes, and pears. Amazing with peach cobbler or lemon meringue pie. Or pair it with spicy charcuterie or a fiery Indian curry.
-- 2011 Excelsior Chardonnay ($10)
This South African Chardonnay satisfies with the flavors of green apple, tangy lime, and a whisper of toasted oak. Drink it with garlicky pastas, buttery scallops, or fried fish tacos.
-- 2010 Folonari Pinot Noir ($8)
A dry, savory red that sings with the flavors of spicy black currants and blackberry jam. Ideal with grilled salmon steaks, barbecued chicken, or earthy portobello mushrooms.
-- 2009 Veramonte Reserva Merlot ($10)
Smooth and voluptuous, this Chilean import pleases with the essence of ripe plums, red cherries, and notes of cocoa and vanilla. A great choice for hearty entrées like chicken Parmesan or sausage and peppers.
-- 2010 Ravenswood Vintners Blend Petite Sirah ($10)
Full-bodied, satisfying, and food-friendly, Petite Sirahs match well with favorites like ribs, mac 'n cheese, and braised greens. This one packs a punch—think freshly crushed blackberries with notes of oak, vanilla, and caramel.
-- 2011 Portillo Malbec ($10)
Velvety-soft and bursting with the rich flavor of figs and black plums, this bargain from Argentina is a classic match for grilled steak and chicken.
-- 2009 Liberty School Cabernet Sauvignon ($10)
This graceful, smooth-drinking California Cabernet enlivens everything from lamb chops to hot dogs.
***OTHER DRINKS TO KEEP IN THE HOUSE***
-- MIXED DRINKS:
*Keeping some good quality vodka, rum, and club soda on hand (along with some fruit juices) allows you to whip up a lot of different drink combinations! Add a garnish and it looks like you've spent some serious time, practicing and preparing to entertain!
*These recipes require minimal ingredients and can be made in large batches:
Sangria
https://www....nter-sangria/
Mimosas
https://www....iday-mimosas/
White Russian
https://cock...Russian_Drink
-- NON-ALCOHOLIC:
*Hot Wassail
https://tast.../hot-wassail/
*Hot Cocoa
Keep some packs of instant hot chocolate on hand to serve in a flash. Here are the best ones:
https://www....-test-article
*Coffee
***EASY SNACK IDEAS***
-When making bites to have with drinks for planned guests, go ahead and make more than needed and freeze the surplus (think about things that freeze well.) Once you start making these treats, it's not that much more work to make, say four dozen pieces, instead of two. Things like Chinese dumplings, mini phyllo pastries, savory puff pastry treats and so on...
-Keep an assortment of veggies and some kind of dip like hummus, so you can easily throw together a simple crudité.
*Easy-to-make veggie dip:
https://insp...d-veggie-dip/
-Bars of chocolate and popcorn kernels. Keep a variety of chocolates in your pantry to pull out and satisfy a sweets craving. Making your own popcorn is so easy and customizable based on spices or cheese you have around the house. Can't go wrong with having it on hand but don't be afraid to stock up on bags of high-quality popcorn of all flavors to pass out to guests!
Try 'Popcornopolis':
https://www....ornopolis.com
-Keep some homemade frozen cookie dough balls in the freezer. They're ready to pop into the oven anytime you need to serve some fresh-baked cookies. Whenever you make cookies, just multiply the recipe by at least double and keep the extra dough rolled in parchment in the freezer to make slice and bake cookies!
-Some good artisan bread is perfect to pair with cheeses, spreads, and dips OR toast it and pair it with an assortment of jams and nut butters (this is delicious with tea)!
Dice up some herbs and fresh tomatoes for a delicious bruschetta!
https://www....ecipe-2120111
-Stock up on all flavors of nuts: roasted, salted, savory flavors, and sweet flavors, too! Planter's Mixed Nuts feel fancy, especially when you put them in a nice bowl.
-Cured meat! And lots of it! Salami, chorizo, prosciutto, and more….any type will do. Arrange it on a board with some cheese and fruit or jam if you have it and BAM! A perfect, put-together treat! *Sprinkle some nuts around the meats and cheeses for added fanciness and flavors.
-Chips and crackers with any kind of dip (homemade or store-bought!)
Salsa
Hummus
Herbed Goat Cheese:
https://www....e-dip-recipe/
Pimento Cheese:
https://www....heese-recipe/
Guacamole:
https://www....ecipe-1940609
-Cheeses of course! This is always a huge crowd-pleaser as its something generally everyone likes, it keeps well in the fridge, tastes fancy and savory, and can be paired with so many things! Pairs with crackers, bread, fruit, meats, veggies, and more!
-Chili
Warm, comforting, and looks like you spent a lot of time, preparing a delicious dish for your guests!
Keep shredded cheese, crackers, hot sauce and sour cream on hand for toppings!
*How to always have chili on hand:
https://www....dinner-255468
-Keep a bag of pre-made 'potstickers' in the freezer. They're fans easy to steam, and nice with good dipping sauce-*Try some soy, ginger, garlic mustard, and a light touch of veggie oil--whisk it all together and enjoy!
-For a sweet treat that looks really upscale try some sliced banana (slice them on the bias in thick scallop sized slices).
Dip the top in sugar and use a cooking torch to caramelize the sugar, melt it brown it let it bubble (use a sheet pan or foil). Let it rest a bit so it makes a hard creme brûlée type crust and serve with a scoop of vanilla ice cream..and Irish coffee. Oh, yes!
*Purchase a chef cooking torch for cheap:
https://www....0523407&psc=1
BONUS:
-Dried Pasta and Canned Tomatoes/Tomato Sauce: A Quick Dinner for Any Night
**Let's say your guests are stopping in for more than just a drink, and you want to actually make dinner. Let's also say you didn't have a lot of time to come up with a menu or hit the grocery store. Don't worry—instead of treating your pantry like an episode of 'Chopped', just grab a box of pasta from the pantry and a bottle of pre-made tomato or pasta sauce. Even if you opt against the tomato sauce, well seasoned pasta with a butter sauce, some herbs, and some frozen veggies you can heat up like spinach, kale, or even broccoli makes a hearty, fast dinner that doesn't demand special ingredients or planning. Still, for a sudden death dinner, you could do worse than a well-cooked bowl of pasta and a flavorful sauce.
Be sure to keep our Federal Way painting studio in mind for a great way to spend time this season! Bring those guests of yours in to have some fun as they paint, sip wine, listen to some music, and have a whole lot of fun!
Take advantage of our, 'The More, The Merrier' deal, where the more seats you buy, the more money you save!
Bring some of those tasty snacks in to enjoy as you paint… we've got the wine!
***Keep our VIRTUAL Classes in mind too! Paint along with one of our live classes or take advantage of our take-home paint kits!
Have a wonderful holiday season and we look forward to seeing you soon!