What Are Our Classes All About?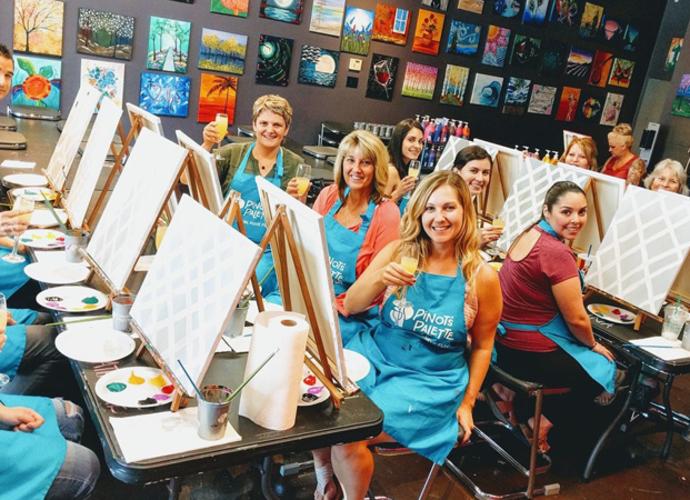 The paint and sip experience is very easy-breezy, but even so, it's nice to know what to expect. This is especially true if you're coordinating a large group. Or if you're trying to convince your boss to sign your department up for a paint and sip team-building day.
Paint and sip events combine a professionally-led painting class with a high-energy environment and a few drinks. Pinot's Palette studios are either BYOB or have bars built in them. Wine is the most popular drink of choice, but many of our guests opt for beer, liquor or lemonade. Paint. Drink. Have Fun. As long as you do at least two of the three, you're in good shape.
Here's what to expect:
YOU DON'T NEED TO BRING ANYTHING.
Classes are paid in advance, and we provide 100% of your painting supplies, protective smocks, wine glasses, corkscrews and even ice buckets, so you don't have to show up with anything!
Part of the joy of paint and sip is that you get to snack while painting, sometimes groups show up with some munchies. Enjoy the fabulous selection of wine and beer we offer from the bar!
THESE ARE ADULT PAINTING CLASSES.
The overwhelming majority of our attendees are over 25 years old. Painters have to be at least 13 to come to a class at most locations, and we don't allow unaccompanied minors. Our studios are designed to be fresh, creative spaces where adults can have a drink and unwind. Check with your local studio's website to get information regarding age policies.
CLASSES ARE 2-3 HOURS LONG.
Class length depends on the painting your studio chooses. Plan for a full evening!
IT'S NICE TO SHOW UP 30 MINUTES EARLY.
Most painters show up early to get their food and beverages set up, and enjoy a bit of downtime with their friends before the painting officially begins. We start right on time!
IT'S SUPER EASY TO HEAR OUR ARTISTS' INSTRUCTIONS.
You don't need to know a single thing about painting prior to showing up. Our instructors will talk you through everything you need to know, from how to mix paint colors to what sort of brush strokes to use. Want to customize your painting? They'll help you with that, too.
Our studio is designed with a few details in mind, like keeping the painting space small and intimate, and allowing our instructors' voices to be heard over music and chatter. We promise to make it easy to hear and follow our artists' instructions.
Here are the classes and specialty events that you can expect to find at our studio:
*** Standard Painting and Wine Classes (21+)
In 2009, Pinot's Palette started offering 'Paint and Sip' classes to adults 21 years of age and older. What started as the company teaching people to paint on a 16" x 20" canvas, quickly grew into a large variety of fun and new classes!
These are some of our most-popular styles of classes that you can join us for:
Date Nights
Girls' Night Out
Family Day
Black Light Classes
Paint On Wood, Glass, & More!
Blanket making class
Holiday and Seasonal Themed Classes
*** Little Brushes (Fun For The Kids!)
Looking for a fun and creative outlet for your little artist?
Then Little Brushes has exactly what you are looking for! At Little Brushes we offer a fun-filled party atmosphere where your little artists can have a blast creating their own masterpieces. We offer fun day camps throughout the year when your little artist is off from school. Whether it's summer time or the holiday season our camps are a great way to get out of the house and have some creative party fun!
*** Vritual Classes (Paint From Anywhere!)
You'll see some 'Virtual Classes' on the calendar, which we have been offering since the pandemic began last March. These are great for those of you who are looking to make art but still aren't ready to attend a class in person. They're also conveinent if you want to join a class but the day and time don't work for you!
*** Take Home Paint Kits (Paint Any Time!)
Order the supplies for the painting(s) of your choice and paint along with the pre-recorded directions, step-by-step, from the comfort of your own home at the time you want!
*** Fundraising Events (Join Us To Paint For A Great Cause)
Every so often you may see a class on the calendar where a portion of the proceeds go towards a good cause. You can also ask about fundraising for your group, team, or other
*** Private Parties
(Celebrations):
https://www....partythisyear
(Team-Building/Corporate Events):
https://www....taffwilllove-
(Kids' Parties):
Little Brushes® kids painting classes celebrate every child's creativity! Customizable for age, skill level and event type, these parties are nonstop fun for birthdays, field trips and celebrations big and small.
https://www....ainting-party
(Virtual Parties):
Customize a paint and sip party for any occasion, from birthday parties and fundraisers to bachelorette parties and family get-togethers.
https://www....ivate-parties
Share Check out our calendar! | The Many Benefits Of A Painting Class