Stunning Summer Artwork!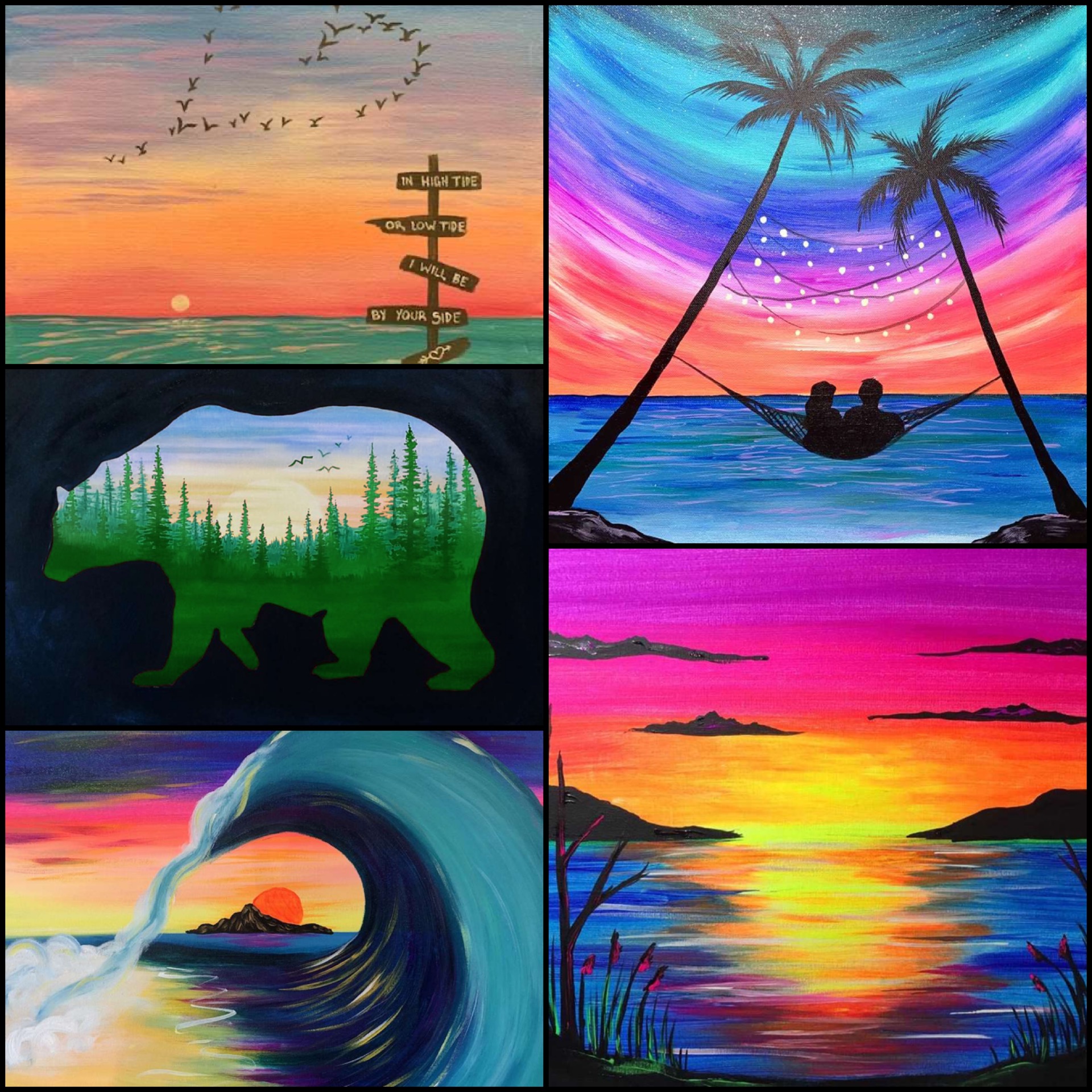 2021 is flying by and Summertime is coming in HOT!
Add some color and warm weather style to your walls with some of these seasonally-themed paintings that will look great all year around!
Whether it's a Summertime theme you're going for or one of our other fabulous masterpieces, we've got something for everyone! From landscapes and floral beauties, to animals, wine, and so much more, we're always offering new and fabulous artwork for you and your loved ones to come in and paint (or create virtually).
Here are some of the Summer paintigns coming up:
May 12th Glowing At Dusk
This vibrant landscape is great for blacklight!
https://www..../event/541861
May 14th North Shore At Sunset
Catch a the wave as it glistens in the warm summer sunset.
https://www..../event/529915
May 14th Endless Summer
Nothing better than a cool summer evening filled with endless sunsets, lounging in a hammock with someone you love.
https://www..../event/529806
(*Virtual):
https://www..../event/541895
May 16th Beach Signs At High Tide
Create this beautiful scene with us and never miss another perfect sunrise.
https://www..../event/541873
May 21st Kodiak Journeys
This bold design is a perfect addition to any rustic decor.
https://www..../event/529812
May 22nd Crescent Palms
Crescent moon glowing over the ocean surrounded by palm trees - a perfectly relaxing sight as you drift off to vacation dreams.
https://www..../event/536471
There are tons of other amazing classes on the calendar, both ina nd out of the studio, including our Take Home kits that you can purchase and do anywhere, anytime! Come in for a much-needed girls' night out, a fun date night, the perfect famiyl day, or just after a long day to relax and unwind as you get creative and enjoy some wine!
Use these codes to Save!
Buy2Save10 (Buy 2 Seats in the same class, get $10 off your purchase)
Buy3Save15 (Buy 3 Seats in the same class, get $15 off your purchase)
Buy4Save20 (Buy 4 Seats in the same class, get $20 off your purchase)
We hope to see yo soon! We're always here to help out with anything you need, including any questions you may have. Thank you all so much for being there for our small Federal Way business and we can't wait to see your smiling faces back in the studio again, soon!
Stay safe, stay heathy, and continue to support your small local businesses in the King County area… and all over Washington State!