May The Fourth (and 5th) Be With You!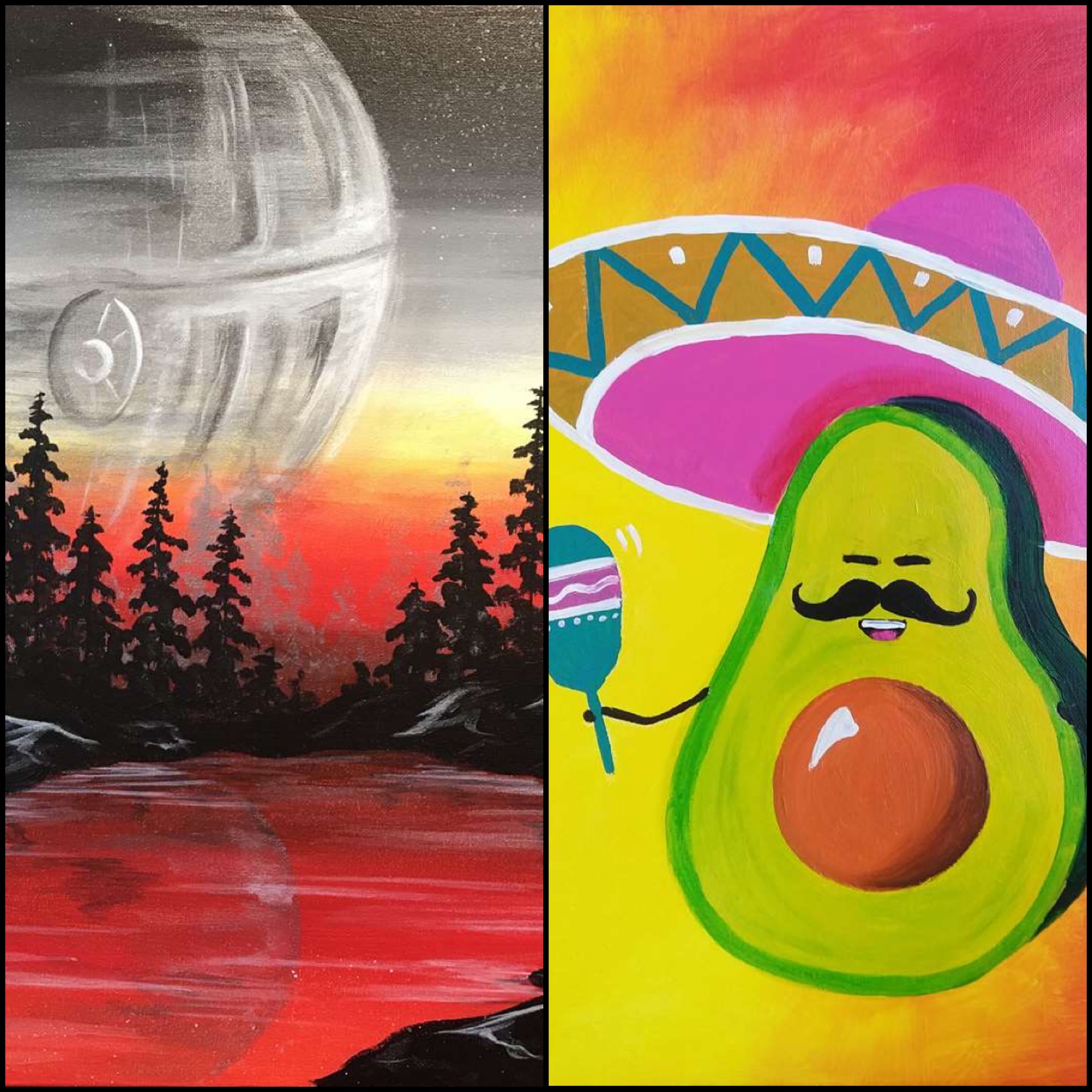 We're nearing the month of May and wht's right around the corner from the start of the new month? May The Fourth (Star Wars Day) AND Cinco De Mayo!
We're excited to see you back in the studio! We've added safety measures to ensure compliance with all CDC guidelines, and are ready for some good clean fun! Space is limited, so be sure to reserve your spots, ASAP! We can't wait!
If you're looking to make some artwork, virtually, we've got you covered there too! You'll see a few virtual events on the public calendar AND you can utilize our take-home painting kits.
https://www....eral-way/shop
Here's What Coming Up::::
— MAY THE FOURTH —
May 4th has become commonly known as 'Star Wars Day', and who could be surprised? When saying the date, "May the 4th", it's hard NOT to say the rest of the catchphrase. Regardless of whether you're a hug fan of this epic, timeless saga, the influence of George Lucas' Star Wars on pop culture is undeniable.
"May the Fourth be with you" was first used by Margaret Thatcher's political party to congratulate her on her election on May 4th, 1979, and the saying quickly caught on. However, the first celebration of May 4th took place much later, at the Toronto Underground Cinema in 2001. This first official Star Wars Day's festivities included a costume contest and a movie marathon. Fans' favorite parodies of the franchise were also enjoyed, as were some of the most popular mash-ups and remixes. Since then, Star Wars Day has gained popularity and is celebrated by Star Wars Fans worldwide."
*** PAINT WITH US ***
Disturbance In The Galaxy
The force is strong with this one! This painting is the perfect addition to your nerd nest or just to paint for a fun night out.
https://www..../event/529894
— CINCO DE MAYO —
Cinco de Mayo, or the fifth of May, is a holiday that celebrates the date of the Mexican army's May 5, 1862 victory over France at the Battle of Puebla during the Franco-Mexican War. The day, which falls on Wednesday, May 5 in 2021, is also known as Battle of Puebla Day. While it is a relatively minor holiday in Mexico, in the United States, Cinco de Mayo has evolved into a commemoration of Mexican culture and heritage, especially in areas with large Mexican-American populations.
*** PAINT WITH US ***
Avo Great Day!
You can almost hear the maracas and the music while you paint this cute Avocado wearing a sombrero! Have a margarita and AVO GREAT DAY :)
https://www..../event/529897
— MOTHER'S DAY CLASSES —
'The Family That Hoots Together'- May 9th
This fun painting is for any age. This is a painting that can be customized for any size family that you have. Whether you have a large family or have just the two of you, this is a keepsake.
Come in with Mom and the whole family to create this collaborative painting on Mom's special day!
https://www..../event/529890
MORE CLASSES FOR MOM:
https://www....unforeveryone
— MORE AWESOME CLASSES —
NEW: 'Girlie Gnome'
Gnomes are so fun! Customize your own girlie gnome by changing the hair, skin and flower colors!
https://www..../event/526502
(*Virtual):
https://www..../event/534541
DIY Blanket Class
During this one-of-a-kind event, we will guide you step-by-step through hand knitting a warm, soft chunky knit blanket. No needles or knitting experience is required and all supplies will be provided.
https://www..../event/535280
New & Perfect For Customization!
Spring Harvest Wagon
https://www..../event/535198
PROJECT PET!
Paint a portrait of your pet at Project Pet. Once you sign up for the painting, email us a high quality digital photo of your pet (one pet per canvas, please) and we will do the rest. Each photo will be transferred onto a 16"X20" canvas. Our talented artists will walk you through the steps to create your very own Pet Portrait!
**This is one of our most popular classes and WILL Sell Out! Be sure to reserve your spot, ASAP!
https://www..../event/535200
Coming to paint with a member of your household?
**Use these codes to Save:
— Buy 2 Seats in the same class, get $10 off your Purchase!
— Buy 3 Seats in the same class, get $15 off your Purchase!
— Buy 4 Seats in the same class, get $20 off your Purchase!