Kids' Birthday Parties With Pinot's Palette
Utilize our studio for your child's next Birthday! Whether you're looking to join us in-person or paint virtually from home or anywhere, we've got your covered! Give your child and their friends the chance to put their inner-artists to work as they make artwork and memories to always cherish!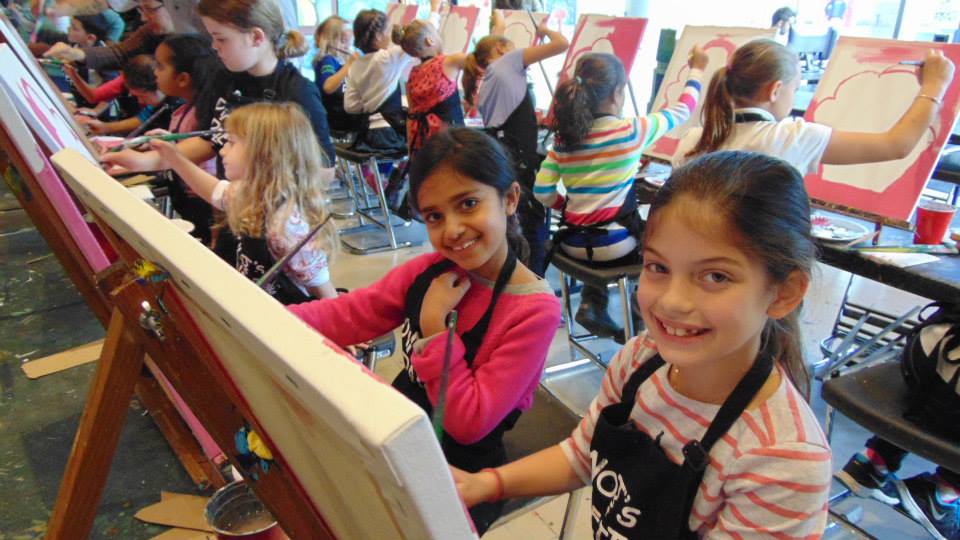 'Little Brushes' paint parties in Federal Way are so much fun for kids of all ages, and easy breezy for parents. We plan the activities and take care of the setup and cleanup for you.
Art supplies are ready and waiting when you arrive – including aprons to help protect clothing. All you need to bring are the kids and the food. (We even provide plates and utensils.)
Kids don't need any artistic skills to have fun and paint at Pinot's Palette. Experienced instructors guide them step by step through the painting, based on the ages and skill levels of the group. The painting process is closely guided and well-structured, while giving kids the wiggle room they need to be kids.
We love letting them express their creativity! Kids can change colors, patterns or other details to make the painting their own; And of course, everyone goes home with the coolest party favor ever... Their very own masterpiece to remind them of all the fun they had!
Here at Pinot's Palette, we LOVE working with kids. Though we're typically a 21&up establishment, we do offer Family Days, kids classes and camps, and of course, we enjoy hosting bday parties too!
There's just something so special about watching children make art...
They don't over-think what they're making; They aren't hard on themselves about their work; and they get really creative! It's such a great thing to offer them a space to do art, creating anything they imagine, any time they get the urge.
With a painting party for their special day, you will get to see your little one bond with their friends over art, music, food, and more!
**Here's What You Need To Know About Booking A Party:
--- How To Book ---
Private events are booked by placing a refundable deposit to secure your desired date and time (after availability is confirmed by the studio).
--- Deposits ---
A $99 deposit is required to book your party and reserve your date. This deposit is non-refundable and will secure your time slot with the studio.
If a deposit is placed erroneously prior to confirming availability with the studio, the standard refund policy applies, see FAQs.
If the booking date is confirmed prior to placing the private party deposit, the refund policy does not apply.
--- What's Included ---
We want your event to be fun, organized and effortless. We provide you with all the supplies needed for a party, including our helpful artist(s) to host and guide your guests through the event. We include...
PRIVATE PARTY ROOM
In-studio parties will have an entire room to themselves, with plenty of space for all guests. The Celebration Room seats up to 24, and our Main Studio seats up to 52 customers. Events on Friday and Saturday Nights after 6pm require a minimum of 80% occupancy reserved to book.
ART SUPPLIES
Canvases, brushes, paints, palettes, aprons and anything else needed to finish a masterpiece. We also have a designated area to keep purses and coats.
PROFESSIONAL INSTRUCTION
Our instructors are professional artists themselves, and they are well-trained in making the painting process simple and enjoyable for painters of all skill levels. Everyone gets step-by-step instructions at a comfortable pace.
ICE, ICE BUCKETS, WATER
Our studio is equipped with ice and ice buckets to make it easier to keep drinks and food at the right temperature. Complimentary filtered water is available for all guests. You'll also have counterspace for food or gifts.
GLASSWARE
We will provide all plates, glassware and flatware for your party. If you would like to purchase glasses as party favors, let us know! We also have glassware available for sale as a memento of your event.
MUSIC
We'll have a crowd-pleasing playlist ready for you. Or, you can tell us what sort of music you'd like for your event and we'll tailor a playlist to your needs. And don't worry – we make sure the music doesn't get in the way of hearing the artist's instructions.
FOOD AND DRINKS
Check our studio's food and beverage policies to find out what you can bring and what we provide in-studio!
--- Event Details ---
Unless you've worked out other arrangements with us, doors will open 30 minutes before painting starts. This gives guests time to arrive, settle in and socialize, and gives the host time to set up food or other items for the party.
--- Painting Selection ---
Please provide your top three (3) desired paintings. We'll always try to make sure you get your first choice; but due to occasional scheduling conflicts or materials shortages, it's advisable to have a backup or two.
You don't have to choose a painting in order to book an event, but the final selection must be confirmed with the studio at least two weeks before your event date.
Our painting library is huge! If you need assistance choosing the right painting for your group, just get in touch with us. We've hosted quite a few events and can help you narrow it down.
Check it out:
https://www....-library#Kids