Halloween Costumes For Couples, Groups, And Singles!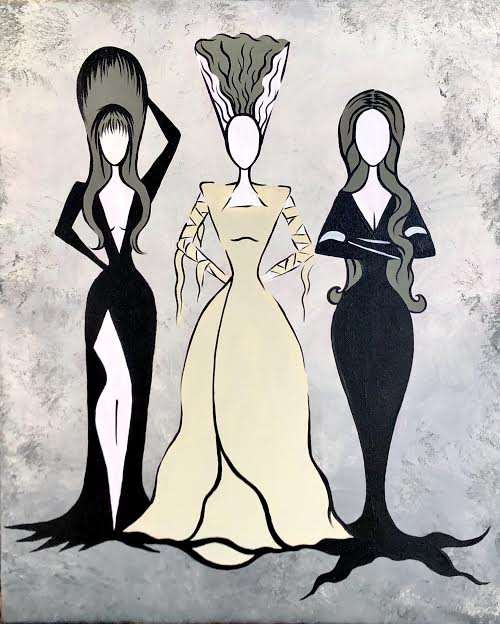 Halloween is almost here and if you're still trying to decide on a costume, we're here to help! Check out these awesome ideas that are sure to impress everyone who sees you this year! From trick-or-treating with the fam, to holiday parties, and even just hanging at the house and handing out candy, these costumes will be loved by everyone!
The trendiness of all of these suggestions will get you extra love and make for some great pics for the gram, too!
Cheers!
**** For You *****
-- Cruella de Vil (from 'Cruella')
What to wear: Emma Stone makes a lot of outfit changes as Cruella, but one of her most unforgettable looks is the flame-red dress. The unique neckline, gloves, and mermaid tail are iconic. Copy her look by picking up a blood-red gown for yourself, complete with gloves and a black-and-white wig. A black eye mask will also add some drama.
-- Bernie Sanders at the Inauguration of President Joe Biden
What to wear: Former presidential candidate Bernie Sanders attended the 2021 presidential inauguration wearing quite the getup. And while he turned into a meme for other reasons, his mittens also seemed to take front and center. Become Bernie by wearing a mask, a utilitarian brown jacket, and knit brown and white mittens. Bonus points if you carry a folding chair around with you to do the signature Bernie seated stance.
-- Kendall Jenner and Kim Kardashian at the 2021 Met Gala
What to wear for Kendall: To pull off Kendall's Met Gala look, wear a sheer jeweled dress with a sparkly choker.
What to wear for Kim: To channel Kim's anonymous black Balenciaga look, dress in all black from head to toe. Try wearing a ski mask or panty hose to cover your face, and don't forget to wear a black cape!
-- Steve From Blues Clues
What to wear: Not much has changed about Steve from Blues Clues over the years — his outfit has stayed consistent! To embody Steve's classic style, wear a striped green collared shirt and khakis, and if you have a Blue dog you should bring it along too.
-- Queen Charlotte From Bridgerton
What to wear: Queen Charlotte is one of the Bridgerton characters who best embodies 18th-century extravagance with her gowns and jewelry. Above all, the queen really goes above and beyond with her statement-making wigs. To embody Queen Charlotte, wear a low-neck gown and pair it with a wig that has a unique color, shape, or design.
-- The Weeknd in the "Save Your Tears" Music Video
What to wear: With his extreme plastic-surgery prosthetics and sparkling red lounge-singer look, The Weeknd's "Save Your Tears" music video is made for re-creating on Halloween. Wear a black button-up shirt, a red blazer (rhinestones optional, but recommended), and black leather gloves; carry a microphone; and use makeup or a mask to top off the look.
***** For A Group *****
--- The Sanderson Sisters (Hocus Pocus)
DIY:
https://www....ween-costume/
Buy Online:
https://www...._4hdg2ioh0g_b
-- Julien, Monet, and Luna From Gossip Girl
What to wear for Julien: Preppy and edgy, Julien is quite the fashion icon. Wearing oversize clothing items like large jackets and dress shirts, plus lots of chunky sneakers, Julien's style is relatively easy to replicate.
What to wear for Monet: Being the school villain, Monet's traditional and preppy style would make you think she's sweet. Bows, blazers, turtlenecks, and strappy shoes embody her sweet but salty style.
What to wear for Luna: Feminine and glamorous, Luna loves a good sweater, skirt, and boots look. Top it off with a brown jacket, and you'll feel like an Upper East Sider in no time.
-- Ted Lasso, Coach Beard, and Nathan Shelley From Ted Lasso
What to wear for Ted: A navy sweatsuit, a yellow whistle lanyard, a visor, aviator sunglasses, and his classic mustache.
What to wear for Coach Beard: Like Ted, Coach Beard sports a navy sweatsuit and a yellow whistle lanyard, but you can also grab a hat, sports sunglasses, and a clipboard. If you can grow a beard, that's just a bonus!
What to wear for Nate: Nate is the easiest of the three — just go with the sweatsuit and whistle, then channel Nate's sweet demeanor and newfound self-confidence.
--- Schuyler Sisters
Grab your sisters and channel Peggy, Angelica and Eliza this Halloween, in these custom Hamilton-inspired costumes you can buy online.
https://www....ween-costume/
***** Couple Costumes *****
-- Vision and Wanda From WandaVision
What to wear for Vision: While WandaVision flashes through multiple decades, Vision's iconic superhero look remains the same. To achieve Vision, paint your face red and silver. Then, pick your decade for the outfit! Vision from the '50s is always a good one.
What to wear for Wanda: Wanda's style transforms drastically throughout the decades, but her '50s and '70s fashion moments are some of our personal favorites. The most important characteristic of Wanda's look is her red hair, and if you want to look extra superhero, go for her present-day look!
-- Patrizia Reggiani and Maurizio Gucci From House of Gucci
What to wear for Patrizia: To channel this real-life power couple played by Adam Driver and Lady Gaga, you'll need '80s-glam ski outfits. For Patrizia, think black turtleneck, faux-fur hat, and lots of chunky gold accessories and jewelry.
What to wear for Maurizio: A chunky cable-knit turtleneck sweater paired with white ski pants should do the trick here. Oh, and some oversize '80s glasses.
-- Star and Barb From Barb and Star Go to Vista Del Mar
What to wear for Star: Star's vacation style is a Midwesterner's dream, wearing white culottes, a white tank top, a colorful blouse, and a lei.
What to wear for Barb: Similar to Star, Barb's vacay style involves culottes, a patterned blouse, and a lei — except she's a bit more colorful in pink. Head to Kohl's, JCPenney, Old Navy, Chico's, or Sears to grab these styles — that's where designer Trayce Gigi Field got most of Star and Barb's clothes from!
-- Simon and Daphne From Bridgerton
What to wear for Simon: Simon's style isn't like those of his superiors. It is bold, enchanting, and eventually colorful (did you notice the more he gets to know Daphne, the more colorful his outfits become?). To embody Simon, try out a black waistcoat and a paisley undershirt, and don't forget a green brooch!
What to wear for Daphne: For Daphne, a pale-blue dress, elbow-length gloves, and a simple necklace are enough to represent the Bridgerton family's eldest daughter.