8 Books To Read This Summer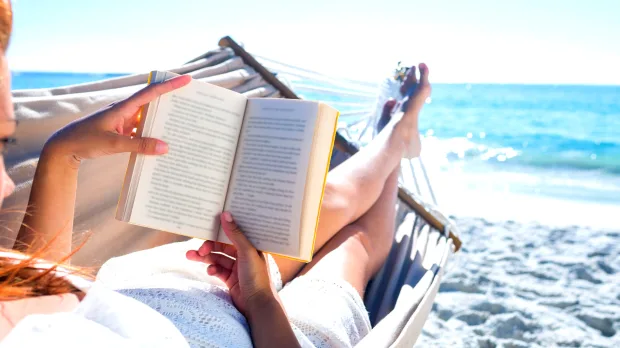 Whether you've had your annual vacation or are getting ready to enjoy it, the best summer books will make you feel like you're basking in the sun no matter what the weather's doing. Even if this summer's hottest reading locale is by the pool in your own backyard or on the living room couch with the windows open and a fan going, a good book can make even the stolen moments between tasks feel like a relaxing vacation. We firmly believe a great beach read is one that transports you, whether that's through the characters' steamy escapades, spine-tingling suspense that puts you at risk for nightmares, richly detailed historical fiction or true-to-life memoirs that give you a look at how someone else lives, there's an embarrassment of riches on the new release lists this year.
Pick up a stack of these to carry with you wherever the summer sun takes you
Jackie & Me by Louis Bayard
What did Jacqueline Bouvier know about JFK's womanizing, and when did she know it? Bayard imagines their courtship and the role played by Jack's best pal Lem Billings. Absolutely irresistible.
Buy It:
https://www....%2C252&sr=1-1
Wrong Place, Wrong Time by Gillian McAllister
How can you prevent a murder that's already happened? In this page-turning time-loop thriller, a woman watches her beloved teenage son knife a stranger in the street – and then wakes up on each new day further in the past, searching for clues to his motivation and a way to change the future. An intelligent puzzle full of heart and good sense.
Buy It:
https://www....dp/B098RN9SNX
Counterfeit by Kirstin Chen
College roommates Ava Wong and Winnie Fang were never close — but now they are literally partners in crime, with a designer handbag scam as brazen as it is foolproof. Clever, catty fun.
Buy It:
https://www....%2C122&sr=1-1
The Hotel Nantucket by Elin Hilderbrand
After a bad breakup, Lizbet Keaton leads the relaunch of an old hotel, where staff, guests — and a ghost? — all have things to hide. Stylish, witty and guaranteed to make you feel like a local.
Buy It:
https://www....%2C164&sr=1-1
The Office BFFs by Jenna Fischer and Angela Kinsey
Who didn't binge-watch The Officeto get through the pandemic? Hilarious and heartwarming behind-the-scenes tales from pals Fischer (Pam) and Kinsey (Angela) are just what we need now.
Buy It:
https://www....%2C145&sr=1-1
The Candy House by Jennifer Egan
Would you upload your memories if it gained you access to other people's? The companion novel to A Visit from the Goon Squad is a clever, endlessly inventive exploration of our increasingly connected, surveilled society and the individual yearning for privacy and meaning.
Buy It:
https://www....%2C196&sr=1-1
You Made a Fool of Death With Your Beauty by Akwaeke Emezi
Artist Feyi wrestles with loss as she starts dating five years after her husband's death. By embracing grief, she unexpectedly finds love — with an inconvenient person.
Buy It:
https://www....%2C216&sr=1-1
The Exhibitionist by Charlotte Mendelson
Longlisted for the Women's prize, this is a darkly funny portrait of a dysfunctional family bent out of shape over decades by its narcissistic artist patriarch – and of what happens when his wife will no longer squash her own creative energies. Wise, waspish and emotionally astute, it's addictive reading.
Buy It:
https://www....dp/1529052742
(Kindle):
https://www....dp/B09TKFB7WP
After you're done with your creative endeavors for fiction books, stop into the studio and make some art with us!