GET READY TO PAINT & HAVE FUN!
WE CAN'T WAIT TO PAINT AND HAVE FUN WITH YOU.
PLEASE REVIEW BELOW TO ENSURE A GREAT EXPERIENCE!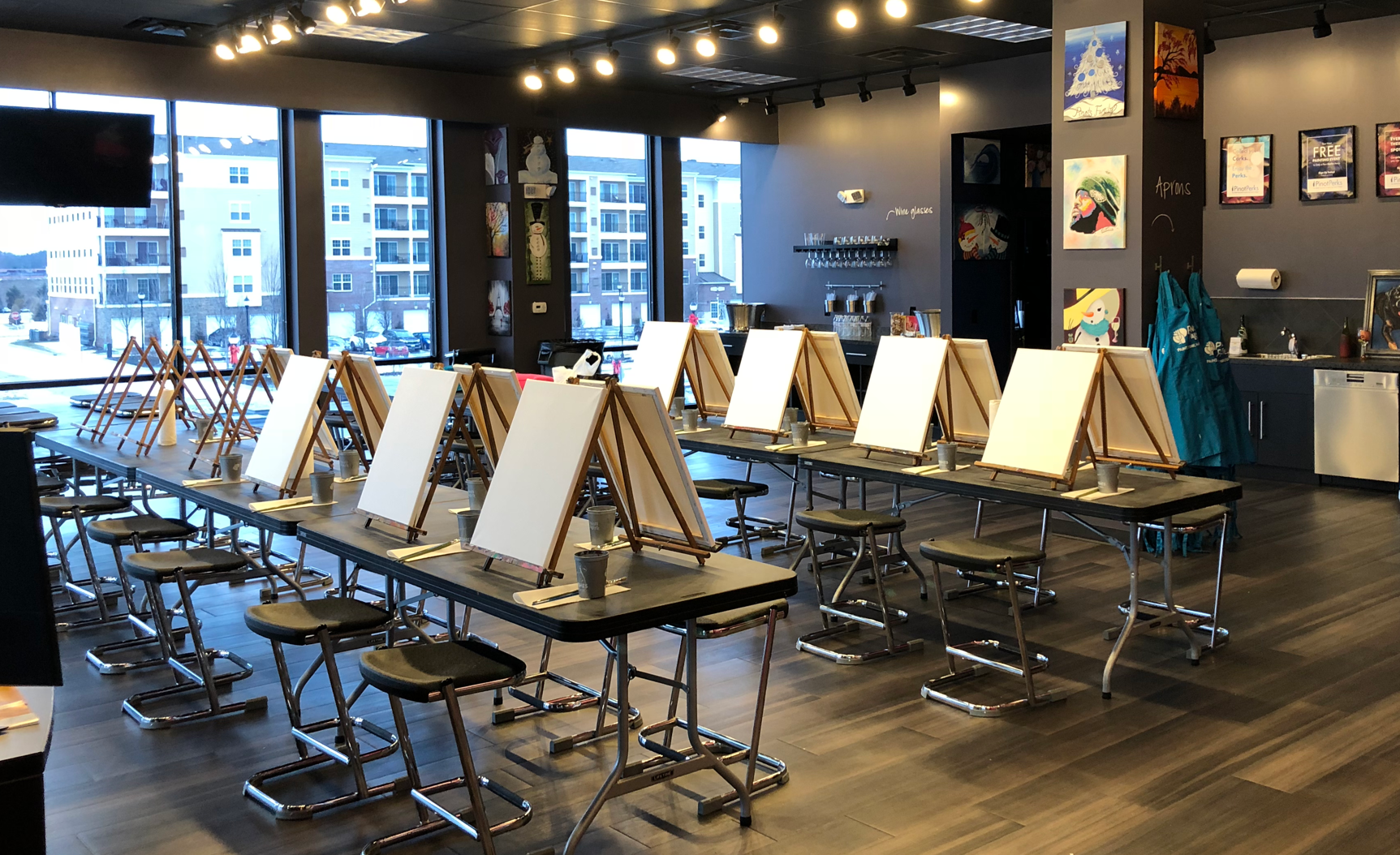 *AGE
Refer to the class description for your painting for age restrictions.
As adorable as they may be, children UNDER THE AGE OF 6 are NOT allowed in the studio.
*BEVERAGES
BYO wine, beer, champagne, but NO hard liquor (tequila, vodka, etc)
Wine & Beer glasses, Ice, Ice Buckets, and Bottle Openers are provided.
Non-alcoholic Wine, Water, Juice, and Sodas are available for purchase.
*FOOD
We are a BYOB CAFE with Pre-packaged SNACKS and BEVERAGES are available for purchase.
OUTSIDE FOOD IS NOT PERMITTED.
A $10 fee (per person and per item) will be charged for outside food.
*ARRIVAL
We start painting promptly at the paint time...PLEASE ARRIVE ON TIME!
Doors open 20 minutes prior to allow time to get settled in.
*LATECOMERS
Anyone arriving 15 min or more AFTER the start time will have to catch up on their own without assistance, at the artist's discretion.
Studio credits will not be given for late arrivals and no-shows.
******************PLEASE READ OUR CANCELLATION POLICY*******************************
While we regret losing the opportunity to paint & have fun with you, REFUNDS ARE NOT GIVEN.
STUDIO CREDITS
To receive a studio credit valid for 45 days,
PARTIES OF 1-3 must provide 48hrs NOTICE
GROUPS OF 4 OR MORE must provide 7 day's notice of cancellation (unless otherwise noted)
Please send requests to CHERRYHILL@PINOTSPALETTE.COM
*LATE CANCELLATIONS / NO SHOW
We understand things happen, but we prepare for your arrival days in advance and schedule staff based on the number of guests, therefore, studio credits are not offered for late cancelations for any reason.
HOWEVER, the purchaser to transfer his/her reservation to a friend.
Please notify us via email and provide your friend's name at least 3 hrs before your paint time.
*In the unlikely event our studio must cancel for reasons beyond our control, your reservation will automatically convert to a studio credit. The Studio Credit is valid for 90 days and redeemable for In-Studio sessions or Take Home Paint Kits. Paint Kits have all the supplies needed with a step-by-step video recording to create your masterpiece in the comfort and safety of your home.
*WE CAN NOT REPLY TO A SAME-DAY CANCELLATION REQUEST BECAUSE WE ARE SETTING UP OR ENTERTAINING GUESTS.
Thank you for your understanding.
******************************COVID SAFETY*********************************
*MASKS
Masks are optional.
If you are symptomatic or displaying signs & symptoms like a cough or elevated temperature, we will ask you to visit us at a healthier time or take advantage of our Paint At Home options.
*SOCIAL DISTANCING:
We will accommodate requests to be seated 6ft away from others outside of your group if you sign up early and submit your request by email, or in your seating request 48hrs prior.
~The number of reservations and seating arrangements determine if you will be seated at a high-top table towards the back of the room.
Don't worry! Our TVs provide an up-close view, and our artists are happy to provide one-on-one assistance.
~Contact us with questions/concerns.
BY COMPLETING THE CHECK-OUT PROCESS, YOU ACKNOWLEDGE & AGREE TO OUR POLICY.
THANK YOU!...CHEERS!🍷