Why It's Important to Control the Colors Around You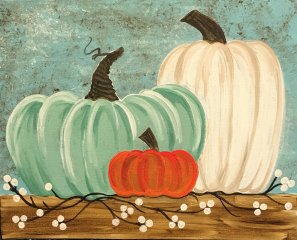 It's fall now, but the crisp autumn air is slowly getting even colder as our planet's northern hemisphere leans farther and farther away from the sun and slowly pulls us into winter. If you keep track of our calendar of upcoming classes online, then you're probably noticing that the seasons are changing there too. We're teaching a lot of fall-time paintings, and starting to come in towards some nice wintery paintings as well!
Obviously, we like to keep our classes relevant and festive, but as it turns out, people just psychologically are more attracted to certain colors and patterns at certain times of the year!
According to psychologists Stephen E. Palmer and Karen B. Schloss, this is called the "Ecological Valence Theory." It tells us that people like colors associated with the objects that make them feel nice. This is why certain shades of blue make us feel happy or calm—they remind us of cool water and clear skies. Palmer and Schloss suggest that our perception of colors changes with the seasons because we associate those colors with different things depending on what's on our mind.
For example, we might really enjoy burnt yellow colors and brown-tinged shades of green during the fall. These colors remind us changing leaves, and trigger a response in our brain that links those changing leaves to everything else we love about fall: sweaters, pumpkin spice, Halloween, Thanksgiving, and so on. However, during the springtime, we aren't already thinking about changing leaves so, those colors won't trigger that same response. Instead, they might remind us of something unpleasant like earwax or vomit.
That being said, we're naturally inclined to change the colors we surround ourselves with from season to season. We'll wear light pastel colors in spring because they remind us of blooming flowers, and then we'll switch to pale icy blues, or festive green and red in the winter.
Most people do some seasonal decorating in their homes as well—a layer of icing on top of our typical home décor. It might be worth your time, however, to cycle through décor throughout the year, instead of just decorating on top of it. Is a bright red painting hanging on your wall during the summer? Bright red works great during the fall and the winter (if it's paired with the right colors) but in the summer, it might just be reminding us of how hot the weather is. It could even subconsciously cause of discomfort without us ever even realizing it. In order to keep our homes or our business as comfortable as possible, it's a good idea to make sure the colors we're decorating with will have positive connotations. Some color palettes work year round, but others (like the yellow and green one I mentioned earlier) ought to be swapped out for certain seasons!
Fortunately, most everyone loves decorating their homes and offices for the season. So instead of just adding a row of Christmas lights over your floral painting for the holidays, try replacing that painting with something seasonally relevant. It will get you pumped up for the current season, as well as make your living space more comfortable for you!
- The Artist's Insight - A monthly blog special by Eric Maille -
I've been painting my entire life, but I think you'll agree with me that being a painter doesn't make you an artist. An artist must be willing to explore the fascinating world that exists behind paintings- a rich history of unique talents, creative imaginations, innovative techniques, and thoughtful self-expression.
I've spent a long time developing that insight and learning from the insight of others, and it's helped me to become a professional painter and illustrator living and working in Norman Oklahoma, and an instructor at Pinot's Palette Bricktown. Now, once a month, I'll be providing tips, tricks, and stories from a polished perspective, and an artist's insight, so that even the casual painter, can become an art-lover and artist themselves!
Sincerely yours, Eric Maille