The Most Haunted Painting in America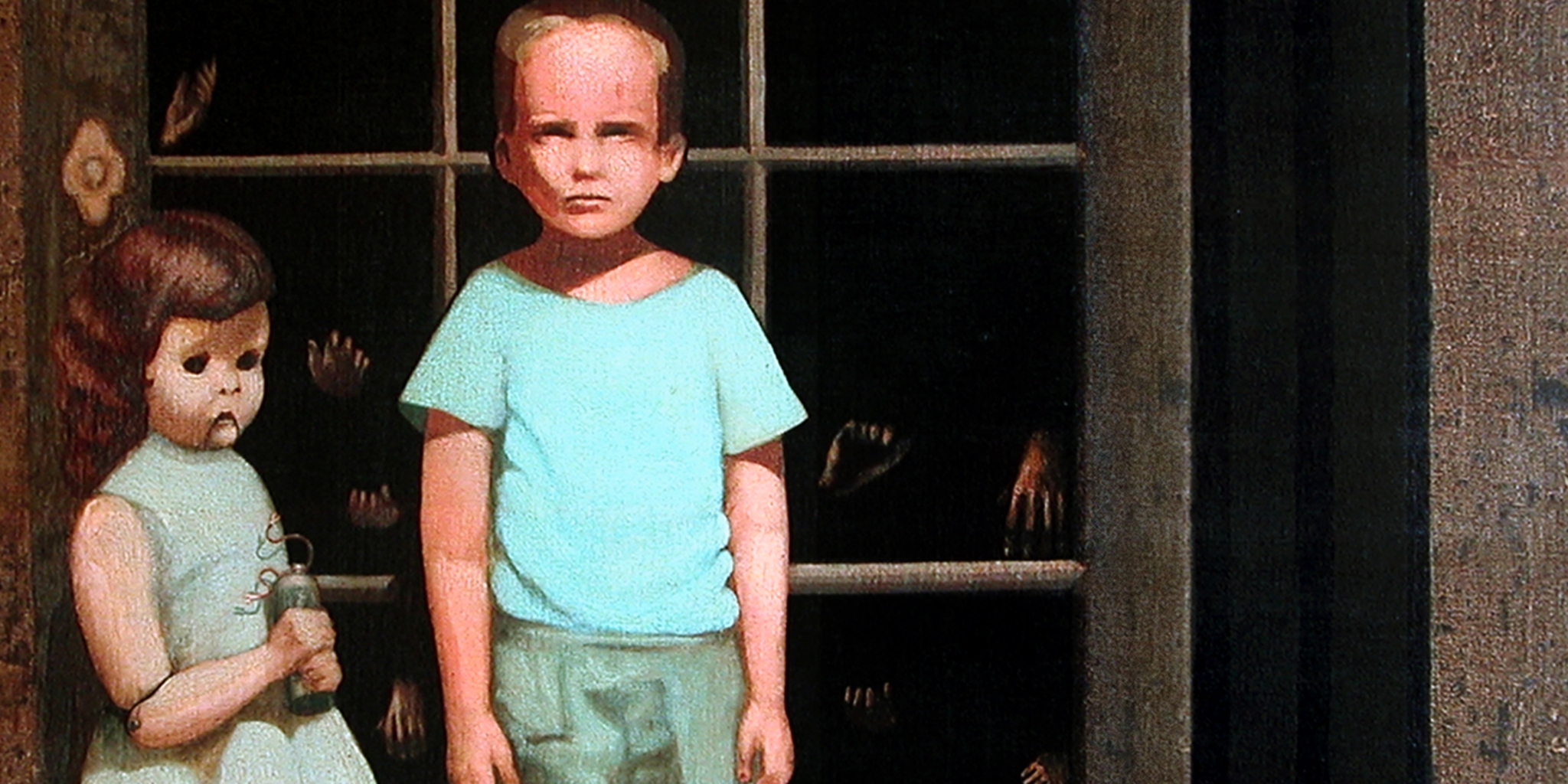 With Halloween just around the corner I've been thinking about the way art has been used in horror stories. Perhaps because paintings are such deeply personal things to both the artists who create them and the patrons who hang them in their homes, they've actually appeared in a few horror stories both old and new. For example, 'The Picture of Dorian Gray' is an 1890 novel in which the titular character remains young and beautiful while a portrait of himself ages and records his sins. More recently, the film "The Conjuring 2" includes multiple scenes in which one of the main characters paints the image of demon that haunts his dreams.
Thinking about the way popular culture uses paintings in the horror genre got me wondering if there were any real-world paintings believed to be haunted, and unsurprisingly there are quite a few.
Every list of art-history horror stories I could find eventually led me back to one painting in particular—a 1972 painting titled 'The Hands Resist Him' by artist by Bill Stoneham.
According to 'Mysterious Universe' writer Brent Swancer, the artist had been hired by a gallery to produce two paintings each month, and closing in upon a deadline for one such painting, Stoneham created 'The Hands Resist Him,' based on a childhood photograph of himself, and titled after a poem written by his wife. The poem was in fact about Stoneham's childhood. He had been adopted and never met his biological family. The painting that resulted was an eerie image of a young boy standing beside a large female doll. Behind them is a glass door separating them from a darkness out of which numerous hands are reaching. Stoneham said that the darkness behind the boy represents a "dream world" and the doll is there to be his guide into that world from reality. The artist left the hands in the background of the painting mysteriously unexplained simply saying "You were left with the question 'Are these disembodied hands? Are they dismembered, floating there in space? Or are they connected to bodies?'"
The painting was put on display in the gallery that had hired Stoneham, owned by Charles Feingarten, where it received a great deal of attention from art critic Henry Seldis, eventually leading to it being purchased by actor John Marley. Within one year of coming into contact with the painting, all three men had died—Feingarten, Seldis and Marley.
After the three deaths, the painting was abandoned and forgotten. Or at least no one is entirely sure what became of it until a California couple found it discarded behind a brewery that had been turned into art space in the year 2000. The couple owned the painting briefly before placing a listing for the it on Ebay with a long description claiming that the boy had occasionally exited in the night, explaining that they meant to sell it only to those with an interest in the paranormal, and that purchase of the piece released them from all liability of any unusual activity that might occur as a result of owning or displaying the painting.
Included in their listing were two photos taken by a motion-triggered camera that the couple had set up after experiencing what they believed to be a haunting. The photos displayed what the couple said were images of the female doll in the painting threatening the boy with a pistol. They also warned users not use the motion-camera images as computer backgrounds, or show them to children and juveniles.
Some of the 30,000 viewers of the Ebay ad claimed that printers malfunctioned when trying to print the image of the painting, and so many viewers reported feeling ill, or even hearing voices when looking at the painting, that it quickly became a trendy topic on websites like 4chan and Reddit.
Despite the painting's quickly-building notoriety, some Ebay users still wanted to purchase it. It was eventually bought by gallery owner Kim Smith in Grand Rapids Michigan for over 1 thousand dollars. On the matter of the painting being haunted Smith said "I wish I couldn't report a bizarre happening or mind possession but the unusual things started happening with the first email and counting." Smith had received multiple emails with prayers from people of faith and advice from a Native American shaman. These were followed by reports from gallery visitors that the painting had made them feel ill, repulsed, or even caused then to black out and believe they had had a "mind control experience."
The original artist says that what has been mistaken for a pistol in some images of the painting is a simply a dry cell battery and tangle of wires, but the painting continues to garner eerie reports from within every audience that views it. 'The Hands Resist Him' is still owned by Smith's gallery, but has been for displayed for viewing only 6 times, with audiences claiming that it has made them ill, or filled with dread at each viewing.
'The Hands Resist Him' is one of the perhaps one of the most notoriously haunted paintings out there, for its growing history and the copious reports from those who see the painting, but its far from the only haunted painting out there.
All through out the world there are paintings that people claim are haunted— most often, these seem to portraits created in the past couple of hundred years. Luckily for you, the Halloween paintings we have coming up in the next month aren't haunted or possessed portraits—and to my knowledge, we have zero reports of paranormal activity and "mind-control ecperiences" as a result of hanging them in your home for the season.
- The Artist's Insight - A monthly blog special by Eric Maille -
I've been painting my entire life, but I think you'll agree with me that being a painter doesn't make you an artist. An artist must be willing to explore the fascinating world that exists behind paintings- a rich history of unique talents, creative imaginations, innovative techniques, and thoughtful self-expression.
I've spent a long time developing that insight and learning from the insight of others, and it's helped me to become a professional painter and illustrator living and working in Norman Oklahoma, and an instructor at Pinot's Palette Bricktown. Now, once a month, I'll be providing tips, tricks, and stories from a polished perspective, and an artist's insight, so that even the casual painter, can become an art-lover and artist themselves!
Sincerely yours, Eric Maille