Fall Flavors
The fall season has become synonymous with Pumpkin Spice but don't forget there are other 'fall flavors' to enjoy out there! Before Pumpkin Spice came on the scene apples were the unofficial flavor of fall, and they deserve to be remembered, whether it's warming up your home with a fresh apple pie or making a cocktail that encompasses the spirit of fall, apples deserve a place on the table. Sweet potatoes are another staple of fall, their beautiful hue mixed with their delicious flavor make adding them to a menu a real delight. And, lastly, while we love enjoying the color change of fall the leaves aren't the only thing falling from our branches, pecans make their seasonal debut and are a treat meant to be enjoyed!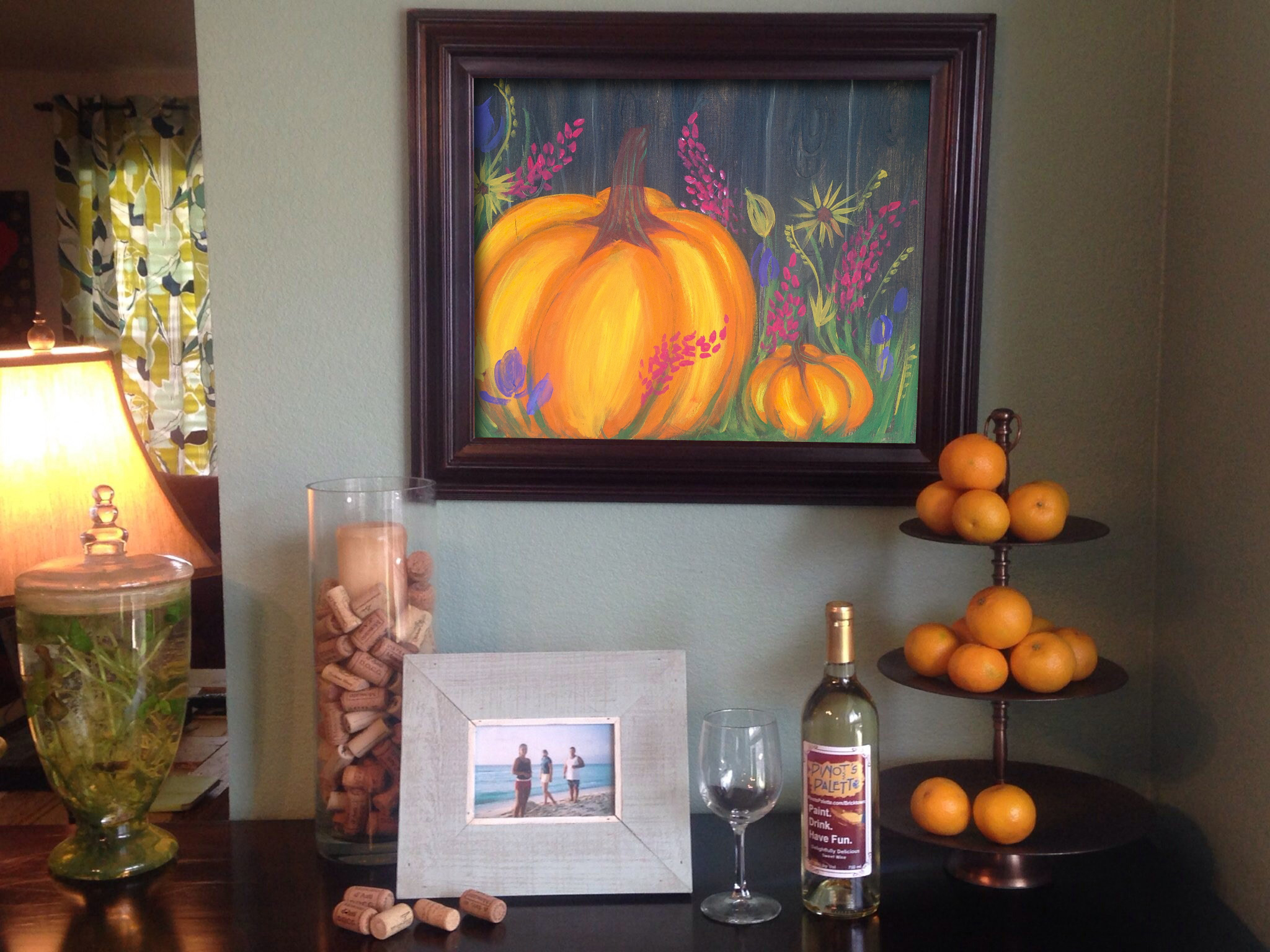 The sky is the limit for recipes to highlight these fall favorites but here are a few that we can't get enough of! Bring your favorite fall recipe to your next night out at Pinot's Palette!
Sweet Apple Tart:
While we would love a real Apple Tart, this recipe brings those flavors together in drink form. This is currently the featured drink special at Pinot's Palette Bricktown, and we have a feeling you're going to LOVE it!
1. Mix a spoonful of cinnamon and a spoonful of sugar
2. Slice a thin lemon round
3. Using the lemon to coat the rim of a wine glass dip the glass into your cinnamon sugar mix.
4. Drizzle honey along the inside of the glass
5. Measure:
4 oz. Pinot Grigio
3 oz. Apple Juice
2 oz. Champagne
6. Top with your sliced lemon round. Enjoy!!
Sweet Potato and Goat Cheese Bruschetta:
One of the best things about this recipe is that you can adjust any of the ingredients to your liking! Serves 4-6
1.5 – 2 lbs. of sweet potatoes, peeled and diced in ½" pieces.
2 Tbsp Maple Syrup
2 Tbsp Olive Oil
4 oz. Room temperature goat cheese
¼ cup Spiced Walnuts
A loaf of French Bread sliced into ½" diagonal slices.
Preheat oven to 367 degrees F
1. Mix together the maple syrup and 1 tbsp of olive oil, add sweet potatoes, toss to coat.
2. Spread evenly on a sheet pan and bake for 40 minutes, stirring occasionally.
3. In the meantime heat a pan over medium-high heat, brush the bread slices on both sides until it is toasted to a golden brown, about 4-5 minutes.
4. Top each slice of bread with a generous spread of goat cheese.
5. Toss the sweet potatoes with the spiced walnuts and spoon the mixture onto your toast points.
6. Viola! Try not to eat them all yourself!
Pecan Fudge:
This is the perfect dessert to share, because, well, pecans AND fudge. :)
3/4 cups unsalted butter
2 cups brown sugar packed
1/2 cup evaporated milk
3 cups sifted powdered sugar
1 tablespoon bourbon
1 cup raw pecan pieces
64 candied pecan halves about 1 cup
1. Line an 8x8 square baking pan with parchment paper. Add powdered sugar and bourbon to your stand mixer bowl.
2. Add butter to a sauce pot and cook over medium-high heat. Allow to melt and bubble stirring frequently, it will be done when there are brown specs throughout and it smells like caramel.
3. Add brown sugar and evaporated milk to the browned butter, cook over medium heat for about 2 minutes stirring constantly. Once the sugar as dissolved bring to a rolling boil and stir 1 minute. Remove from heat and immediately add to your powdered sugar.
4. Using the paddle attachment beat on low for 1 minute to combine. Gradually increase the speed to medium and beat until the mixture begins to hold it's shape, about 6-10 minutes. Quickly stir in the pecans.
5. Transfer fudge to your prepared pan. Place pecan halves on top in rows so that once cut, each piece will have a pecan half on top.
6. Allow the fudge to set.
7. Remove from the pan and cut into squares.
8. Enjoy!!
We encourage all guests attending our events at Pinot's Palette in Bricktown, OKC to bring anything they'd like to snack on during the class. For your convenience, we provide paper plates, napkins & plastic utensils. The Sweet Potato and Goat Cheese Bruschetta or the Pecan Fudge are perfect options to bring to a class and share with your group! This month our calendars are exploding with the beautiful hues of Fall! Pinot's Palette in Bricktown is Oklahoma City's favorite night out! Invite your friends or book a date night and experience an unforgettable evening of painting, drinking, EATING, and having fun!
Enjoy $6 OFF each seat! Use discount code: PaintOCT2018 *Offer expires October 15th*
(Discount cannot be applied to existing reservations or used on specialty events like Project Pet, Family Days, Fundraisers, or Private Parties)
We look forward to painting with you soon! Cheers!