Make the Most of Mother's Day This Year
Mother's Day is quickly approaching so we wanted to help you prepare for a Mother's Day celebration that will be sure to warm her heart.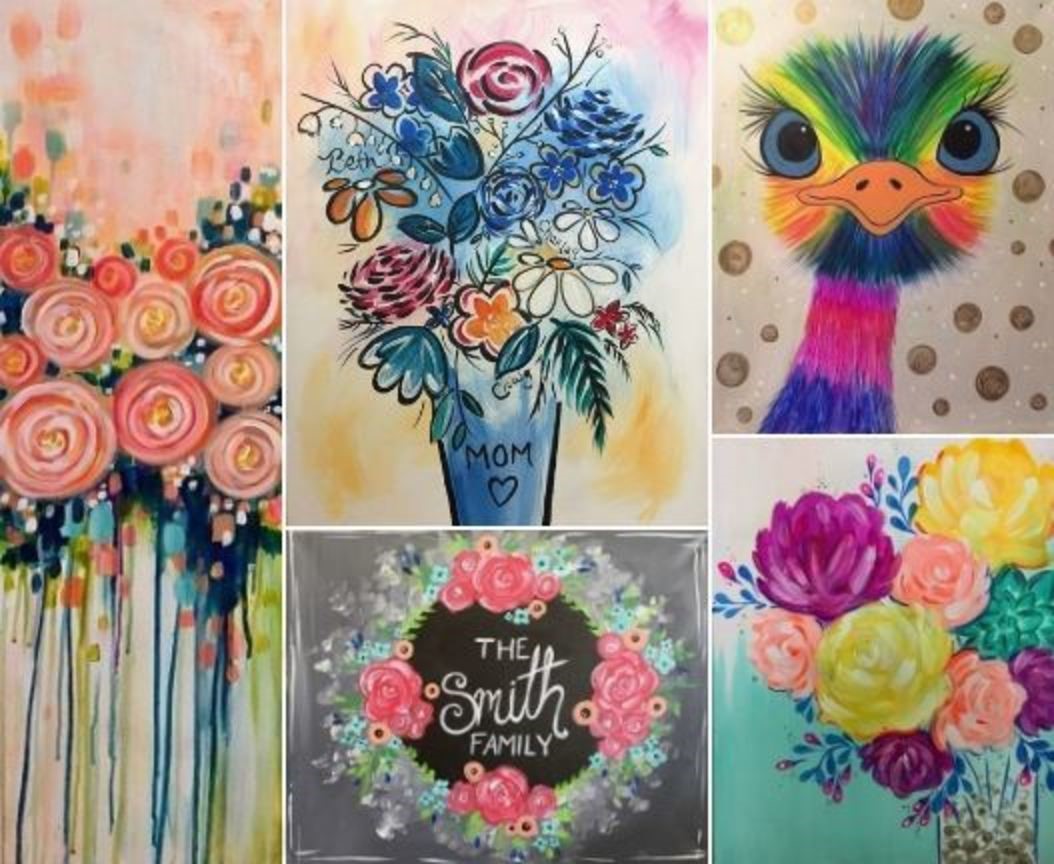 CREATE THE PERFECT GIFT
We all remember the years that we created handmade Mother's Day cards that hung on the refrigerator for months, they may not have been perfect but they warmed your mom's heart in a way that a store bought card just couldn't have done.This year you can put aside the construction paper and paste and create your mom a painting that will last for years and years to come. We have a number of beautiful paintings that would be perfect to come and create in the days before Mother's Day so that you can surprise your mom with a truley original gift on May 13th!
GIVE THE GIFT OF TIME
'Call your Mother' is a saying that we all need to take to heart a little bit more. This year give your mom the gift of time spent together. Start the day early and make the day all about her. We are featuring 3-classes on Mother's Day so whether you want to celebrate over breakfast, lunch or dinner you'll be able to still enjoy some time painting, drinking and laughing with mom. We kick things off with an all-ages Family Day painting from 10am-12pm, Keep going with a Mimosa Sunday class from 2-4pm and finish the day off with a class from 6-8pm.
NOT ABLE TO SPEND THE DAY WITH MOM?
If you aren't able to spend the day with your mom surprise her with a gift certificate for a painting of her choice! If it's distance that is keeping you apart she'll still be able to bring your dad or maybe a gal pal and enjoy a day out on the town. The best part? Everytime she sees her masterpiece she'll remember you AND the great time that she had!
SATURDAY, MAY 12TH FROM 2-4PM
"FABULOUS FLORALS"
https://www..../event/230268
SATURDAY, MAY 12TH FROM 7-9PM
"APRICOT ROSES"
https://www..../event/230571
SUNDAY, MAY 13TH FROM 10AM-12PM
"EYE SEE YOU EMU" - Family Day
https://www..../event/230246
SUNDAY, MAY 13TH FROM 2-4PM
"FAMILY BOUQUET" - Mimosa Sunday
https://www..../event/230270
SUNDAY, MAY 13TH FROM 6-8PM
"FLORAL WREATH"
https://www..../event/230245
These classes always sell out, as it is the BEST way to spend Mother's Day! Be sure to check out our calendar of events and enroll for your seats today! For $6 OFF each seat use Discount Code: LoveMom18
***Discount cannot be used towards existing reservations, family days, project pet, private parties, fundraisers, or combined with any other discount.***
Share Perfect Mother's Day - Get Your Seats! | Not Able to Spend the Day With Mom?