Art Therapy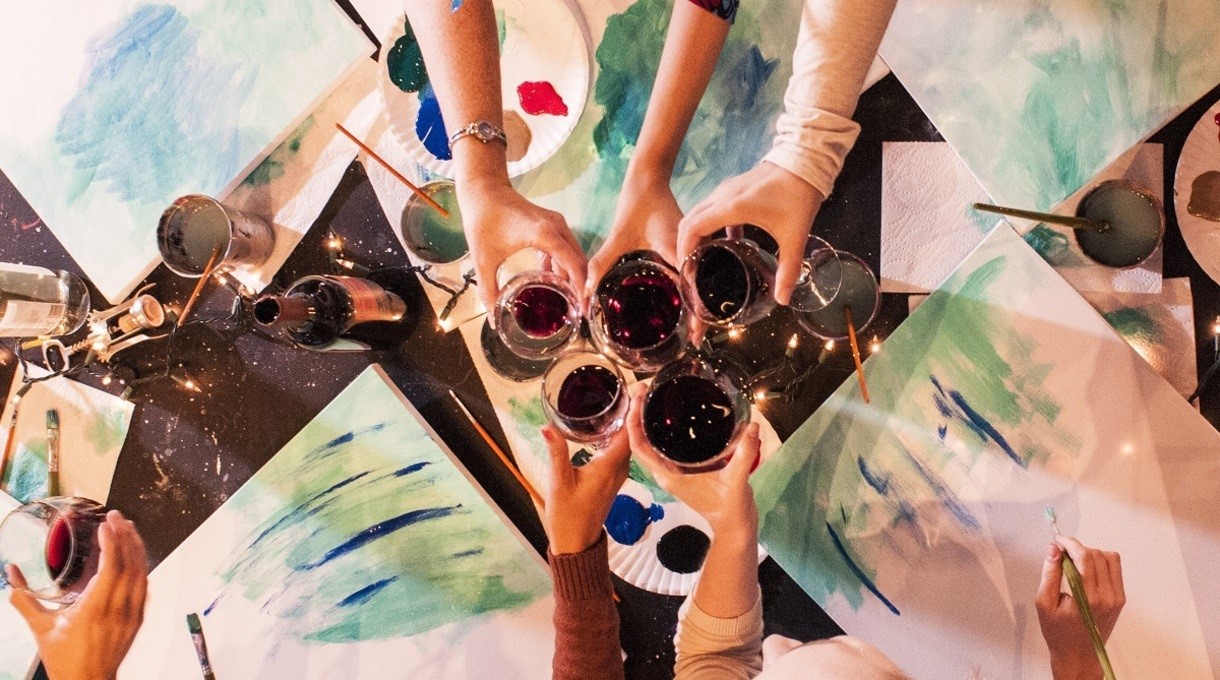 Many artists will tell you that one of the reasons they practice art, is for its therapeutic benefit. I can't count how many times someone has told me that they practice art because it's cheaper than seeing a therapist—and while art serves a function in the world that is so much more than therapeutic for its practitioners, this is certainly an inarguable value of art for most.
Most everyone is familiar with Pablo Picasso's "Blue Period." This set of works was painted by Picasso between 1901 and 1904 and is defined by works of art displaying monochromatic blue palettes, and emphasizing mournful subject matter. Picasso recalled starting these blue paintings following the suicide of his friend Carlos Casagemas— who was used as the subject of some the pieces included in the Blue Period.
For Picasso, the Blue Period was a coping mechanism and a reflection of the artist's severe depression. While Picasso's emotions are plainly obvious and intentionally relevant in this period of works, many artists' emotions are reflected in their artwork whether on purpose or not. This is so true in fact, that art historians use the "mood" of a piece to help identify when it was produced. If historians know that an artist was experiencing a particularly happy period of their lives in a specific year, they might be able to assess that a brightly colored, optimistic piece was produced during that time.
It's easy to see that art is deeply tied to artists' psychologically state, so it makes sense that psychologists and therapists would use art as a therapeutic technique. It's likely that you've heard of "Art Therapy" in the past few years, but we don't often hear what Art Therapy entails.
Art therapy can be used in a multitude of ways for a multitude of issues. While often used by therapists to help assess the needs of children, art therapy can also be used to help analyze and treat patients with post-traumatic-stress disorder, or patients with cancer and other medical illnesses, who are in need coping of mechanisms. Art therapists also speculate that it could be used to help autistic patients through therapy, as well as patients with dementia.
The goals of art therapy sessions vary from case to case but focus on expression and imagination, rather than technique or skill level. Ideas, feelings, images, and thoughts are always of key importance, as they expose a patient's psychology state and can provide a platform on which to discuss issues and emotions. For example, if a patient is asked to draw a house, a therapist can then examine what kind of person or people live in the house as well as HOW those people live. And similarly to art historians examining Picasso's Blue Period, art therapists can assess patients based on the colors they use, the subjects they portray, and the compositions they create.
While art can be a useful tool for therapists to employ, it can also be therapeutic to create. Art is almost always a form of expression and allows an artist to vent their emotions and feelings through creativity. For many artists, it's also a form of escapism. This is especially true for painters visiting their favorite paint and sip studio, taking classes at community centers, or spending time with a coloring book—all of which not only allows artists to enjoy a break from life, but also an opportunity to practice mindfulness and meditation.
- The Artist's Insight - A monthly blog special by Eric Maille -
I've been painting my entire life, but I think you'll agree with me that being a painter doesn't make you an artist. An artist must be willing to explore the fascinating world that exists behind paintings- a rich history of unique talents, creative imaginations, innovative techniques, and thoughtful self-expression.
I've spent a long time developing that insight and learning from the insight of others, and it's helped me to become a professional painter and illustrator living and working in Norman Oklahoma, and an instructor at Pinot's Palette Bricktown. Now, once a month, I'll be providing tips, tricks, and stories from a polished perspective, and an artist's insight, so that even the casual painter, can become an art-lover and artist themselves!
Sincerely yours, Eric Maille