Are Artists Only Successful After They Die?
It's a popular legend that Dutch post-impressionist Vincent van Gogh sold only a single painting during his lifetime—often suspected to be a work called "Red Vineyard." Even though art historians cannot be one hundred percent certain that Van Gogh actually sold only this one painting before his death in 1890, it's often the example used by those who like to argue that an artist's work is only valuable after their death.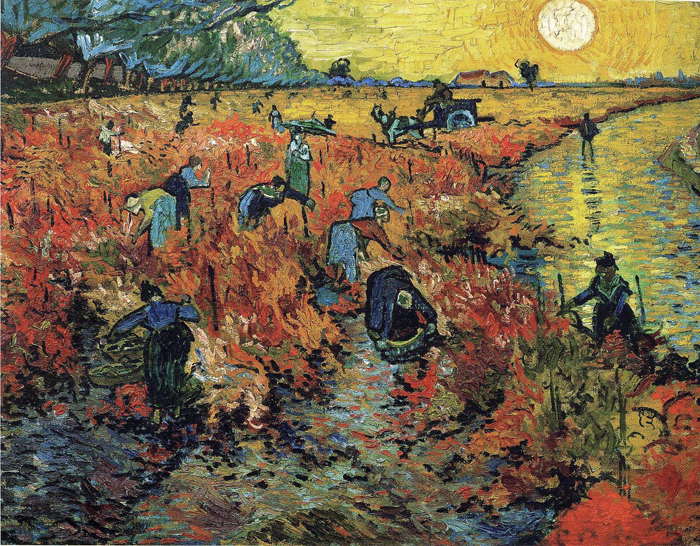 New and aspiring artists often hear this argument by those discouraging them from pursuing an artistic path, but in reality, this argument is a myth as well! It stems from a very distinct truth, however, that an artist's work becomes significantly more valuable after their death when it is certain they will never produce new work again. This is very different than saying their art has no value during their life. Many renowned, successful artists have had great success in their lifetimes through out all of history.
Since art first boomed into a luxury which patrons were willing to pay large sums of money for—artists like Leonardo Da Vinci and Michelangelo became some of the most famous names in the world, even during their lives when they received numerous commissions and were regarded as geniuses of their times.
And while Van Gogh was not the most successful painter in his life, some of his contemporaries claimed both fame and notoriety, and the controversy of whether or not Impressionist artwork could be considered valuable only added to their reputations.
During the more modern age, many well-known artists were creating work and finding large audiences in life. Artists like Andy Warhol, Salvador Dali, and Georgia O'Keeffe, all found great success before their deaths.
There are even contemporary artists with huge followings making their livings from their artwork. Ai Wei Wei, a Chinese artist, working in Berlin, recently unveiled his largest work to date. And Kehinde Wiley (a painter who recently had some of his works on display at the Oklahoma City Museum of Art) was commissioned to paint the presidential portraits of Barack and Michelle Obama. We must also not forget that in the modern age, artists often work in entertainment—playing a role in the production of our favorite television shows, comic books, films, and even in the advertisements we see and the décor we buy for homes.
If you're interested in art, don't be discouraged by the myth that no one will care about your work during your lifetime. Because we live in an era where art is everywhere, and doesn't appear to be leaving any time soon, it's important to nourish the creative mind and encourage people to participate in art—whether to produce it themselves at home, at their favorite paint and sip studio, or simply learn to appreciate it when they see it.
- The Artist's Insight - A monthly blog special by Eric Maille -
I've been painting my entire life, but I think you'll agree with me that being a painter doesn't make you an artist. An artist must be willing to explore the fascinating world that exists behind paintings- a rich history of unique talents, creative imaginations, innovative techniques, and thoughtful self-expression.
I've spent a long time developing that insight and learning from the insight of others, and it's helped me to become a professional painter and illustrator living and working in Norman Oklahoma, and an instructor at Pinot's Palette Bricktown. Now, once a month, I'll be providing tips, tricks, and stories from a polished perspective, and an artist's insight, so that even the casual painter, can become an art-lover and artist themselves!
Sincerely yours, Eric Maille