Plan A Painting It Forward Fundraiser At Pinot's Palette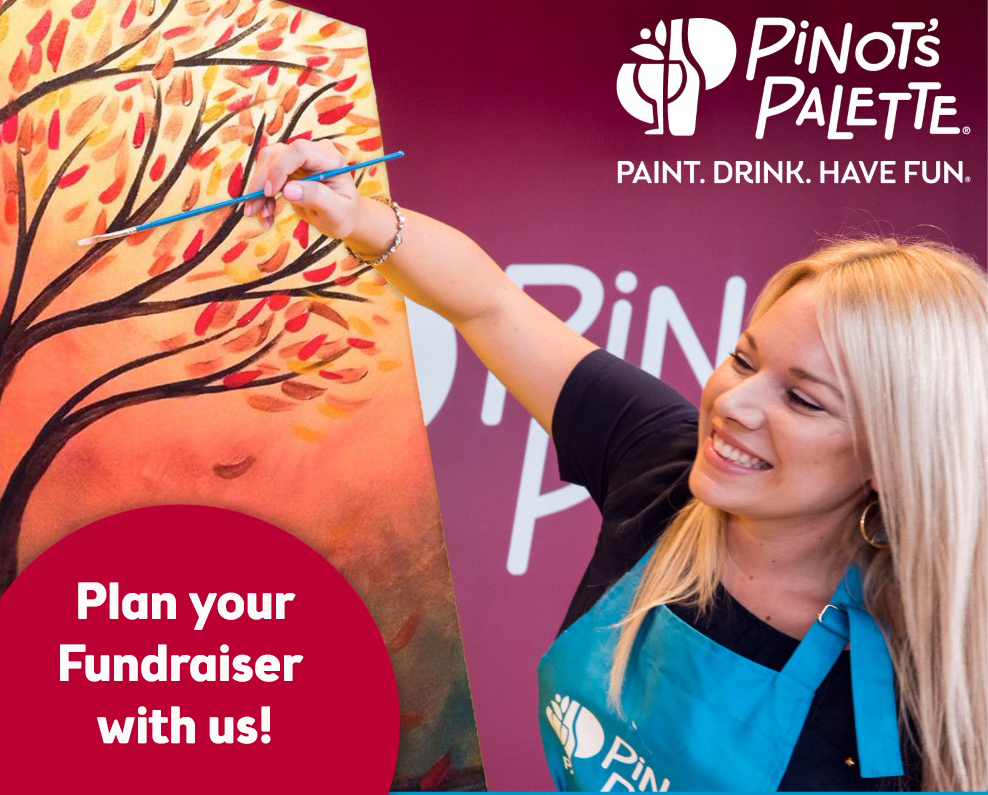 Are you looking for a fun and entertaining way to raise funds for your charity or cause? Any time of year is the right time to consider helping local and global communities. Pinot's Palette Naperville has hosted charitable paint nights for its entire nine-year history. From national fundraisers like St. Jude Children's Research Hospital, American Cancer Society, and Alzheimer's Association, etc. to local causes like Naperville Humane Society, Junior Achievement, local sports teams, Naperville Women's Club, Bollingbrook Women's club... the list goes on, and on.
If you choose to do a virtual fundraiser, your guests can pick up their kit at the studio or we can ship them. Let us know what works best for you and we'll accommodate your needs. We can also do a hybrid fundraiser with guests in the studio and guests painting from home.
*Ask about options for those who already have brushes and other paint supplies at home
--- Raising Money ---
On the day of the class, $10 per seat will be donated to your cause. We will donate revenue from the in-studio class, and virtual sign-ups. You can also include paint-at-home kits purchased from our shop to increase the funds you receive.
*Check out our shop where we have take-home kits that come with a video guide, kits that come with self-guided written instructions, paintbrushes, etc:
https://pino...paint-at-home
--- Raising Awareness ---
The more people we have painting, the more money raised for your cause.
We can also create social media posts for you to use if you would like. We're happy to help you raise awareness about the event however we can. We do ask that in addition to our promotions, you promote the event, as well.
Thank you all so much for fundraising with Pinot's Palette and for supporting our small, locally owned business, especially these over the past few years. It has meant everything to us and we're here to help you with your needs as you have helped us.
Ask questions here:
https://pino...sk-a-question
We look forward to Painting It Forward with you!
Check out our calendar of events:
https://pino...rville/events