Girls Night Appetizer + Wine Pairings
We've said it before, and we'll say it again, September is absolutely one of our most favorite months! The weather is beautiful, the Pantone's fall color palette selections are gorgeous and bright, fall is on the horizon, and it's the perfect time to plan a girls' night out before the hectic holidays! So why not shake things up?! Might we suggest a paint night at Pinot's Palette – Montrose, and add a twist to your painting night by having each of your friends bring an appetizer and bottle of wine to pair with it. This will give you all an opportunity to taste different wines as well as enjoy the appetizer pairing! Go out of your "wine comfort zone" and try something new! Here are a few of our suggestions: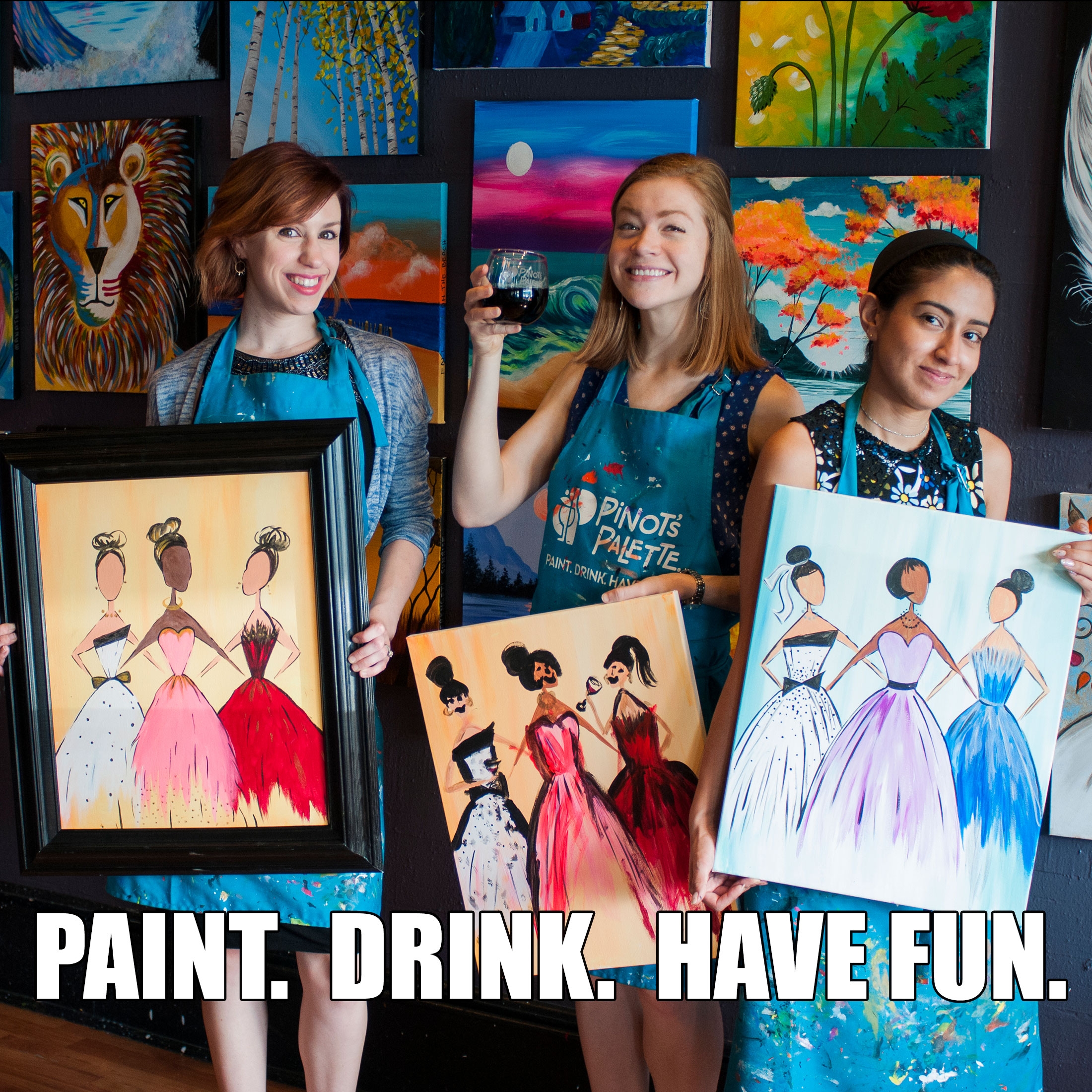 1. Before the pumpkin took over as THE #1 fall flavor, there was the pear. Though we can get pears all year, they are at their sweetest in the late summer, early fall. Appetizer: In a bowl toss some thickly sliced pears in a little lemon juice. Then layer each pear slice with blue cheese, an arugula leaf and wrap a piece of prosciutto around to hold the cheese and arugula in place. Now for the wine pairing: Amarone, Moscato, Port, or Sauternes. Pair any of these wines with this delicious appetizer, as they are sure to really compliment the flavors of the sweet pear & tangy blue cheese.
2. Autumn Stuffed Mushrooms – mushrooms and squash are wonderful this time of year! Finely chop a yellow squash, zucchini, garlic and shallot, and saute in a pan with 1TBSP of butter until softened. Coat the mushroom caps with olive oil and place on a cookie sheet. Prepare a box of Stove Top stuffing. Combine ½ + of the stuffing with the chopped sauteed veggies, put a small spoonful into each mushroom cap and top with grated parmesan cheese. Back at 350 for 15 minutes or until the mushrooms are tender. Pair this wonderful earthy appetizer with a Bold Pinot Noir!
3. Shrimp & Avocado Ceviche – No cooking required! This light and refreshing appetizer is always a party pleaser! To be on the safe side, you can use 1lb cooked shrimp, combine the shrimp the following ingredients into a bowl: ½ cup lime juice, chopped tomatoes, 1 diced small red onion, 1 diced jalapeno pepper, 3 chopped avocados. Lightly toss the ingredients and sprinkle fresh chopped cilantro on top. Serve with corn chips. Wine Pairing: Try a New Zealand Sauvignon Blanc with this delightful appetizer! New Zealand Sauv. Blanc's have a nice grapefruit citrus flavor and makes an excellent partner to any seafood!
The appetizer and wine pairing suggestions could go on and on, but these 3 will definitely be a huge hit! This September add a splash of color, good food and delicious wine to your Girls' Night! Check out our calendar of upcoming events, invite your friends and create a night to remember at Pinot's Palette – Montrose!