Your Mindfulness Dream Team: Wine, Painting, and Yoga!
Spring is a great time to try something new! Or, in this case, put a spin on something tried and true. Introducing: Paint, Sip, and Yoga! Honestly... why haven't we thought of this before?!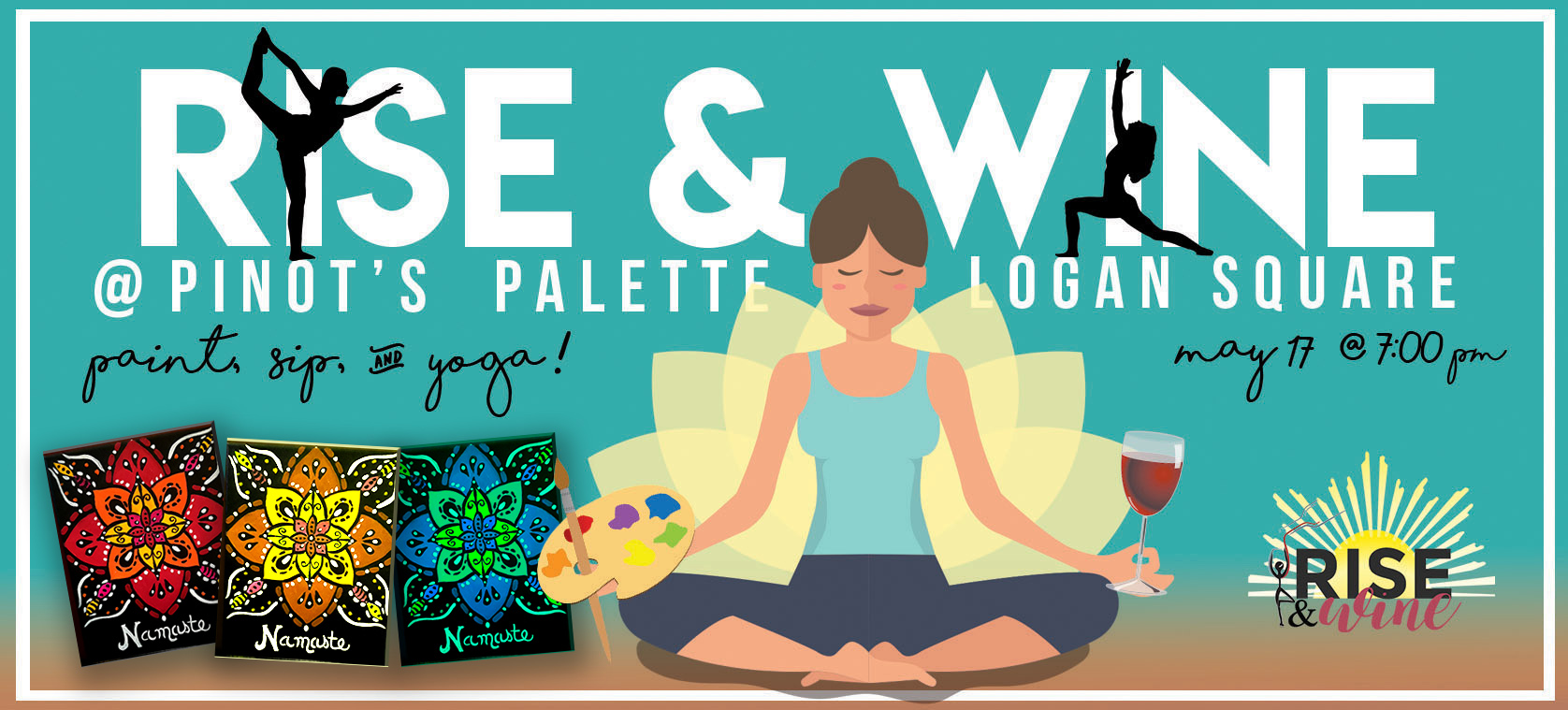 When our Wine Representative, Chelsea Gaetani, stopped in the studio last month, we were expecting the usual spread of delicious wines to ooh and ahh over (and drink a little too much of). But this time, she surprised us with an idea so perfect that we were seriously jealous we didn't think of it!
Yoga.
Wine.
Painting.
A threesome made in mindfulness heaven!
Since we already know that 𝗲𝘃𝗲𝗿𝘆𝘁𝗵𝗶𝗻𝗴 is better with wine, we're extremely excited to bring yoga to our guests as an addition to painting. Chelsea's new pop-up company, Rise & Wine Yoga, spreads the message that "yoga (asana) is social" and she strives to "curate pop-up yoga and wine tasting experiences that heighten the senses after an invigorating vinyasa flow." We can only imagine the creative energy that this event will inspire!
When can you get in on the action? On Thursday, May 17th, we'll be hosting a Rise & Wine Yoga for a special three-hour, two-part event starting with vinyasa yoga (breath-to-movement) adding meditation (dhyana), core work, breathwork (pranayama), humor, essential oils (Ayurveda), and soul-thumping playlist. The yoga class is designed for all levels and body types and provides a warm welcome to all spirits. We'll follow the yoga with a fun paint and sip class with featured cocktails and (of course) delicious wines! We'll be painting a beautiful mandala in any color palette that you choose, guided by our artists at Pinot's Palette Logan Square. Express yourself and feel the creativity flowing after the invigorating yoga session and tasty drinks!
Click here to make a reservation:
https://www....s-44469378107
Rise & Wine Yoga's Chelsea Gaetani is a Logan Square local. She received her 200-hour yoga teacher training from Zen Yoga Garage in Bucktown. Originally from Virginia, she grew up in the foothills of the Blue Ridge Mountains where she developed her passion for wine while working in the industry. After college, she fell in love with the practice of yoga after realizing she had fallen victim to the daily pressures of her corporate career and started to experience the all-too-common symptoms of anxiety. Now as a yoga teacher, Chelsea teaches her classes adding breath work, core work, meditation, humor, essential oils, and a carefully curated playlist. She believes yoga is for all spirits and body types and provides a warm welcome to all. #GoodKarmaForAll
www.riseandwineyoga.com
Instagram: @chelseareneeyoga