The Flavors of RED, WHITE & BLUE!
With the 4th of July holiday upon us, I know many of will be enjoying the long holiday weekend at home this year. So, for me, I plan to make it festive and fun with red, white, and blue food!
Now you may be thinking that it is easy to find drink and dessert recipes that include those colors, add blueberries and strawberries and a little cream and your set. But I can share with you a full menu of all red, white, and blue that are fun and easy to make, plus will have your guests raving about your party until the next 4th!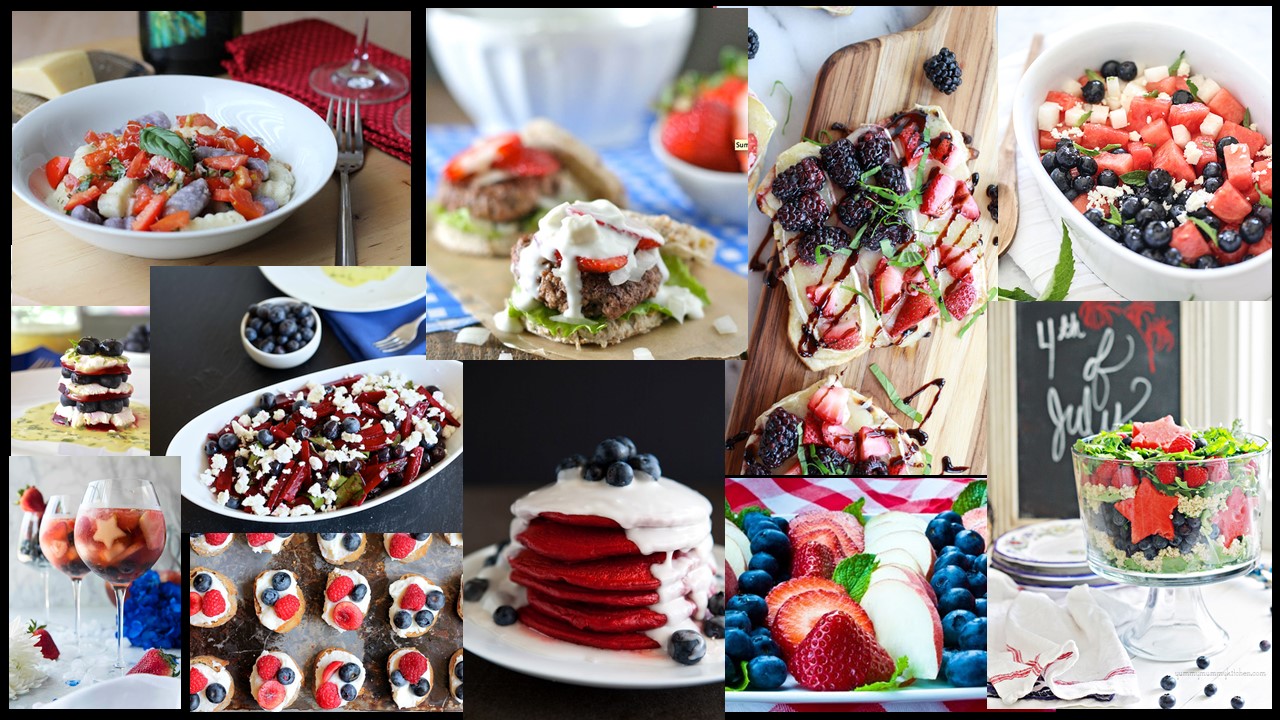 Breakfast:
Start your day with Red, White & Blue Pancakes:
https://iamb...day-breakfast
Stack them alternating the white and red pancakes and top them off with some fresh blueberries, maybe add some powdered sugar or syrup and you've got breakfast.
Another add-on or option you may want to try is a Red, White & Blue fresh fruit display:
https://heal...-berries-and/
Get creative with your display, alternate the colors or create an American Flag with the fruit!
Let's get the party going…
This fun appetizer is sure to please your family and they look so yummy! Summer Berry crostini with Lemon ricotta and Honey:
https://www....icotta-honey/
Start your guests off with a fun cocktail or two….
Rose' Sangria, the nice thing about this cocktail is that you can make a large batch and you won't need to play bartender all afternoon! I can't wait to mix this one up:
https://thec...ngria-recipe/
The Salads
Red, White & Blue Salad:
https://www....d-blue-salad/
This salad has lots of fresh flavor and color and I can attest is soooo good (if you like watermelon!) The combination of the watermelon, jicama, blueberries, and feta come together just right.
Another Red, White & Blue salad option, especially if you like roasted beets like I do: Red, White & Blue Salad:
https://www....d-blue-salad/
It is easy to put together if you want to serve in a bowl or if you want to get fancy, you can stack the beets, berries, and cheese for an elegant presentation.
Here is a salad option that is also a meal in itself, this Patriotic Salad has lots of flavor and texture all packed into a bowl. Serve in a clear bowl so the colors shine through:
https://www....-of-july.html
The Mains
Summer Strawberry Sliders with Blue Cheese Sauce
These sliders can be an appetizer or a main dish, either way they are a crowd pleaser.
https://laur...r-the-fourth/
Blue & White Potato Gnocchi with Red Tomato Sauce
This festive dish is also a great homemade comfort food with lots of fresh ingredients! Be sure to get some blue potatoes!
https://www....gnocchi-with/
Desserts
So, there are literally thousands of red, white, and blue recipes to be found, these are just a couple of my favorites.
Mixed Berry Clafoutis
It not only looks fancy, but the name sounds fancy too. This a great recipe for a big crowd, you can cut and let everyone serve themselves.
https://www....ry-clafoutis/
Strawberry Shortcake Three Ways
If you are a strawberry lover like me, this recipe is for you…Dig in with a big spoon!
https://meli...e-three-ways/
Whew, so there you go a full menu of red, white, and blue food. Let me know how it goes.
Looking to add to your 4th of July décor, we have got some Take Home Kits for you and your family to enjoy as well. Check out our shop on our website: www.pinotspalette.com/leawood/shop