Painting in Spanish
Pinot's Palette is known for our team building parties, bachelorette parties, bridal showers, birthday parties, kids parties, girls night out, date night, and the list goes on. We recently received a pretty unique request, and we were so excited to be able to deliver! The Spanish Language program at Shawnee Mission North requested a mobile painting party in Spanish for one of the Spanish classes. It is such a unique way to further conversational comprehension in a different language, and an added bonus that each student will get to take home something they created.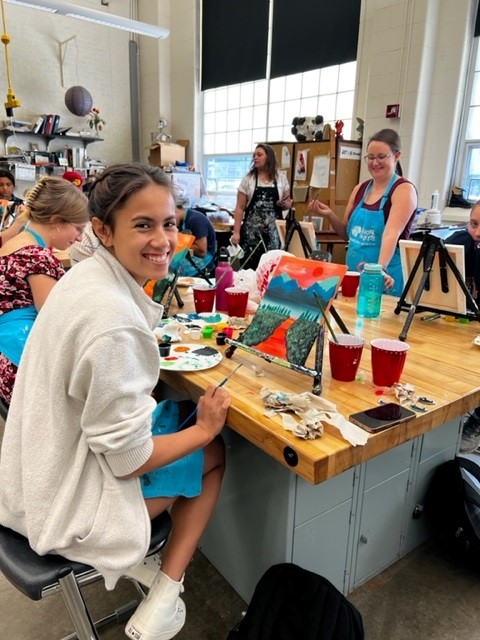 I hope the Shawnee Mission North Spanish students realize how cool their teacher is for putting together this unit. Back in 2001 to 2005 when I was in high school, our Spanish teachers were being "cool" if they played a movie in Spanish. I can't count how many times I watched "Stand and Deliver" in Spanish or some Disney cartoon. I will admit, it was a nice break from worksheets or the unnecessary fear of being randomly called upon to respond "en Español." Occasionally, we got to listen to Shakira or Enrique Iglesias (take me back to 2002 am I right?!) and write down the lyrics to their songs in Spanish as we heard them, I guess that was kind of cool. Nothing like tapping into my creative side and painting during SPANISH class. Even if the teacher's intent was to simply have a fun class period for her students, I hope she realizes how each student essentially put their brain into overdrive and connected parts of the brain that are rarely used at the same time...and used them in conjunction! I bet that the students' comprehension of the language advances drastically after the painting class, and gives them a reason to continue their education in Spanish rather than taking the language because they're required to get their "credits." As an added bonus, each student will have a physical reminder of what they're working so hard to accomplish, speaking a second language.
In the nearly ten years we have been in business in the Kansas City area, this was truly a first, and we love when customers keep us on our toes and think outside the box. So, we hope this blog post serves as a reminder that we are not limited to birthday parties, bridal showers, team building, girls' night out, or whatever kind of party we're "known for". If you have a unique painting party idea, send it our way and we will do our best to deliver a unique, fun and, of course, memorable experience for your special day.
Share Check out our full Calendar of Events | Plan a Paint Night for Home!