Spooky Season is Upon Us
We have officially entered into Spooky Season, and it seems like the Fall and Halloween decor seems to be creeping out into stores and homes earlier and earlier each year. Which means our Fall and Halloween paintings can be planned out earlier and earlier, right? So, if you've already christened the season with a PSL (Pumpkin Spice Latte) and mums for your front porch, then it's time to sign up for a Pinot's Palette Halloween painting class!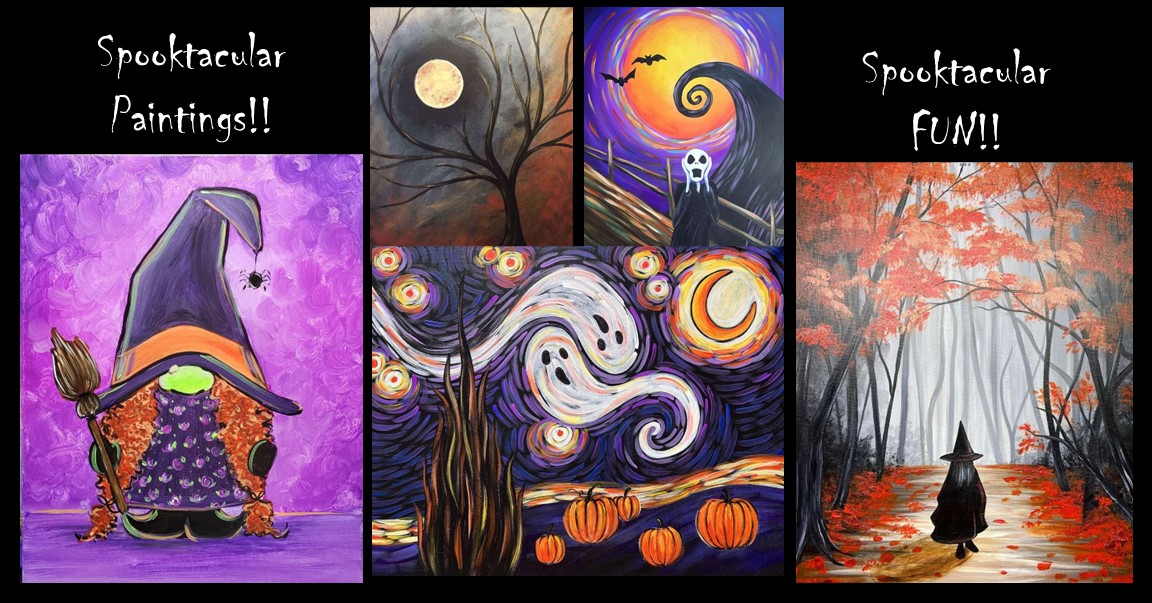 If you haven't had the chance to check it out yet, we do have paintings planned out through mid-November, but we're going to just focus on Halloween painting for this posts…but a quick SHOUT OUT to our Project Pet classes - we have one planned Saturday, October 22nd and another on Saturday, November 19th! Now back to Halloween, we have everything from creepy paintings to very kid-friendly Halloween paintings planned, so iif you need help deciding which classes to sign up for this season, we'll help you by breaking it down into our personal favorites for Halloween.
Top 5 Painting Classes for Halloween
In no particular order…
Van Gogh's Starry Night Halloween II - This is a black light class! So wear your neon and get spooky with painting in the dark. This class is definitely fun, funky and gives your canvas a whole new look under a different light…literally! Buy a black light for your Halloween decor to display your painting for the holiday.
Class: Friday, October 21st 7:00 - 9:30pm
Link:
https://www..../event/642506
Witchy Gnome - The perfect painting party for a family outing or a mother-kid date. This cute witch gnome doesn't necessarily give off the spooky vibes, but a perfect outing for all the spooky season vibes. Plus, if you make this a family outing, each member can change up the colors and you can have a rainbow of witch gnomes!
Class: Saturday, October 15th 3:00 - 5:30pm
Link:
https://www..../event/642508
Witch's Way - If you're looking for subtle Halloween, this is your jam! A beautiful Autumn forest scene with a lone witch silhouette walking down the path. It says, "Yes, I enjoy all Hallow's Eve, but I'm not obnoxious about it."
Class: Tuesday, October 18th 7:00 - 9:00pm
Link:
https://www..../event/642505
Mysterious Moon Glow - Looking for an even more subtle Halloween vibes painting, then this is the party for you. No ghosts, goblins or witches in this painting, just a subtle gothic feel that will just fade into the background of your spooky decor.
Class: Saturday, October 29th 7:00 - 9:00pm
Link:
https://www..../event/642831
Halloween Scream - Join our Halloween painting party where costumes are not required but highly encouraged! There's nothing subtle about this painting, it's Nightmare Before Christmas meets Edvard Munch's Scream painting.
Class: Monday, October 31st 7:00 - 9:15pm
Link:
https://www..../event/642828
We can't wait to see you this spooky season….cheers, Witches!
Share Check out our full Calendar of Events | Plan a Paint Night for Home!