Meet Danielle
con·nois·seur
noun. 1. an expert judge in matters of taste.
Did you know that Pinot's Palette has a Rewards Program? Rolled out in 2016, Pinot's Perks allows you to collect 'corks' for purchases made at our studios. These corks quickly add up to free classes! We lovingly refer to our regular attendees as 'Connoisseurs'. Besides being friendly familiar faces in our classes, they truly are at the heart of why we artists do what we do.
To get some insight into why we're lucky enough have such a loyal fanbase, I asked one of our longtime Connoisseurs, Danielle Poole, to answer some questions for me. Danielle first appeared in our Leawood studio in July of 2018 to paint Sassy Giraffe. Since then, she approximates that she's done nearly 80 paintings.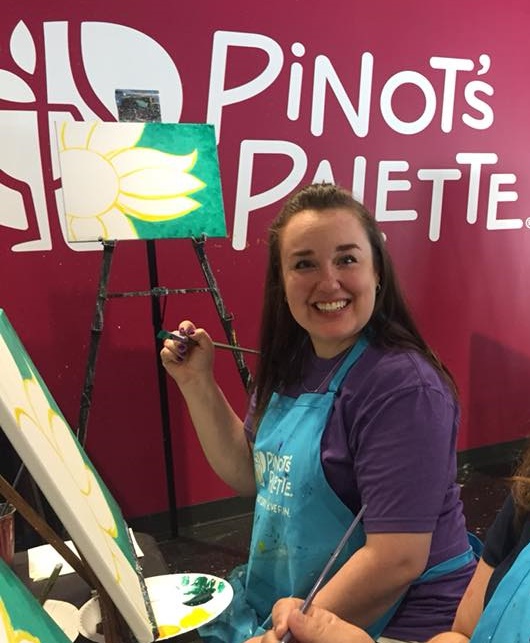 Interviewer: What lead you to sign up for your first class?
Danielle: I attended a couple of painting classes at other studios and thought it was so much fun. All my girlfriends really wanted to get together as a group. We looked at calendars for all the local paint and sip classes, but it was so hard for us to all agree on a painting…that was until we found Sassy Giraffe on Leawood's calendar.
I: Why did you keep coming back?
D: We all had an absolute blast that evening! From the great music and tasty wine, to the friendly instructors and our adorable Sassy Giraffes, it was such a fun time, and so different than what we are used to doing on our girl's nights. We knew we'd have to go back! It's so hard to paint in poor lighting or uncomfortable seats, so I really appreciate the spot light above every canvas and the awesome stools, they are SO comfortable! It's also nice to have somewhere to go where there's always a friendly face to greet you. I often joke that it's like my very own Cheers…everybody really DOES know my name!
I: In what ways has art changed your life for the better?
D: The biggest difference I've noticed in my life is that I am so much less stressed on the days I go paint. There's something about sitting down with a paintbrush in one hand and a glass of wine (or sometimes Sprite!) in the other that whisks all the day's worries away. Once that brush hits the canvas you really don't think of anything else for the next 2-3 hours, and how often can anyone say that in today's busy world?!
On top of that, I've made so many new friends since I started attending these classes! There's a real since of community, regardless if you're a regular like me or a newbie just starting out- and absolutely no judgment from anyone! We're all there to have fun, chair dance to some great music and walk out with something we can be proud of and be able to look at and say, "I did that"! You can't say that about a night at the movies!
I: How do you feel about your initial paintings compared to your most recent paintings?
D: A few of my earlier paintings are still some of my all-time favorites, but you can see that I've definitely picked up some new techniques and brush strokes along the way, and learned a lot about the general composition of a painting. In the beginning I didn't pay much attention to things such as shadows and light sources, or negative space and balance, or even the depth of a painting, but now, those are all things I think about with each blank canvas I sit down to paint.
I: Why do you think art is important in today's culture?
D: I think Demetri Martin said it best… The 'earth' without 'art' is just 'eh'.
Art, in all its forms, is a universal language. Creating and experiencing art allows people to express sorrow, happiness, anger, love and so many other emotions without having to put them into words. Picasso's blue period, one of my personal favorites, is a prime example. To this day, over a century after they were painted, when I look at the faces and colors of those paintings, I can feel the turmoil and depression that he was dealing with in every brushstroke. Art is one of the few things that allows one person connect with another without having to say a word, and in a time where so many people feel alone, that connection is everything.
When you're ready to check out a painting class at our studio, you can find our events calendar here (https://www.pinotspalette.com/leawood/events) If you happen to run into Danielle, be sure and say hello!