Our 'Semi-Annual Painting Sale' Is Coming Up!!!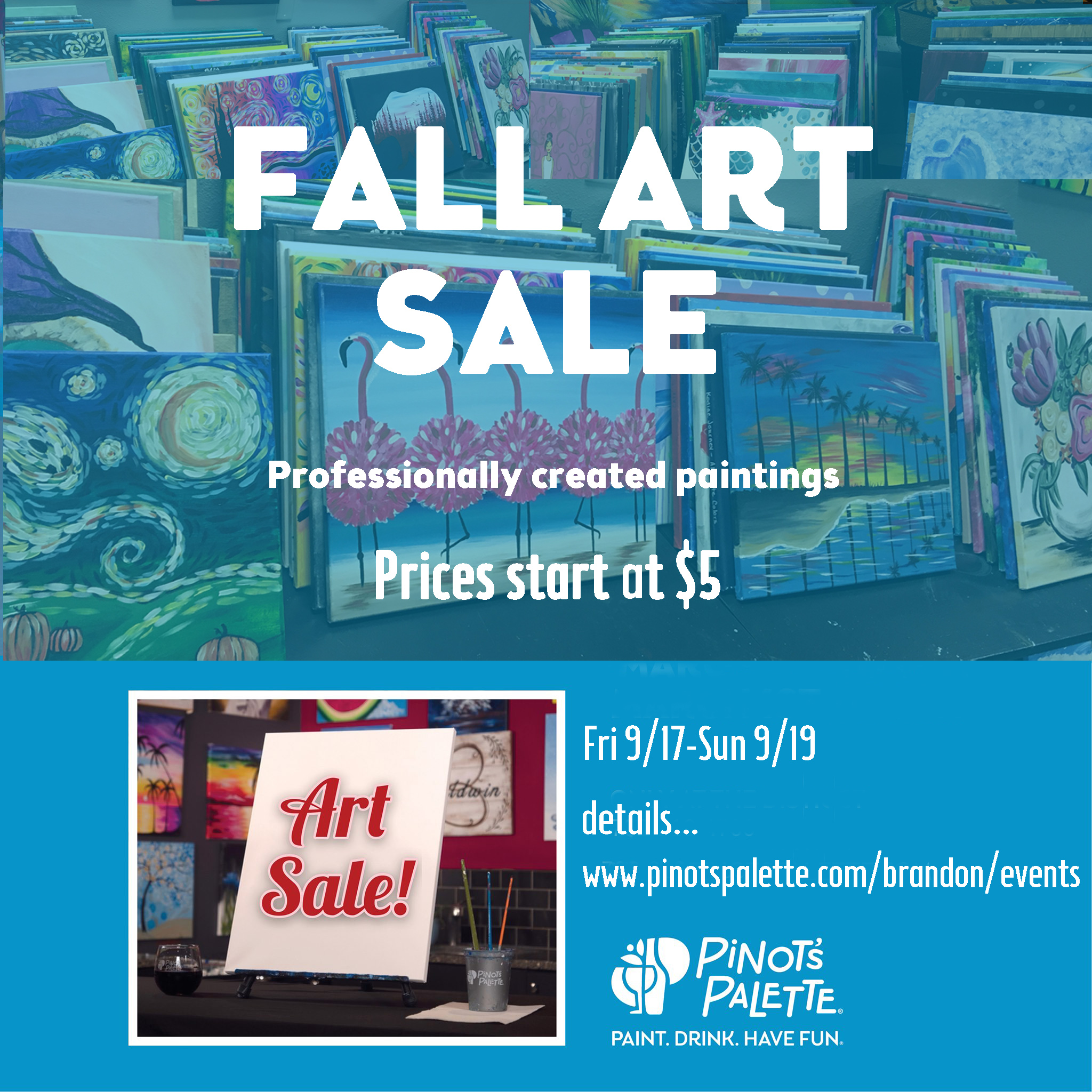 Looking for some artwork to hang in your home??
Eager to get a head-start on your holiday shopping this year?
Want to support a small business and local artists?
We've got just the time to check all of the boxes… Plus its a fun way to spend the weekend shopping and gathering together with friends!
Enjoy seeing so much artwork, live and in person in an assortment of colors and styles! There's something for everyone and we bet you'll have a hard time choosing just one… or even just teo…
There will be tons of art to choose from and with such great pricetags, you won't have to choose! Buy them all!
— WHEN IS THE EVENT?? —
This coming-up weekend: September 17, 18, & 19
Friday 9/17 from 5:00-9:00
Saturday 9/18 from 10:00am-9:00pm
Sunday 9/19 from 1:00pm-5:00pm
— WHAT'S IT ALL ABOUT? —
We'll be offering HUNDREDS of paintings for sale.
These will be available in many different sizd canvases, and even wood pallet paintings are included.
But that's not all! We'll also have some wooden serving trays, Fall & Holiday paintings, and more!
— WHAT CAN YOU EXPECT TO PAY? —
Prices start at $5. Prices slashed to help us clear out our storage. ALL DAY! Come early for the best selection.
WHY WOULD YOU WANT TO BUY THESE PAINTINGS?
As A Gift:
It's been talked about A LOT lately: This holiday season, things are said to be backed up for ordering gifts, so it's highly-suggested that you start early!
You can stop by our sale and find paintings that anyone on your gift list will love. Remember that we will have hundreds of paintings, so you're sure to find something for everyone.
Who doesn't love artwork as a gift?! It's something that everyone can use, whether they're adding color and style to their home, office, or perhaps they just really love art!
You picked it out with them in mind, showing them how much you care about them and giving them a gift they can always treasure!
Buy it for YOUR home:
Snag some of our fabulous paintings and give your home a makeover OR just spruce it up for the Fall (and upcoming holiday season!
We know you're busy, especially this time of year with school starting back and the hectic schedule mode on full blast.
If you can't take time to make some art yourself for your home and aren't interested in artwork you find at TJ Maxx or HomeGoods (that everyone else in the world has), make us your one-stop-shop for buying artwork for yourself, others, or just for inspiration and fun!
*** MAKE YOUR OWN ARTWORK ***
Join Us for a class where you can paint your own masterpiece! Whether you're a first-time painter or a seasoned professional, you're sure to have a blast painting with friends at the studio, or virtually from anywhere!
We're always offering some excellent classes, and seasonal and holiday paintings will be loaded onto the schedule these next months, so keep an eye out!
Come in with friends for a fun Girls' Night Out; Join us with your special someone for a Date Night Class; Bring the whole family in to make memories as you create art together; OR sign up for some 'Paint At Home Kits' or our 'Virtual Classes' and make art from anywhere, anytime!