It's Promo Time!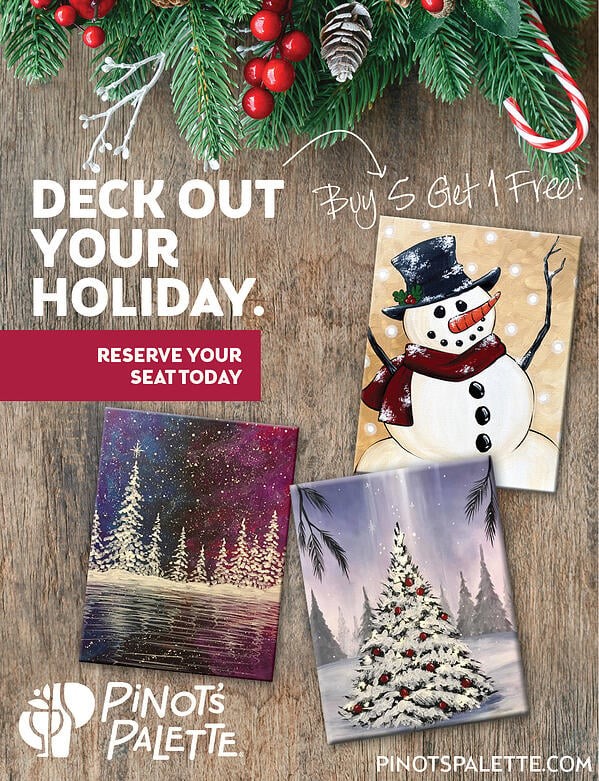 It's the most wonderful time of the year -- seasonal promotions time! Every year we like to reward our loyal customers with Black Friday and Cyber Monday deals along with discounts for bringing a group in the months of November and December.
If you are a member of our Pinot Perks free rewards program, you will get a customized email sent to you: ENJOY BLACK FRIDAY PERKS 20% off $100!
If you aren't a member of our awesome rewards program (sign up asap!) or else you'll get a similar discount code emailed to you: ENJOY BLACK FRIDAY 15% OFF $100!
• You must be a member of our email list
• Valid November 24-29, 2022
• Applies to in-studio classes, virtual classes, PAH and THPK
Our last promotion is the "More the Merrier!" Buy 5 seats, Get 1 FREE!
You can use this discount NOW and it is valid for all classes November 1- December 31, 2022.
You can also use it for take home paint kits!
Be sure to use the code "Celebrate" to claim this offer
We can't wait to Paint. Drink. Have Fun. with you this holiday season. And don't forget, our Coeur d'Alene studio is now All Ages!