All Ages Paintings!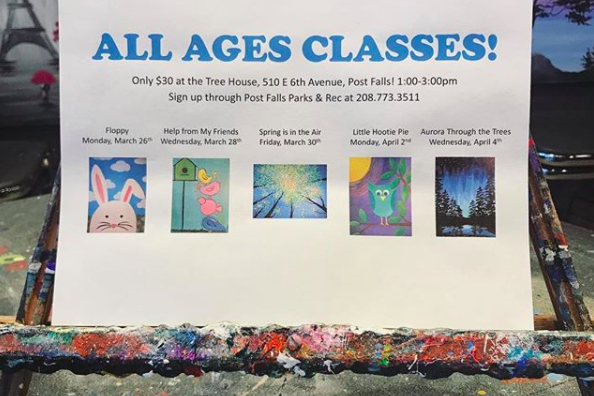 Here at Pinot's Palette Spokane, we are bummed that we can't host all-ages painting classes at our downtown studio due to Washington state liquor laws. However, we have teamed up with Post Falls Parks & Recreation in order to offer some all-ages creative fun! During the months of March & April, we have 5 classes scheduled. Each painting will be instructed at the "Tree House" (510 E. 6th Ave.) in Post Falls from 1-3pm. These events have been popular in the past, so be sure to call 208-773-3511 to reserve your easel before they sell out!
Monday, 3/26 | "Floppy"
Wednesday, 3/28 | "Help From My Friends"
Friday, 3/30 | "Spring Is In The Air"
Monday, 4/2 | "Little Hootie Pie"
Wednesday, 4/4 | "Aurora Through The Trees"