Paint It Forward In April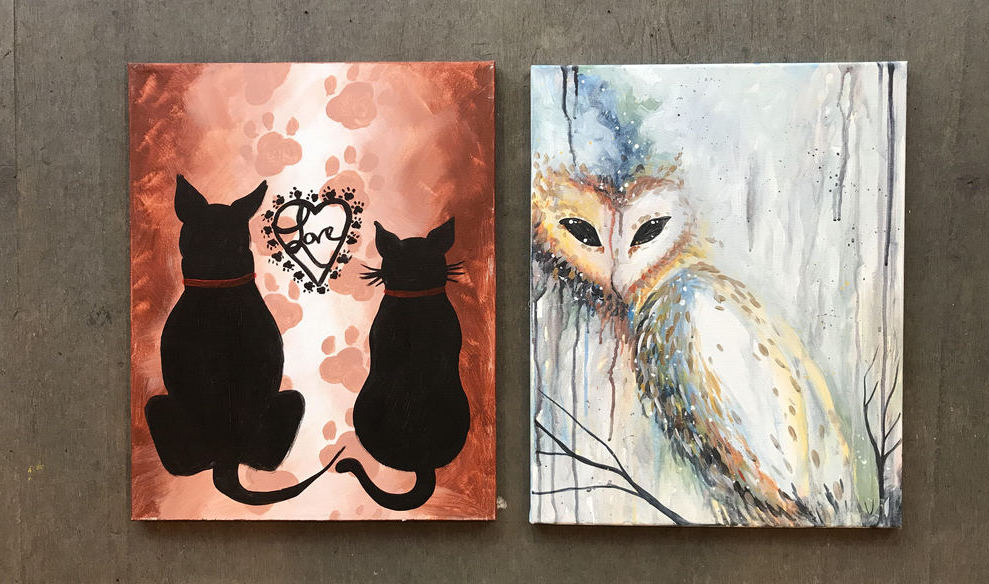 During April, we have three painting-it-forward fundraising nights on our class schedule. These nights of painting are similar to our typical public classes, however when you purchase a seat, you're making a donation to a local nonprofit organization. How cool is that?! Painting, drinking and having fun -- all while supporting a local cause.
- Saturday, April 14th (3:30-5:30pm) | "Furry Love" | SpokAnimal
SpokAnimal addresses the critical issues surrounding the pets in their care, whether that be overpopulation, illness, or special needs animals. In the past 30 years, they have helped to decrease overpopulation, provide education to school children and groups, and host training for animal welfare workers, volunteers and the general public.
- Sunday, April 15th (1:00-3:00pm) | "Golden Gaze" | Spokane Area Youth Choirs
Spokane Area Youth Choirs, founded in 1987 as the Spokane Area Children's Chorus, serves young singers between the ages of 7 and 18 in the Spokane area. The goal of SAYC is the pursuit of musical excellence at all levels, building self-esteem and nurturing the artistic and personal growth of our members in a joyful and supportive way.
- Wednesday, April 25th (6:30-8:30pm) | "Crystal Lake" | Special Olympics Washington
For over four decades, Special Olympics has been bringing the message that people with intellectual disabilities can and will succeed if given the opportunity. Their mission remains as vital today as it did when the movement was founded in 1968. Every day they empower over 10,000 athletes to shatter stereotypes and exceed their personal bests on the playing field and in life. Through the power of sport, Special Olympics strives to create a better world by fostering the acceptance and inclusion of all people.