Boomfest is Back!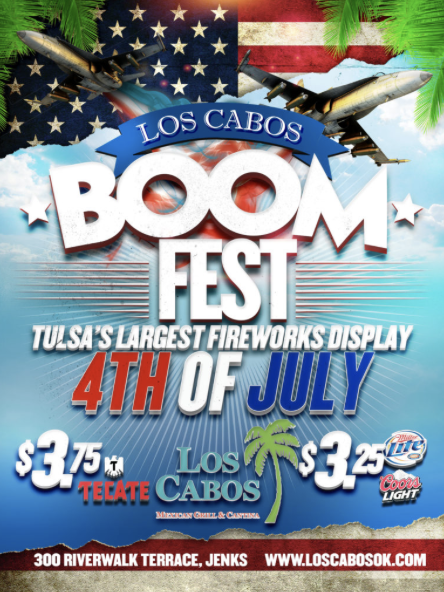 BOOMfest 2018 is right around the corner! This year the Riverwalk is pulling out all the stops for this all-day event that ends with Tulsa's largest fireworks display. Beginning at 11a.m., there will be live music and events to enjoy with your family all day long. This year's events include:
Helicopter rides
The U.S. Marine Corps presenting colors
Balloon artists
Face painting
An F-16 flyover
Live music from Laron, Simpson, Weston Horn, and more
Live national anthem before the fireworks display
and much more!
In addition to the patio seating featured annually at Los Cabos, this year we're opening our patio for seating as well. Why sit in the grass and try to save your spot all day when you can purchase a patio table for the day instead? Let us save your seats for you while you enjoy the festivities of the Riverwalk. A table of 6 is $200 for the entire day and night, and you'll have access to our restrooms (indoors - hello, A.C.!) all day/night. We'll also be featuring beer specials and have Pinots swag for sale.
We hope to see you there!
#boomfest2018 #boomfesttulsa #pinotriverwalk #riverwalkjenks #jenks #tulsafireworks #july4th #happy4thofjuly