Holiday Gift Guide 2017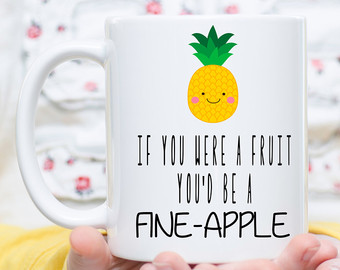 So you're tired of getting mom candles every year, are you? Don't worry, we are too. We've been doing some digging and found some awesome, original holiday gifts for 2017 that we think you're going to love!
First up, let's talk about the pineapple - If you haven't seen a surplus of these island treats around lately, you've probably been curled up in a blanket beating that winter chill for a bit too long. What was once a topper for the Christmas ham is now a home decor staple, lining the shelves of boutiques and shopping centers alike. Whether it's salt and pepper shakers, tumblers, or jewelry, these postmodern masterpieces are popping up everywhere! So when all else fails, go for the pineapple. We love this chic cookie jar, AND it's less than $8 bucks!
https://www....Picks&from=fn
We've all heard cleanliness is next to godliness, right? Now you can get clean with wine soap - you read that right, wine-turned soap! These all natural, gluten-free vegan soaps are made with your favorite full bodied wines to let your skin drink up the benefits of these luxurious hand-made soaps. Turn your morning routine into happy hour with sublimely scented soaps that bear the shades and scents of their origins. Chardonnay, or Pinot Noir? Find your favorite here:
https://www....oaps-set-of-4
Alright, alright - still reaching for the candles? That's okay, we've found a vamped up version sure to knock those fuzzy socks right off of mom's chilly toes. Wax poetic with Spirit Candles, who when they burn, reveal a beautiful bronze sculpture in the center. Long after the wick has burned up you'll be left with a striking piece of art, Find yours here:
https://www....pirit-candles
Fact: Moms love homemade gifts. It's just science. So if you've perused the shelves and scoured the internet for that perfect gift to no avail, we've got you covered! Join us for any 2 or 3 hour class where you can create your own masterpiece, or stop by any studio to get a gift certificate.
#pinotspalette #holidaygiftguide #Christmas2017 #ShopTulsa