Mother's Day Special Events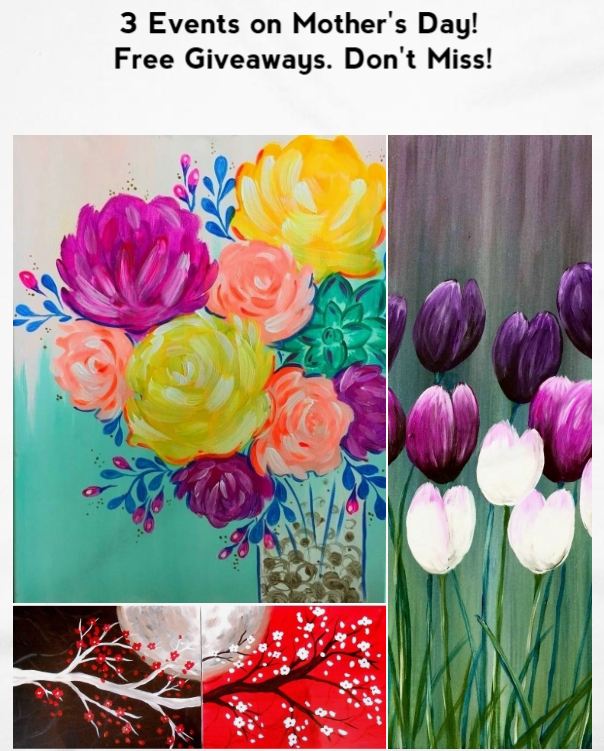 There's no one who can make you feel better like your mom (or grandma, or aunt). She's always there for you, and without ever expecting a reward in return. Holidays like Mother's Day comes around, there's no better way to return to Pinot's Palette, make her feel special by spending time together and making a beautiful art.
We can safely say that your mom will adore those beautiful paintings!
On May 13th, Mother's day we are offering 3 wonderful events:
Brunch Party @ 11:30 to 1:30 PM
Fabulous Florals: Come paint colorful floral and enjoy complimentary bagels and sweets.
Reserve Now -
https://www..../event/234448
Mother/Daughter Duel Painting @ 3:00 to 5:00 PM
Midnight Moonlight: Everyone is welcome!! Kids age 8 and up can come and paint with mom. Happy Mother's Day!!
FREE Ice creme tasting by Abbott's Frozen Custard
FREE RAFFLE by RSM, Yamaha music school and Empow studio.
Reserve Now -
https://www..../event/234445
Tall Tulip @ 7:00 to 9:00 PM
Paint these colorful, vibrant tulips. You can also color customize the tulips to fit your home decor.
Happy Mother's Day!!
Reserve Now -
https://www..../event/234632
Share Brunch Party @ 11:30 to 1:30 PM | Mother/Daughter Duel Painting @ 3:00 to 5:00 PM