Tasty Treats with Lenny
If you're anything like me, you may have grown up helping mom and dad in the kitchen. Some of my most precious memories revolve around my mom and I bustling around the kitchen, chopping, stirring, and sneaking little bites here and there. I was seven years old when I prepared my first meal (one of my favorites; eggplant parmesan) and it was my dream to be a TV chef. Well, dreams don't always come true, but my love for cooking has anything but come to an end!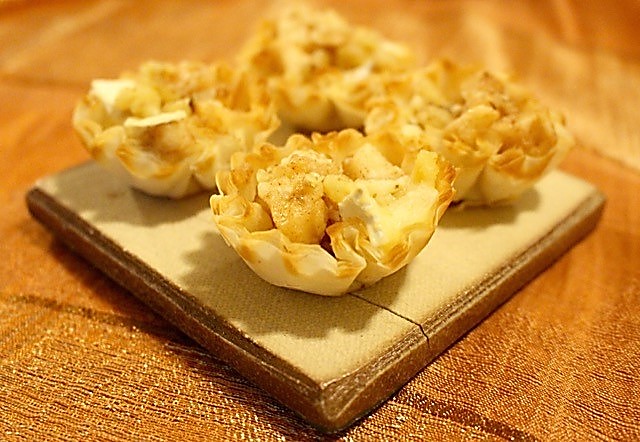 What I love about working in the art world is that cooking, much like painting, is a unique form of self-expression. When I cook, I take everything from my culture to my mood and I put in on a plate or into a bowl. Colors and textures are important, but flavor is key. When you look at a piece of art, you see, you feel, and you interpret. What one person sees could be completely different from another's perspective. The same goes for food. It can transport you to another country, convey old memories, and even comfort your soul.
Now that the leaves are changing color and the air is getting crisp, I can't help but crave a little bit of sweet and a dash of spice! I remember this feeling from last year when I was pondering what to make for a Christmas party appetizer. I took a few of my favorite things: apples, cheese, and phyllo (or filo) dough and that's when the magic happened! The earthiness of the cheese paired with the sweetness of the apples… boy, did that hit the spot. These bite-sized beauties have everything you want in an appetizer; they are sweet, spicy, crunchy, and gooey! I would even go as far as to say they bring the party right to your mouth!
-Lenny
___
Baby Brie Bites with Spiced Apple Filling
Ingredients:
• 1 package Athens Mini Fillo Shells
• ½ cup diced Brie cheese
• 2 apples, diced
• ¼ cup walnuts, chopped
• ½ teaspoon fresh ginger, grated
• 1 tablespoon butter
• 1 tablespoon brown sugar
• ½ teaspoon cinnamon
• ¼ teaspoon nutmeg
Instructions:
1. Preheat Oven to 350 degrees. Remove mini fillo shells from packaging and place on a cookie sheet lined with parchment paper. Set aside.
2. In a small saucepan, melt butter over medium heat. Add ginger, apples, brown sugar, cinnamon and nutmeg. Stir until combined. Turn down to low heat.
3. Keep over low heat for about 5 minutes, stirring occasionally.
4. Add a small spoonful of the apple mixture to each shell. Top with one or two chunks of Brie and sprinkle with chopped walnuts.
5. Bake shells in the oven on the center rack for about 10 minutes or until cheese is melted.
6. Carefully remove shells from oven and place on a serving plate. Serve immediately! (Makes 15 Bites)