Project Pet at Pinot's Palette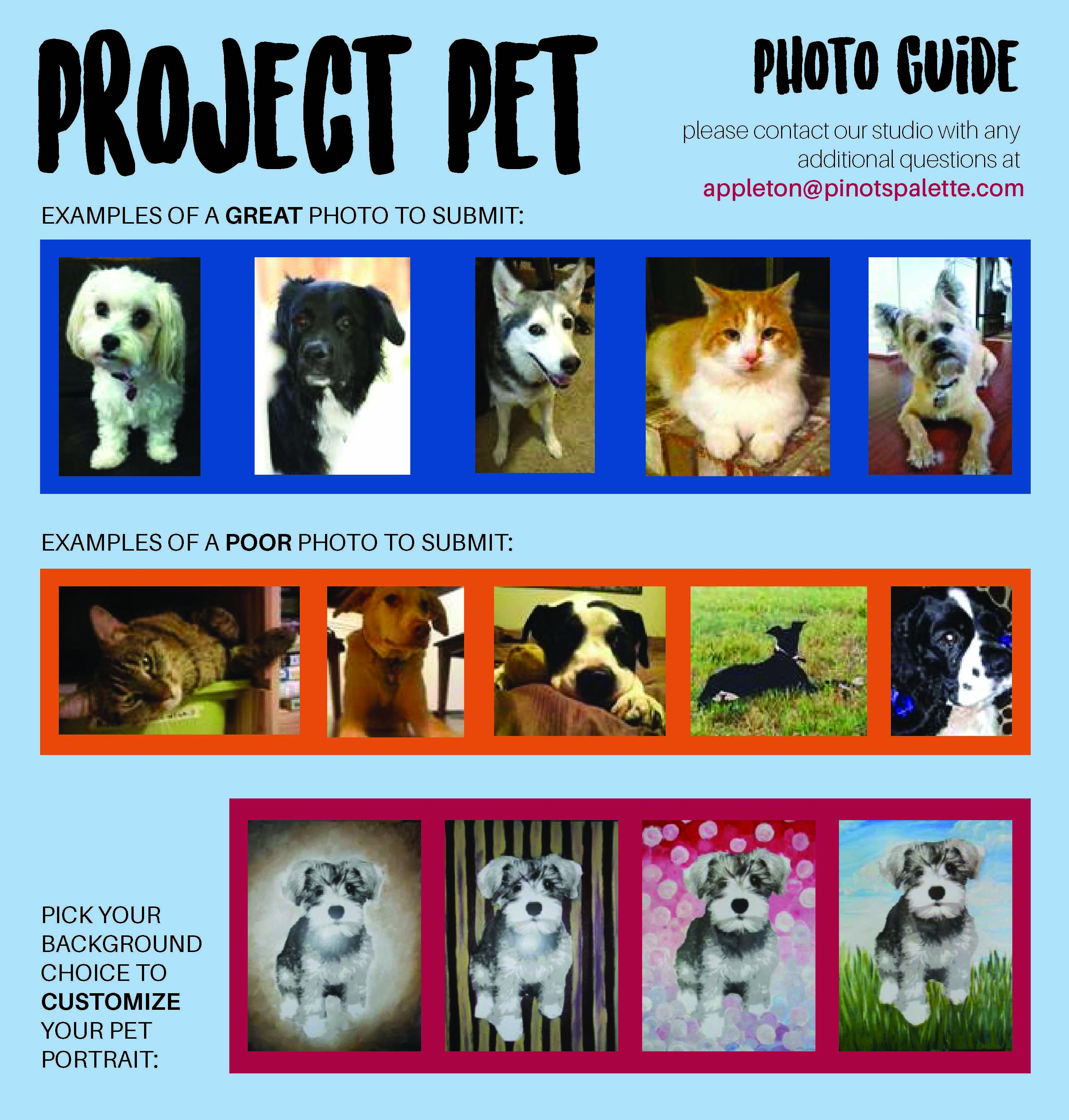 We'd love to paint your pet with you!
But many people wonder - what exactly happens at our Project Pet Classes?
Well it's a pretty straight forward process and it starts with a photo of your furr-baby! Once submitted to our studio, your photo goes through a quick editing process to get it ready for printing. This photo is professionally printed directly onto the center of a high quality 16x20 stretched canvas in black, white and a few shades of gray. This grayscale process will allow you to create the best, and most detailed, masterpiece possible.
When you arrive to our studio on the day of your class, your seat will be set and ready for you to paint. At your station, you will find a 5x7 copy of the original photo sent in for your reference during the class; and our artist instructors will have also custom pumped your paint palette based on your pets coloring, which will be waiting for you as well. If at any time you'd like to add more colors to your paint palette, you are welcome and encouraged to help yourself to the paint cart during the class.
At the class, our artists will guide you through the painting process, starting with your background, working up to painting out the fur, and finish with the more detailed portions such as the eyes and nose to make your painting "purrfectly pawfect".
And that's it! In three hours you will a have a painting to enjoy for years to come!
-
We want you to have a great pet portrait, and that starts with a great photo. Here are some helpful guidelines for your photo submission.
If you are already signed up to paint with us, please confirm the due date of photo submission to make sure your canvas is ready to go for your painting session!
Project Pet Photo Requirements:
- One pet per person/per canvas.
- Send an image in the highest resolution possible. The higher the resolution, the happier you will be with your painting!
- Make sure your pet's face is clear and in the foreground with no furniture, objects, or grass blocking any body parts. The background will be cropped away from each picture so that you can fill in your own design, so the best type of photo will feature your pet front and center without interference from leaves, grass, furniture, leashes, bowls, etc.
- Look to see that the pet is centered in the photo either FULL BODY or HEAD SHOT, with no cropped off edges.
- Our best advice is to take a photo of your pet with the best camera you have outside during the day, under a shaded area (like your front porch, back patio, or inside near a window).
REMEMBER: The better your photo is, the easier your painting process will be. Who wouldn't want that?
Because the background of the photo you send in will be cropped out before printing your canvas, you will also need to decide what style of background you'd like to feature. The options include Classic Vignette, Stripes, Swirls & Dots; and a more naturalistic Sky/Grass combination.
Please feel free to take a look at the image showing examples of GREAT photos to send in, not so great photos and the background choices.
If you have any other questions regarding your photo, or Project Pet in general, please feel free to give us a call at our studio at 920.358.7913 or email us at appleton@pinotspalette.com
We are here to help you paint a beautiful portrait you'll admire for years to come!

We look forward to painting with you soon!