Summer "Little Brushes" Art Camps
Summer is almost here and that means time, out of school for the kiddos! While you likely have some great plans on the horizon for the whole family, we'd love to tell you about the amazing camp that we're offering the next few months in hopes that you can join us! These camps are going to be so much fun for your 6-12 year-olds, so here's all of the information about this fabulous (and creative) way to spend a few days of summer vacation!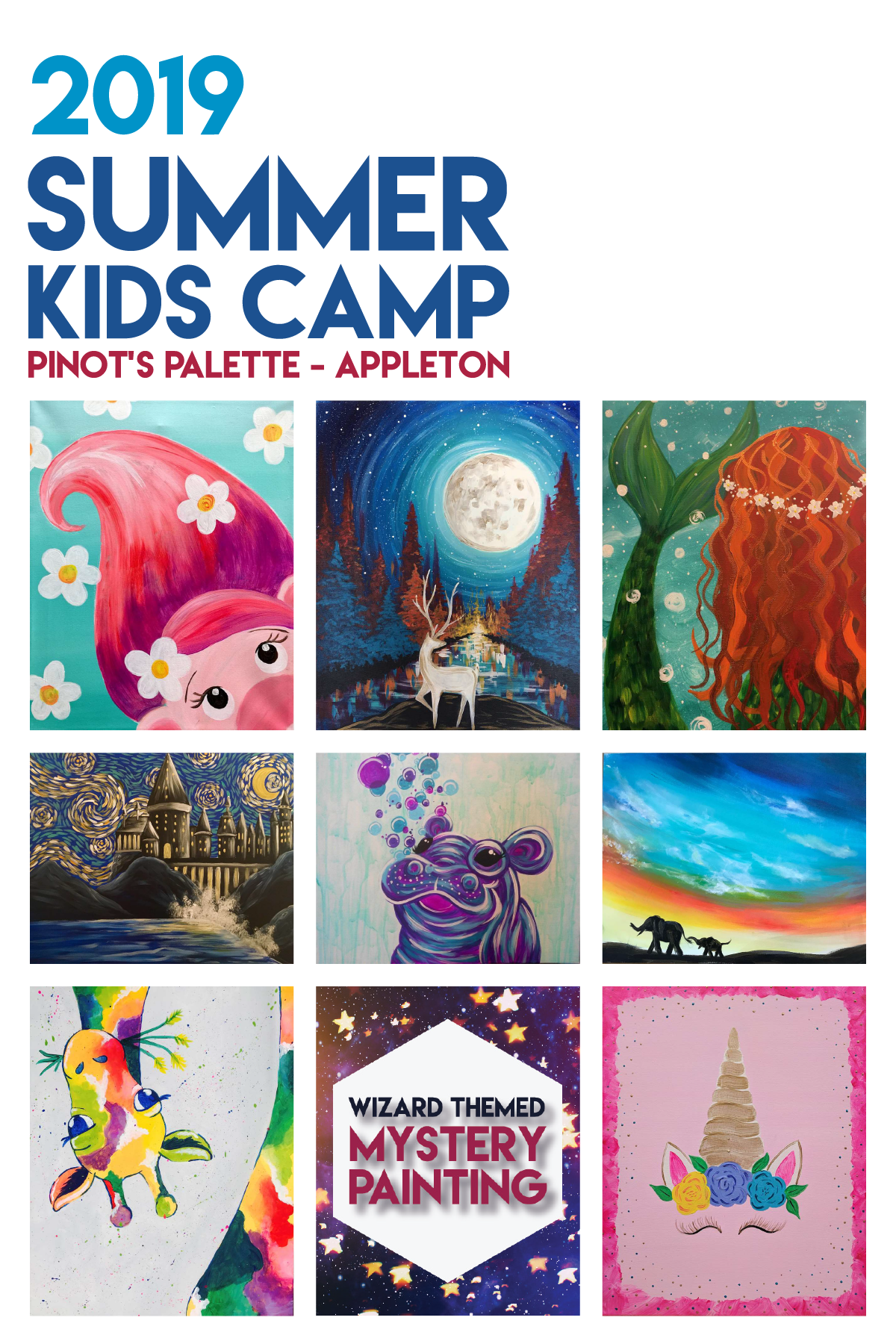 If your kids love to create, then some painting classes at Pinot's Palette will be PERFECT for them! Our studio is a great space to be creative, free, and have fun. Anyone at ANY age will absolutely enjoy our classes! You don't need any prior artistic experience to sign up, as we have a helpful and talented staff, available to assist the whole time! One of our encouraging instructors will walk your child through the painting for the day, step-by-step, taking it slow and helping them anytime they need! They'll make friends, and bond with their peers in a warm and creative environment where artwork is happily, created!
If you've been to one a class at Pinot's Palette then you know what we're all about...F-U-N!
These camp classes will be structured the same for your little ones as we do for our standard adult, public classes, with the addition of a snack break and themed craft time! The best thing about a younger crowd creating art is how involved, creative, and care-free they are while making their masterpiece! As adults, it's easy for us to see our mistakes and worry about fixing them (in pertinence to our painting classes), but the kids just go for what their creative minds are telling them and they don't look back! We love to see the excitement in their eyes, the happiness in their smiles, and how proud and accomplished they feel at the end of class! That's the best part of it all!
(AGES 6-12) Looking for a fun and creative outlet for your little artist? Then Little Brushes has exactly what you are looking for! At Little Brushes we offer a fun-filled party atmosphere where your little artists can have a blast creating their own masterpieces. From painting to crafting and everything in between Little Brushes fosters a friendly and collaborative environment, providing everything your little artist will need to bring out their creative spirit. Come one day or every day this week, we'll provide the FUN! Limited to 24 seats.
Each day we will feature painting and a unique craft fitting the theme of the week. We'll have different activities each day, so you can sign up for one day, or come all week!
Registration includes all art supplies, instruction, and a snack each day.
$105 Full Week, $40 Per Day. *Sibling discounts are available, please call us at 920.358.7913 for more information.
***
FANTASY WEEK
June 11-13, 2019
9:00AM – 12:00PM
(Full Week Registration:
http://bit.ly/2IDfmsq
)
1. Tuesday, June 11 – "Sparkles"
Enter into the mythical world of Unicorns. This one leaves a lot to the imagination and the colors can be fully customized!
http://bit.ly/2VQ52AL
2. Wednesday, June 12 – "Ocean's Daughter"
Beautiful mermain, under the sea …
Won't you come up and visit me?
Sparkling flowers ringed in your hair
Made of sea pearls – none can compare.
http://bit.ly/2UmgvXd
3. Thursday, June 13, - "Trolling Around"
Bright hair? Don't care! Show your true colors with this bright and fun painting that is sure to make you want to dance, dance, dance!
http://bit.ly/2VQ5nDx
***
WIZARD WEEK
July 16-18, 2019
9:00AM – 12:00PM
(Full Week Registration:
http://bit.ly/2Io7R9i
)
1. Tuesday, July 16 – "White Stag"
Take a little magic home with you when you paint this enchanting white stag looking out over a colorful forest!
http://bit.ly/2UXWv1L
2. Wednesday, July 17 – "Starry Night Wizards Castle"
This painting will be perfect for any wizard that wants to combine a famous painting with a famous book.
http://bit.ly/2VNCubp
3. Thursday, July 18 – "Mystery Painting"
Watch the magic unfold with our mysetery painting! We've got the painting all ready for you, but you won't see the final masterpiece until you finish it. Stay on the edge of your seat until the very last brush stroke!
http://bit.ly/2UGQMxJ
***
SAFARI WEEK
August 13-15, 2019
9:00AM – 12:00PM
(Full Week Registration:
http://bit.ly/2GguRUe
)
1. Tuesday, August 13 – "Happy Happy Hippo"
There is nothing cuter than a Happy Hippo blowing bubbles in the water!
http://bit.ly/2Gn1SxR
2. Wednesday, August 14 – "Elephants at Dusk"
Take a late afternoon stroll, watch the serene sunset.
http://bit.ly/2GptjZk
3. Thursday, August 15 – "Giraffing Me Crazy"
This brightly colored giraffe is just dropping in to say hello, have a snack and add a splash of color to your day!
http://bit.ly/2Gmeaa5
We hope to see you soon for a class at our studio if you're looking for something fun to do in or around the Fox Valley area! Whether you're bringing the kids in to enjoy some of our summer camp classes, bringing everyone in for an Open Studio or just coming in with your friends for an adults-only night out, we're looking forward to it! We make the perfect event for everything from a fun and unique date night, an awesome girls' night out experience, and we even offer private events! When you view our classes on our website, you'll be viewing our schedule for our public classes, but you can also book a painting party with the guest list of your choice! Come in to celebrate a birthday, bridal shower, reunion, retirement, and more with friends and family, sharing their artistic sides, together. Make memories that will last a lifetime with a souvenir to treasure forever with one our classes.
*Learn more about our private parties, here:
https://www....rivate-events
We also play host to tons of corporate events, too! Why not book your next work party or team building event with us? We offer several styles of paintings that incorporate team building strategies, encouraging the whole office to work together, creating a stunning world of art!
*Read more about corporate events, here:
https://www....porate-events
(*You can even give someone the gift of a painting class with one of our gift certificates)
https://www....-certificates
See you soon and have a wonderful Summer!
Cheers!