FEATURED ARTIST . Bri Getchius
Our Featured Artist this month is Bri, her vibrant character is a wonderful addition to our team.
I sat down with her to discuss life as an artist and to get some more insight into her creative realm.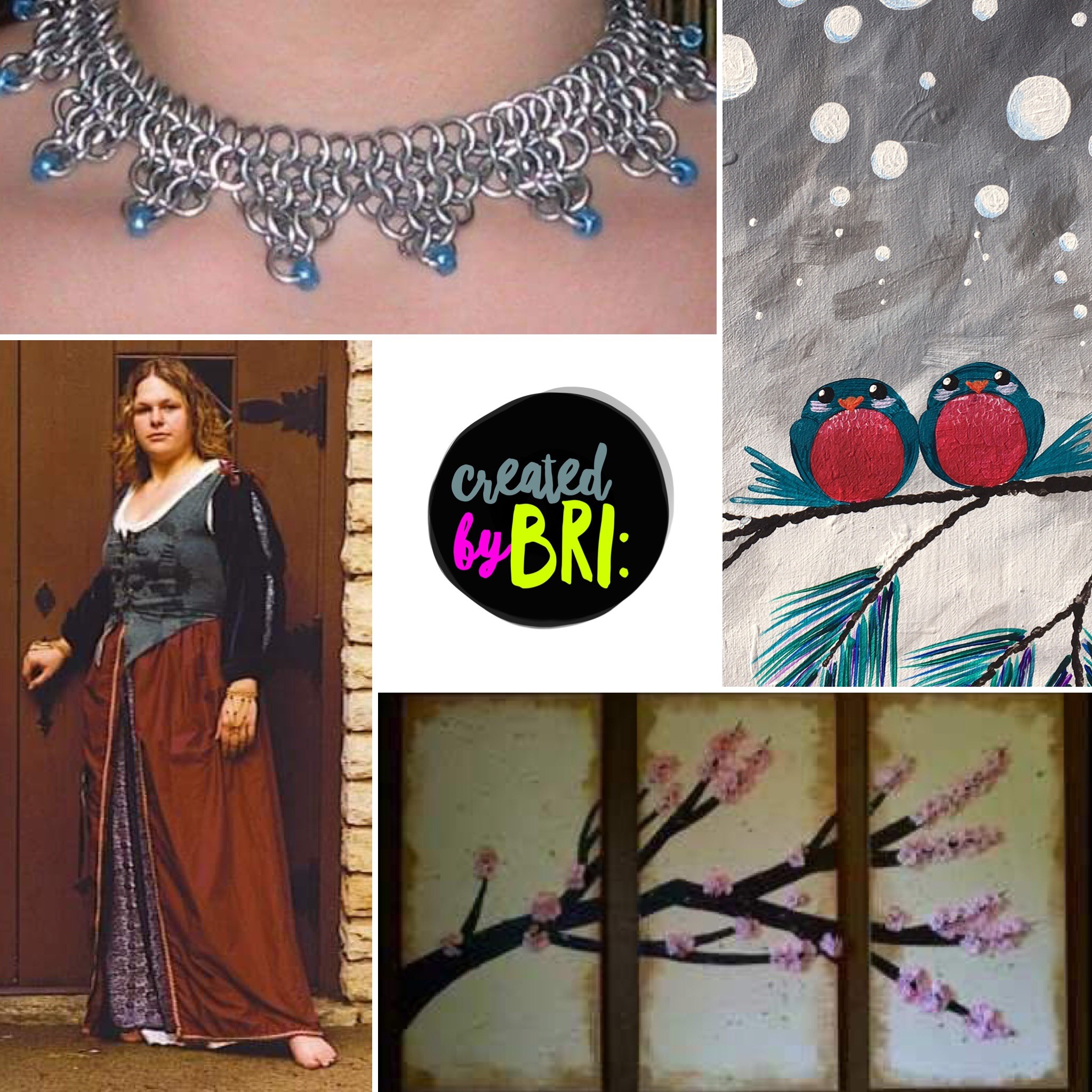 » What can you tell me about your day job?
"I work a boring insurance job", she laughs, "Actually, I like my job at the insurance company just fine, but Pinot's is a lot more fun. It's a creative outlet for me to have on nights and weekends."
» When you were a kid, what did you want to be when you grew up?
"When I was really young, I wanted to be a painter like Picasso. I'm not really sure why Picasso, but that's just what I wanted to do. Later in life, it was to be a Dolphin Trainer at Sea World, which led me into marine biology. My passion was always a struggle between science and art, eventually I believed that science would be the way to go." Bri has joked that choosing to study marine biology in college over majoring in art was the "$50,000 bet that I lost".
» What is it that you feel like you bring to the studio environment?
"I think I'm one of the most animated instructors here. I like making people laugh and want to make the class fun. I try to use my lively personality to make a big impression on people, I want people to enjoy their time here with us."
» The paintings at Pinot's Palette are all designed by artists that work for the company, if you could have a "MAGIC WAND" original painting, what would the subject matter be?
"I have a thing for sea creatures. I would want something that featured colorful Octopi and perhaps octopus tentacles as well. I believe that the octopus is one of the smartest of all of the sea creatures. I also like that the tentacles spiral naturally. – and what's cool about that is that the spiral symbol in Hawaiian represents new life or a new beginning. I would want to do something that could incorporate the symbolism for intelligence and new creation all in one."
» You've created a few original paintings yourself for Pinot's Palette – including a series featuring some fun little birds - can you tell me a bit more about the Toot Sweet phenomenon?
"I made my first painting Toot Sweet, which features some super adorable little birds. It immediately became very popular, and I was asked by our studio owner Mari to create a 'mini' Mommy & Me version right away. Later, I was also sent a photo for inspiration that I used to help me create the fall version, 'Toot Sweet Autumn' – which was arguably more popular than the first round. It was after these two that other studios demanded I continue to create paintings featuring these cute little birds."
» Do you plan to create more of these paintings?
"A big part of the business is to make (feature) what people love, so I'm dubbing my series the 'Toot Sweet Take Over'. I'm thinking about a Valentine's themed painting for my next in the series."
» Something I like about your Toot Sweet series is that they're all a bit different, and while they stick within that whimsical style, they all feature different techniques. What is your favorite painting technique?
"I really enjoy gradations, and creating smooth transitions between colors. Even though you see this more in the background of our paintings, I thoroughly enjoy the act of blending. It's one of the more difficult techniques to get down & I like perfecting the transition process. An example of this is in one of my favorite paintings to teach, "North Shore". I like this painting because people always come in and believe it will be too difficult to paint, but with a little bit of encouragement, I'm able to show them how to create the perfect big wave by blending the different colors of paint on their canvas."
» What do you enjoy most about working at Pinot's Palette?
"When I was young, I wanted to paint like Picasso. But now that I've worked at Pinot's Palette I've thought about it and I think it's almost cooler that people have a version of one of my originals in their homes. Even though I might not have taught each class across the nation, I have been able to inspire people to put this particular work of art in their homes."
» Aside from being a painter at Pinot's Palette, you're also artist in other areas as well. Can you tell me some more about your other ventures?
"I always tell people that I'm a 'Jack of all trades, master of few' but I do put painting in my Top 10 list of things I can do well. I get into these "kicks" where I'll be really into other artistic endeavors. For a while I was making a lot of chain mail items, from jewelry to armor. I enjoy sculpting and have a strong passion for interior design. If I could only have one channel for the rest of my life I would pick HGTV. I also really enjoy sewing and have made costumes for myself and friends."
If you want to get your own personal artistic coaching from Bri, attend one of her classes this month. We'd love to see you at the studio! Check out the links below for a few where she'll be around.
Share Paint with Bri: COZY CHRISTMAS | Paint with Bri: FIREFLY FOREST