Thanksgiving
Tree of Thanks!!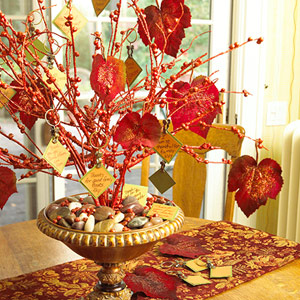 1.Tree branch
2. Handheld hedge clippers
3. Butter tub
4. Cement
5. Water
6. Disposable container
7. Hot-glue gun and glue sticks
8. Chickpeas or dried beans
9. Spray primer
10. Orange spray paint
11. Clear spray sealer
12. Orange glitter
13. Scissors
14. Decorative container
15. Decorative rocks and silk leaves
16. Papers in green and gold
17. Paper trimmer
18. Glue
19. Marking pen
20. Shower curtain clips
How to Make It:
1. Trim a dry dead branch to the desired size and shape using hedge clippers. If needed, combine several small branches.
2. Choose a container, such as a butter tub, that can be hidden in a decorative container and filled with cement.
3. Following the instructions on the cement package, mix cement in a separate disposable container. Pour the cement into the butter tub.
4. Insert the branch base into the center of the cement-filled tub. Tap the sides of the tub until the branch sits firmly in cement. Allow cement to dry.
5. Use a hot-glue gun to adhere chickpeas or dried beans randomly to the branch, using as many as desired.
6. In an outdoor area, spray the branch with primer. Spread extra chickpeas on newspaper and spray them with primer. Let the primer dry.
7. Spray-paint the branch and chickpeas with orange; let dry.
8. Spray one section at a time with clear sealer. Quickly sprinkle orange glitter onto wet sealer; let dry. Repeat this process until entire branch and chickpeas are glittered. Place the weighted tree into decorative container.
9. Place decorative rocks around the branch base until the cement is covered. Sprinkle extra chickpeas onto the rocks.
10. Trim silk leaves from stems. Coil the wired ends and hang on the tree.
11. Trim 2-inch squares of green paper and 13¿4-inch squares of gold paper. Center and glue the gold paper onto the green paper. Ask family members to use a marking pen to write meaningful messages on the squares. Use shower curtain clips to hang the messages from the branches.
12. Leave extra colored squares around the tree base for guests to add more messages to the tree.