From Novice to Connoisseur, this Pinot Perks Member Hits 100+ Paintings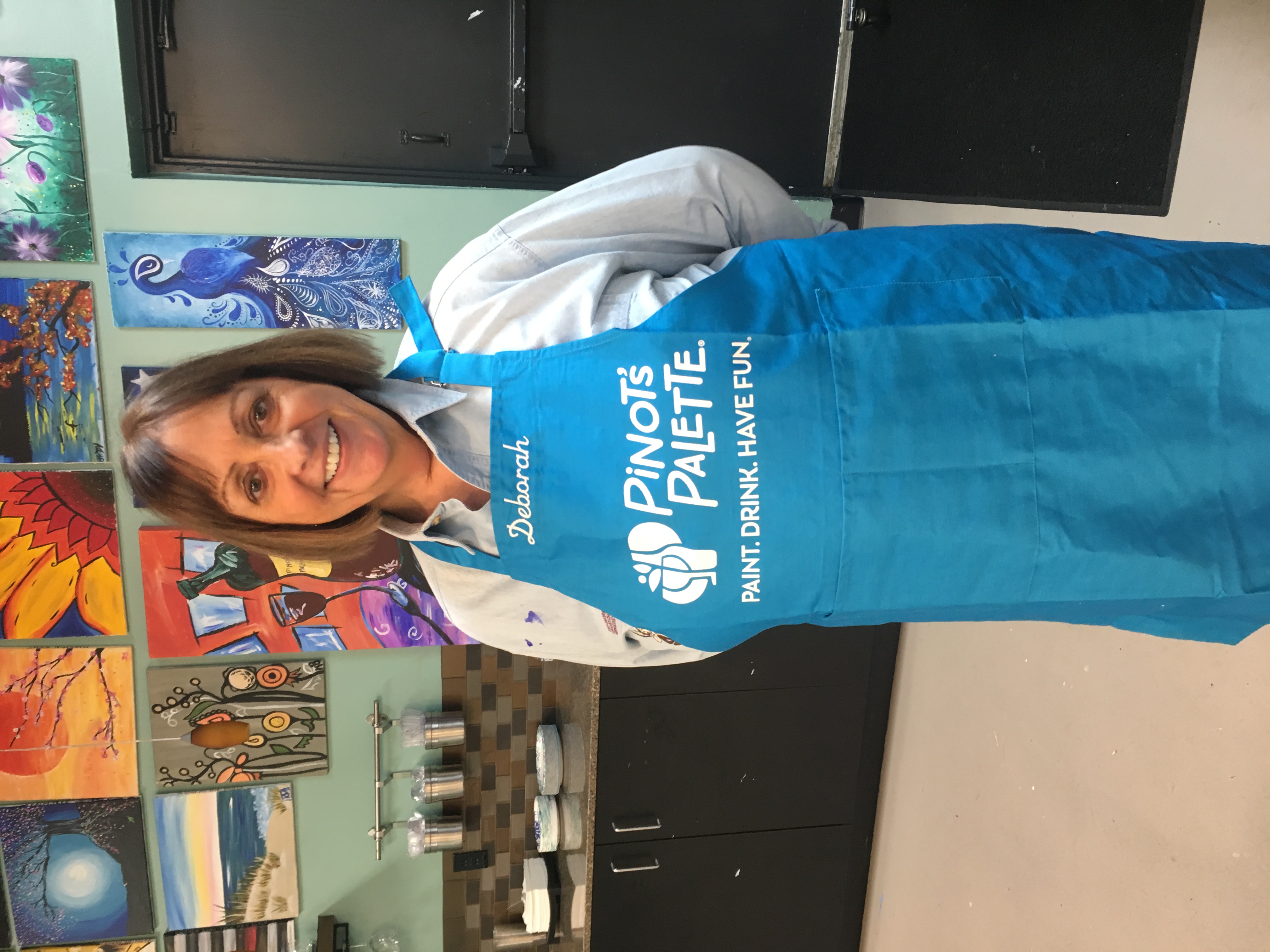 If you've been to Pinot's Palette, you may already be a Pinot Perks member enjoying the benefits of the free program, and well on your way to becoming a Connoisseur member. There are three levels – Club, Collector and Connoisseur. Everyone starts off as a club member. Once you collect 12 corks, you move up to the collector level; and at the final level, when you hit 24 corks, you become a connoisseur.
Today, Pinot's Palette of Manalapan celebrates one of our Connoisseur members, Debbie N., who has become a familiar face at several Pinot's locations throughout New Jersey. Going on her fourth year, Debbie has painted nearly 110 paintings at Pinot's Palette over the course of her journey. She's painted 44 at our Manalapan location, and visits other locations including East Brunswick, Red Bank, Brick, Wall, Princeton, South Plainfield, Somerville, Morristown, Nutley, Ridgefield, Wayne and the Montclair location where she had her very first painting class.
Although quiet, humble and focused during class, you may have seen her or sat next to her! Debbie can typically be found seated up front near the instructor. She is always striving to learn more and do better than her previous painting.
Over time, as our staff came to know Debbie, she shared a personal and heartwarming tidbit about how she includes something special in each painting that she does. We've come to know Debbie well; we look forward to having her in class and it's exciting to take part in discovering the "something special" after she's finished each painting.
As she neared her 100th painting, we asked Debbie if she'd be willing to share her story here, and we are grateful that she agreed. Debbie's touching story will inspire painters everywhere to see their paintings in a different light, and will encourage even the most hesitant "non-creatives" to keep an open mind and try something new.
Debbie has gone from a novice with no prior painting experience to "connoisseur" since she first started coming in 2015. Her very first painting was 'Italian Marketplace' -- "a building facade with doors and an awning and windows with window boxes - all lines!" She was intimidated by all the lines because she "couldn't even draw a straight line."
At Pinot's, that's quite a common concern, but as Debbie's experience shows, practice makes better. Her latest and favorite painting so far, 'Sunset Sanctuary' - an ocean scene with more lines - is a marked difference than her first painting. Looking over the painting, she pointed out how much straighter her lines are after having picked up a few tips over the course of her painting journey. "I didn't even use a ruler!" she exclaimed!
Debbie has a few tools of her own now that she brings with her to the studio. She typically comes in with a few paintings that she'd like to touch up, a ruler and her own apron. Recently, she was gifted her very own official Pinot's Palette apron with her name embroidered across the top. "I was very surprised. It wasn't my birthday or any particularly special day, so I was really caught off guard when it was presented to me. I christened it the same evening with a speck of white paint!"
Debbie first started coming to Pinot's in January 2015. Her first painting class was a surprise birthday gift from her cousin who only told her to wear comfortable clothes and keep an open mind. Debbie guessed it might be a yoga class; she never imagined it would have been a painting class!
The surprise was bittersweet as Debbie had just lost a very special person, Louis, a few days prior to her birthday. "My cousin had previously scheduled my surprise class but she told me that it was something that could easily be rescheduled if I wasn't yet up to it. I told her that something different would probably be a good idea after all that had just happened."
She fondly recalled, "Louie and I knew each other in high school and a group of us used to hang out together. We dated a little when I was in college, but then our paths went in different directions. My sister friended him on Facebook in the summer of 2010 and we reunited again over time." Louie had been battling cancer and, sadly, he passed away on New Year's Day 2015.
At that first class, Debbie recalls "the instructor mentioned that as part of the background of the painting we could include something personal or special, if we wanted to, behind the center door of the painting because we would be blending over it."
"I mentioned to my cousin that maybe I should put Louie's name there. You can find it if you look very closely. So, I've incorporated "L O U I S" in all of my paintings as a personal tribute to him. My friends and family always have fun trying to find him."
After the class and the painting with "all lines" was complete, Debbie thought for sure she was done and would never do another painting, but she looked at Pinot's website one day and saw a beach scene painting was being offered. "It looked easier and I wanted to try it."
The story of Debbie's "hidden name" paintings has become a favorite tidbit to share with other guests at Pinot's Palette. Having reached over 100 paintings, she often gets asked, "What do you do with all the paintings?"
"I have space on one wall at home where I keep the latest painting or sometimes switch back to an earlier painting. The others I keep in a second bedroom -- they stretch out from the wall on the floor like a filing cabinet, and then I lay some others on top of those, and then the next layer stretches out again from the wall like the top drawer of a filing cabinet."
While Debbie frequents various Pinot's locations, the Manalapan location is extra special for her. "Everyone is friendly and welcoming at all the locations where I've painted, but the Manalapan location is extra special for me. I really feel at home when I am there. It just happened that they offered the most paintings that I wanted to do when it was most convenient for my schedule, so I've really gotten to know many of the instructors very well.
Debbie shares of her painting experience at Pinot's – "I've learned that, as with many things in life, practice makes perfect. I've come a long way since my very first painting, but I still don't consider myself a good painter. I always want to do better and many times I will paint a particular painting two or three times to try to improve."
"I've also learned that it's always good to try different things because you would not otherwise know if you might enjoy doing something outside your comfort zone or have some potential for it."
She said, "It's been an interesting creative outlet in which I often surprise myself, and it's given me an opportunity to meet great people. I also look at things differently now, especially in nature -- paying more attention to the various shades and tones in something like a tree or flower or landscape."
To those who are hesitant about the paint class experience, she encourages them to keep an open mind. "I didn't listen very well to my cousin when she told me to keep an open mind at my first class. I was very critical and wanted my painting to look exactly like the one on the website. I'm still that way, but I've also learned new skills that I would not otherwise have been exposed to."
"Pinot's offers an ideal environment for painting for the very first time or to improve on what skills you may already have. A lot of people attend with friends or family or as a couple and they have a lot of fun together. I also think it's wonderful that some companies and businesses think of Pinot's for team building opportunities."
When asked if she has a goal of how many paintings she'd like to paint, Debbie replied, "I don't have a set number in mind, but I do know that I will want to paint a lot more whenever I retire years from now and can devote much more time to it. And probably take formal art classes then as well."
We wish Debbie all the best in her creative endeavors in this new year, and we look forward to having her in many more classes! Thank you, Debbie, for sharing your story with us. We are so happy to have you not only as a Pinot's guest, but also as a friend!
_____________________________
Follow this link for info on the Pinot Perks Program:
https://www....perks/signup.
Share Pinot's Palette Manalapan NJ | Pinot's Palette Event Calendar